Image

Image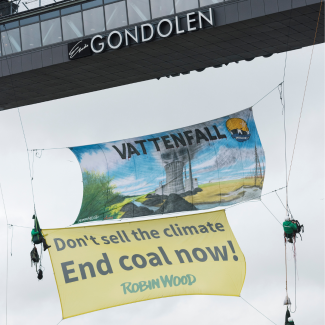 Summary
Vattenfall is a Swedish state-owned energy company that derives most of its energy from hydroelectric dams and nuclear power. It has attempted to portray itself as green by selling off power plants and lignite coal mines in Germany to Energetický a Průmyslový Holding (EPH). The plants are still running at almost full capacity and will not shut down until 2038.
The company sued the government of Germany twice when it stood to lose profits in the face of environmental regulation. The first case was brought in 2009, in which Vattenfall demanded €1.4 billion in compensation over the imposition of strict environmental requirements to protect the Elbe River from the Moorburg coal-fired power station. In the second case, Vattenfall sued for €3.7 billion in 2012 in compensation for the decision to shut down the company's nuclear power plants.
Vattenfall has been criticized for its role in the design of the Theun Hinboun hydropower dam in Laos, which displaced thousands in the 1990s. In Colombia, it sources coal from the Cerrejón coal mine and associated port and railroad were constructed by the forcible removal of the Indigenous Wayüu community of Tamaquito as well as the Afro-Colombian inhabitants of Tabaco beginning in the 1980s with little or no compensation.
 
Violation data is still being gathered for Vattenfall at this time.
Videos & Podcasts
CorpWatch Stories
Pratap Chatterjee | CorpWatch | December 17, 2012
So Philip Morris, the U.S. tobacco multinational, is suing Australia and Uruguay for compulsory health warnings on cigarette packets while Vattenfall of Sweden is suing Germany for €3.7 billion ($4.8 billion) for deciding to phase out nuclear energy following the Fukushima disaster in Japan.
Pratap Chatterjee | CorpWatch | February 18, 2005
The biggest emitters of carbon dioxide registered under the EU scheme are respectively; the German energy groups RWE AG and E.ON, Swedish power company Vattenfall, Endesa from Spain, followed by Anglo-Dutch steel and aluminium company Corus Group, Royal Dutch Shell Group, Thyssen Krupp, Estonian power group Eesti Energia and Britain's Drax Power.
Corporate Headquarters
169 56 Solna, Evenemangsgatan 13, Sweden
Most Recent Gross Revenue
SEK 239 billion (US$21.98 billion) |
source
Most Recent Net Revenue
SEK 27 million (US$2.48 million) |
source
Major Funders
BankTrack's profile of Vattenfall.
Netherlands-based BankTrack tracks the involvement of commercial banks in financing business sectors and specific activities with a negative impact on people and planet.
---
Major Shareholders
Vattenfall is 100% owned by the Swedish state.
---
Political Influence
Phoebe Cook | DeSmog | June 16, 2023
One of Germany's most influential lobby groups, BDEW's members include utilities Uniper, RWE and Vattenfall, as well as grid operators and dozens of smaller municipal utilities, who together account for 90 percent of gas sold in Germany. Last year, BDEW spent more than seven million euros on lobbying the German government, official records show. 
Corporate Europe Observatory | May 11, 2022
Minutes reveal that CEOs of six big energy companies – Shell, BP, Total, ENI, E.ON and Vattenfall – met President Von der Leyen and Energy Commissioner Simson the day they released their RePowerEU communiqué laying out the EU's response to Ukraine.
Cindy Baxter | Heinrich Böll Stiftung | November 18, 2015
In 2007, when Chancellor Angela Merkel took over the EU presidency and hosted a G8 summit on the Baltic coast, the German government had previously appointed the Swede Lars Göran Josefsson as one of two climate-protection advisors. At the time, Mr Josefsson was the boss of Vattenfall, the largest energy company in the European Union and the owner of lignite power plants in Lusatia, in eastern Germany.
Christina Deckwirth | Lobby Control | April 25, 2014
In this politically hot phase, Vattenfall is spending a lot of money to convince the region of the blessings of lignite mining with expensive PR measures to influence political decisions.
Tax Havens
& Evasion
Megan Darby | Climate Home News | April 8, 2016
Swedish utility Vattenfall poised to sell dirty lignite operations to Czech billionaires who used offshore accounts to buy yacht and property.
Major Projects
Joachim Fahrun | Morgenpost | July 19, 2023
Environmentalists from Friends of the Earth Germany (BUND) are very critical of Vattenfall's plans to convert Berlin's district heating system. The state of Berlin should take over the system.
Robin Wood | July 7, 2021
Today, Hamburg's coal-fired power plant Moorburg will be finally decommissioned. ROBIN WOOD sees this as a success for the climate movement and environmental organizations, which have campaigned against the climate killer for many years with a variety of forms of protest and action.
Vattenfall | May 31, 2021
Vattenfall has signed an agreement with the Estonian nuclear energy start-up company Fermi Energia in order to become a minority shareholder of the company with a seed investment of Euro 1 million.
Dutch News | June 25, 2020
Swedish state-owned energy company Vattenfall has decided to postpone plans to build the Netherlands' biggest biomass fired power station because of the ongoing discussion about how green biomass actually is.
Abendblatt | March 28, 2019
According to the Abendblatt, the sale price for the area in the Elbbrücken district is around 23.6 million euros. There was no invitation to tender for the approximately 3,650 square meter site. It was awarded directly to Vattenfall.
Johan Ahlander | Reuters | October 26, 2015
Swedish utility Vattenfall said on Monday it had agreed to phase out two lignite coal plants in Germany as part of government plans to cut greenhouse gas emissions.
CorpWatch is still gathering procurement data on Vattenfall at this time.