Image

Image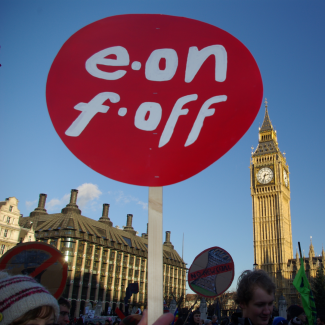 Summary
Electric utility E.ON is one of the "Big Six" energy companies in the UK and a major power provider in Germany, where it is based. Back In 2009, Ruhrgas AG (a predecessor of E.ON) was fined €553 million for conspiring to fix prices of gas imported from Russia via the MEGAL pipeline.
Although it was historically a major fossil fuel provider, E.ON spun off its fossil fuel assets into a new company named Uniper in 2016. Subsequently it claimed to offer "100% renewable energy tariffs" to customers, despite nearly half of its energy capacity being powered by fossil fuels or nuclear power. In 2009, E.ON was accused of greenwashing for claiming to use an "integrated" technology approach after installing a few solar panels on top of the Ratcliffe-on-Soar coal-fired power station in Nottinghamshire, England. The panels were estimated to have saved 6.3 tonnes of CO2 emissions a year, equal to less than one millionth of the emissions from the power plant itself. In 2019, E.ON claimed that all its 3.3 million customers in the UK were being switched to 100 percent renewable energy plans. Good Energy, a rival electricity company, summed up the matter succinctly: "E-ON is moving its customers to a 52% renewable, 48% greenwash tariff."
 
| TOP OFFENCE GROUPS (GROUPS DEFINED) | PENALTY TOTAL | NUMBER OF CASES |
| --- | --- | --- |
| consumer-protection-related offences | £72,814,489 | 15 |
| competition-related offences | £10,207,679 | 6 |
| safety-related offences | £10,000 | 1 |
| employment-related offences | £4,615 | 1 |
(November 13, 2023)
Total Penalties
£83,036,783 (November 13, 2023)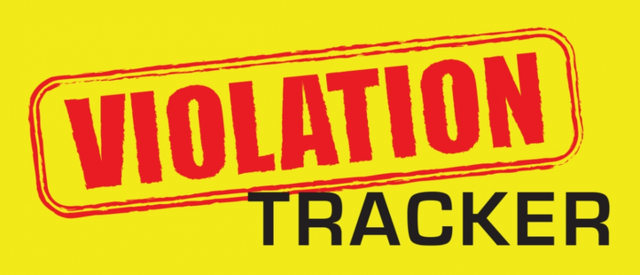 violationtracker.goodjobsfirst.org
Videos & Podcasts
CorpWatch Stories
Richard Smallteacher | CorpWatch | December 15, 2013
"Spooky Business" - a new report on corporate espionage against non-profits published last month - lists a number of companies like BAE, BP, Bank of America, Brown & Williamson, Burger King, Chevron, Coca-Cola, E.ON, Dow Chemical, Kraft, McDonald's, Monsanto, Shell, Sasol and Walmart that have been linked to espionage against nonprofit organizations, activists and whistleblowers.
Pratap Chatterjee | CorpWatch | February 18, 2005
The biggest emitters of carbon dioxide registered under the EU scheme are respectively; the German energy groups RWE AG and E.ON, Swedish power company Vattenfall, Endesa from Spain, followed by Anglo-Dutch steel and aluminium company Corus Group, Royal Dutch Shell Group, Thyssen Krupp, Estonian power group Eesti Energia and Britain's Drax Power.
Other Key Sources
Business and Human Rights Resource Centre's profile on E.ON - UK-based Business and Human Rights Resource Centre is an NGO that employs researchers on five continents who work with activists, companies and governments alike to advance human rights in business by eradicating abuse.
We Own It's profile on E.ON UK - We Own It is a UK-based NGO that campaigns against privatization and for the public ownership of services like energy, health, schools and water.
Corporate Headquarters
Brüsseler Platz 1, 45131 Essen, Germany
Most Recent Gross Revenue
US$121.859 billion (2022) |
source
Most Recent Net Revenue
US$2.363 billion (2022) |
source
Stock Exchange Tickers
ETR: EOAN
Major Shareholders
---
Political Influence
Open Secrets - Tracks corporate lobbying of US politicians.
Image

OpenSecrets.org Profile of E.ON
Nick Reimer | TAZ | June 11, 2023
Katherina Reiche... played a key role in shaping climate policy as parliamentary state secretary from 2009 to 2015, in the Ministry of the Environment until 2013 and in the Ministry of Transport until 2015... Today she is a manager at the former coal company Eon, where she heads the wholly owned subsidiary "Westenergie" with almost 10,000 employees.
Christine Dankbar | Berliner Zeitung | February 15, 2023
The companies Eon, Uniper, EnBW, RWE and Wintershall DEA alone spent more than 12 million euros.
David Yip | The Parliament Magazine | November 5, 2015
According to their data, BP and E.ON had the most encounters of any company with the commissioners.
Arthur Neslen & Rob Evans | The Guardian | March 15, 2015
Five out of the UK's nine-strong delegation in Brussels work for companies that are responsible for large-scale emissions, including coal power plant operators RWE, EDF and E.ON.
James Ball | The Guardian | February 19, 2013
The UK chief executive of energy giant E.ON repeatedly lobbied the then-energy secretary Ed Miliband and others over the sentencing of activists disrupting the company's power plants, warning that any failure to issue "dissuasive" sentences could "impact" upon investment decisions in the UK.
German Trade Union Confederation (DGB) | September 12, 2010
E.ON and other companies had offered the government 30 billion euros for a fund to prevent the nuclear tax.
Greenpeace | January 31, 2008
We've got our mitts on some government documents which show how a single angry email from E.on destroyed a central pillar of the government's energy policy in just a few minutes.
Tax Havens
& Evasion
Martin Williams | Open Democracy | October 11, 2022
E.ON complained to Conservative ministers about the capping of energy bills, saying it had made the UK an "unattractive place to be an energy supplier". Energy bills were expected to top £4,000 in 2023 at the time of E.ON's warnings.
Benedikt Strunz | Norddeutscher Rundfunk | November 6, 2014
In the documents, which are addressed directly to the Luxembourg tax authorities, economic consultants from Pricewaterhouse Coopers (PwC) are designing a financial system that could hardly be more intricate. With its help, E.ON SE from Düsseldorf is said to be saving tens of millions of euros in taxes in Great Britain, the USA, Sweden, Germany and last but not least in Luxembourg.
Die Welt | July 3, 2001
Shock for the Bavarian communities: The electricity company Eon has announced that it will not be paying any trade taxes anywhere in Germany for the past year and probably also for 2001.
Major Projects
Agentur für Erneuerbare Energien | June 15, 2022
The General Court of the European Union has scheduled three hearing days for lawsuits against the E.ON-RWE deal for June 15-17. In May 2020, eleven energy suppliers filed actions for annulment against the EU Commission's approval of the deal.
Emma Hughes | Red Pepper | September 16, 2013
Companies and decision-makers in London and Brussels are eagerly eyeing these wells and are currently assembling the agreements and finance for a mega‑pipeline from the Caspian to central Europe.
LeccePrima | September 10, 2013
A press release was already issued in the morning: "Tap forgets that the stakeholders are the fishermen and operators of San Foca, Melendugno and Vernole, not the luxury hotels of Lecce".
Central Única dos Trabalhadores | August 28, 2012
Chile's Supreme Court has rejected the controversial $5 billion Central Castilla thermoelectric project, a joint venture between billionaire Eike Batista's MPX Energia (MPXE3) and the German company E.ON, a court source told Reuters this Tuesday (28).
Evening Standard | April 12, 2012
An energy watchdog today accused power company E.On of an "own goal" over its decision to spend more sponsoring the FA Cup than helping vulnerable customers heat their homes.
Global Justice Now | September 1, 2009
E.ON is launching "a nationwide drive to help homeowners and small businesses cut their energy use by 10% by the end of 2010", rather than doing anything themselves to cut the gargantuan emissions spewing forth from their dinosaur coal power plants at Ratcliffe in Nottinghamshire and Kingsnorth in Kent.
Major Procurement Contracts
CorpWatch is still gathering procurement data on E.ON at this time.