Unpublished Audit of Kaloti Reveal Conflicts Over Gold Trade
Image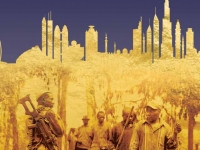 A whistleblower who previously worked for Ernst & Young, the international auditing firm, has alleged that his bosses turned a blind eye to discoveries that Kaloti Jewellery International - one of the world's biggest gold companies - dealt in minerals from undocumented sources that may have included conflict zones.

Amjad Rihan, the partner in charge of the audit, resigned from Ernst & Young after he says his firm was pressured by the Dubai Multi Commodities Centre (DMCC) - the government agency that regulates Kaloti - not to reveal its findings.

Rihan turned over some of his documents to Global Witness, an international NGO that resource extraction associated with environmental and human rights abuses as well as corruption.

Global Witness used the material to publish a new report titled "City of Gold: Why Dubai's first conflict gold audit never saw the light of day." The documents were also shared with journalists like the BBC that produced a film on the subject for Newsnight, one of its flagship current affairs shows.

"I wouldn't be able to come back home at the end of the day and look at my children in the eyes and tell them I'm proud of myself," Rihan told the BBC. "I will never feel at peace with myself."

Kaloti Gold was founded by Osama Kaloti, who emigrated from Jerusalem to the emirate of Abu Dhabi in 1968 where he started a scrap metal business. Three years later Abu Dhabi joined the neighboring emirate of Dubai to create a new country called the United Arab Emirates (UAE). When Dubai became a major trading port because of its strategic location between Asia and Europe, Kaloti started to trade in the gold souk (market) in the neighboring city.

"It is a free country, no taxes, big logistics operations, flights going in and out from all over the world. People carrying scrap gold and gold from mines in Africa and Asia were coming in more and more and they are asking who can handle this, who can buy this?" Kaloti told the National newspaper in Abu Dhabi last April. "So we said: 'Why not? This is our line, so why don't we see what we can do'."

Today Kaloti owns a major gold refinery in the country that processes almost half of the gold that is traded in the country. The family business is now worth $32 billion and it continues to buy gold from individuals who show up in the country with large quantities of gold without asking where they obtained the precious metal.

Such behavior is frowned upon under rules prepared in 2010 by the UN Security Council and the Organization for Economic Cooperation and Development (OECD) that require the companies to track where the minerals came from.

Ernst & Young was hired to check if Kaloti had met two standards - one set by the DMCC and the other set by the London Bullion Markets Association.

Kaloti was found to have paid us much as $5.2 billion - roughly 40 percent of its business - to buy gold that did not have proper documentation such as four tons of silver and gold from Morocco that had been imported with false papers. The company also had dealings with a supplier that sourced gold from eastern Congo which is in the middle of a conflict.

"We told them about the severity of our findings as well as our final conclusion which would state that the risk of conflict minerals entering Dubai is extremely high," Rihan told the BBC. "The Dubai-based regulator was not happy about that, and when they realised that we will not alter our findings, they went ahead and they changed their own guidelines in such a way that our findings and our final conclusions are not made public."

"It's our view that the Dubai regulator could not have secured a clean audit result from a major gold player without Ernst & Young's willingness to turn a blind eye," Annie Dunnebacke, deputy campaigns director at Global Witness said in a statement. "The actions of Ernst & Young and the Dubai regulator, while perfectly legal, undermine trust in the industry at a critical time when progressive new laws to tackle conflict minerals have come into force."

DMCC denies that it changed its rules to favor Kaloti. "The DMCC strongly refutes any allegation that it pressured EY, that it sought to influence or interfere with the review process or that it softened the review process to favour any member refinery," the agency in a statement.

And Kaloti denies that it broke any rules. "Kaloti has strongly denied these claims and any implication relating to regulatory non-compliance in the gold trade," the company said in a statement published on its website. "Articles published in the UK's Guardian, BBC and in a report by Global Witness are full of contradictions and inaccuracies."

AMP Section Name:
Natural Resources