UK Offers £600,000 Each to 550 Victims of Faulty Fujitsu Accounting Software
Image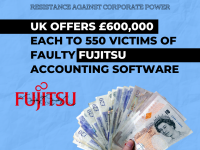 IT services provider Fujitsu supplied faulty Horizon accounting software to the UK Post Office in 1999. Over 700 UK Post Office staff were prosecuted for allegedly stealing thousands of pounds sterling. Some committed suicide, others went to jail. A campaign and lawsuit by Justice for Subpostmasters Alliance has led to an offer of £600,000 in compensation to each of the 550 victims.
"This judgment is vindication for the claimant group of postmasters - they have finally been proved to have been right when they have said that the Horizon system was a possible cause of shortfalls in their branch accounts. These claimants can now walk with their heads held high after all these years." – James Hartley, lawyer for the victims.
Horizon
The UK Post Office installed Horizon software in 1999 replace paper-based transactions with computers to keep track of cashflows at the 11,500 sub post offices across the country. Almost immediately the system began falsely detecting that large sums of money were missing. Some employees went as far as remortgaging their homes in attempt to cover the monetary shortages.
Over 700 Prosecuted
Between 2000 and 2014, over 700 Post Office employees were prosecuted for missing funds. Balvinder Gill of Oxford was asked to repay £108,000; Janet Skinner of Hull was sent to jail for 9 months for 'stealing' £59,000; Janine Powell from Devon was accused of stealing over £71,000; and Jo Hamilton of Hampshire was accused of stealing £36,000. 
Justice for Subpostmasters Alliance
Alan Bates, who ran a post office in North Wales, was the first to spot the problem. He successfully identified the flaws in 2000 by manually checking the transactions on paper. His request for access to the system resulted in him being fired in 2003. He subsequently set up a campaign called Justice for Subpostmasters Alliance in 2009 to unite victims and fight for redress.
"I always believed that if you've done nothing wrong, nothing wrong will happen. But we lost our property, our business, we lost everything. I was sent to prison on my son's 10th birthday. I was eight weeks' pregnant at the time. I thought about killing myself - the one reason I didn't was because I was carrying a baby." – Seema Misra, subpostmistress in West Byfleet, Surrey
Court Trial
In 2015, James Hartley, a partner at the law firm Freeths, sued the UK government on behalf of 555 post office staff accused of fraud. A series of BBC documentaries by journalist Nick Wallis and reporter Rebecca Thomson at Computer Weekly exposed many of the problems and featured a Fujitsu whistleblower named Richard Roll who testified that Fujitsu was aware of the problem. 
Compensation
Initially the government announced interim payments of £100,000, later increased to £163,000 per person, to those whose convictions were overturned. Many felt like the money was not adequate compensation. In September 2023, the government offered £600,000 per person but some victims say they will keep fighting for more.
Company Response
"Fujitsu acknowledges that there have been a number of bugs, errors and defects within the Horizon System, and that, in some instances, those bugs had the potential to and indeed did affect the integrity of sub-postmaster branch accounts. No complex IT system will ever be completely free of bugs, errors and defects." – Richard Whittam, barrister for Fujitsu.
This is #59 in our series of Instagram infographics on resistance against corporate power.
Click here to see the full post on Instagram.
📸 4/10 Post Office on Holderness Road, Hull by J Thomas - https://www.geograph.org.uk/photo/6341954