Court Overturns Gag Order on Reporters Covering Moti Group Alleged Corruption in Zimbabwe
Image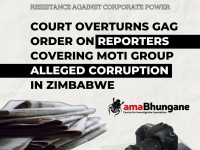 Moti Group, a business conglomerate based in Johannesburg, tried to stop amaBhungane, a South African investigative news website, from reporting on leaked documents about an allegedly corrupt mining deal in Zimbabwe. A court-issued gag order was overturned on appeal in July 2023.
"Today's judgment is a massive victory for media freedom in South Africa and an important vindication of a journalist's ethical duty to protect confidential sources in the public interest." – Angela Quintal, Africa program coordinator at the Committee to Protect Journalists (CPJ).
Moti Group
Johannesburg-based Moti Group is a business conglomerate in southern Africa that was founded by Zunaid Moti, a controversial rags-to-riches businessman who has been arrested on criminal charges in both Germany and South Africa. In 2014 Moti Group became a major shareholder of African Chrome Fields, which mines and processes chromite in central Zimbabwe. 
Moti Files
The Moti Files are a set of leaked documents, obtained by amaBhungane, a South African investigative news website, that allegedly show that Moti paid $130 million in 595 instalments in November 2017 to entities in Zimbabwe, including some that were tied to President Emmerson Mnangagwa and his deputy Constantino Chiwenga.
Gag Order
In May 2023, Moti secretly asked the Johannesburg High Court to order the return of the leaked documents arguing that they had been stolen. The request was granted but amaBhungane immediately appealed the decision on the grounds that journalists have the right to receive information from sources on a confidential basis and protect their sources.
Victory
On July 3, 2023, Judge Roland Sutherland struck down the gag order. Moti Group was ordered pay the legal costs incurred by amaBhungane and their supporters, specifically the South African National Editors' Forum, the Campaign for Free Expression, and Media Monitoring Africa.
"The elephant, in this case, is not press freedom or a violation of privacy. Rather, it is a most egregious abuse of the process of court. The resistance to disgorgement of information on the ground of protecting a source is functional and not optional to the work-process of investigative journalism." – Judge Ronald Sutherland. 
Company Response
"The judge in his judgement may have gotten it completely wrong, because of the technicalities that I think he focused on. We are of the view that this matter is of constitutional nature. It's the right to privacy, vis-à-vis just to give people an unfettered access to steal your documents and use that willy-nilly as they will." – Dondo Mogajane, CEO of the Moti Group.
This is #54 in our series of Instagram infographics on resistance against corporate power.
Click here to see the full post on Instagram.