Swiss Bank UBS May Be Suspended From Doing Business In Hong Kong
Image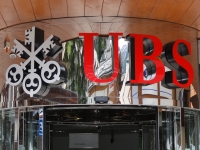 UBS, the Swiss bank, is being investigated by the Hong Kong Securities and Futures Commission (SFC) for failing to carry out adequate due diligence before working on share offerings for several Chinese companies. The bank's latest quarterly statement notes that it is at risk of being suspended from doing business in the city.

Under Hong Kong law, banks that prepare initial public offerings of company shares, also known as IPOs, can be held liable for any false statements made to investors and the public. While the SFC has not named which IPOs are being investigated, the likely clients of UBS are China Forestry, China Metal Recycling and Tianhe Chemicals, all of whom have suffered from serious financial woes after going public.

The announcement of the investigation in the bank's October statement was characteristically terse. "In October 2016, the SFC informed UBS that it intends to commence action against UBS and certain UBS employees with respect to sponsorship work in those offerings," UBS stated in its most recent quarterly report. "Such action could also result in suspension of UBS's ability to provide corporate finance advisory services in Hong Kong for a period of time."

Company officials have refused to divulge any more details. "We fulfilled our obligation in terms of disclosure," Sergio Ermotti, HSBC CEO told the media in a phone call.

The SFC has already made public investigations into fraud at China Forestry, China Metal Recycling and Tianhe Chemicals.

In June 2009, UBS helped China Metal Recycling list on the Hong Kong stock exchange and raise $200 million. The Guangdong based company claimed to be the largest recyclers of scrap metal in China at the time. Barely five months after the company went public, Wong Hok-leung, the company's chief finanical officer resigned saying that he was not being allowed access to records, and the company collapsed. In 2013, Chun Chi Wai, China Metal Recycling's CEO, was sued by the liquidators.

In late December last year the SFC published a report that said China Metal Recycling had overstated its sales by about HK$8 billion or 46 per cent, and its gross profit by HK$1 billion or 72 per cent, between 2007 and 2009. "According to these findings, the company had implemented a fraudulent scheme to create accounts which significantly overstated its business and profits," the SFC statement noted.

China Forestry, an investment group based in Hong Kong, which raised $217 million from listing shares on the Hong Kong stock exchange in November 2009 with support from UBS, claimed to be one of China's largest private plantation-forest operators. The business was based on planting fast growing trees in Guizhou, Sichuan and Yunnan provinces to trade for greenhouse gas credits. One year later, KPMG, the company auditor, reported financial irregularities and Li Han Chun, the CEO at the time, was arrested in Guizhou in February 2011 on charges of embezzling $4.6 million. Major investors, like the Carlyle Group, lost tens of millions of dollars.

Tianhe Chemicals Group, which is based in Liaoning province and claims to China's biggest manufacture of lubricant oil additives, went public in June 2014 with a $748 million IPO on the Hong Kong stock exchange. In September of the same year, a group that called itself Anonymous Analytics, released a report claimed that Tinahe was "one of the largest stock market frauds ever conceived" and that it was overstating sales and profits.

The company hit back against the report immediately with a 55 page rebuttal. "This type of anonymous and hyperbolic market discourse has no accountability for truth," Tianhe said in a statement, claiming that the anonymous group had "twisted facts and intertwined fiction, including a combination of falsified information, forged signature of the company's chairman and blatantly untrue statements."

Despite this, investors pulled out and Tianhe was suspended, although not delisted from the Hong Kong stock exchange. The SFC is currently conducting an investigation into the company.

Meanwhile UBS has turned quite skittish about doing business in Hong Kong lately, pulling out of a project to delist Dalian Wanda Commercial Properties from the Hong Kong stock exchange.  The delisting went ahead anyway in August when shareholders approved billionaire founder Wang Jialin's offer to buy back the shares for $4.4 billion.

UBS, whose origins date back to 1854, has often been embroiled in scandal, according to research by Phil Mattera of Good Jobs First. In an online profile of the bank, Mattera lists a 1988 controversy over money laundering of $1 billion by a Turkish-Lebanese drug ring; business activities in apartheid South Africa and with Nazi Germany. Among dozens of fines and financial settlements over fraud allegations, UBS has paid out $1.5 billion over the foreign exchange rate rigging scandal, $208 million for its role in financing Parmalat, the Italian dairly company charged with fraud and $150 million for its sale of auction-rate securities in the U.S.

AMP Section Name:
Financial Services, Insurance and Banking