Subsidizing Contractor Misconduct: Rodney's Story
Image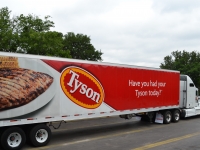 Just across the Missouri river from Sioux City, Iowa, lies a Tyson Foods beef processing plant.
Thousands of head of cattle are freighted here from ranches across the Midwest and escorted to the "kill floor." Tyson is paid millions of dollars in federal contracts to turns cattle like these into beef products for government workers across the country.
On March 14, 2012, a faulty chain snapped, dropping a piece of equipment that crushed Rodney Bridgett, a 35-year-old maintenance worker. He died on the kill floor.
Rodney was buried on the same day as his 14th wedding anniversary. His wife Jaime contacted many lawyers in the Iowa and Nebraska area, but they all told her that they couldn't bring a case against Tyson.
A Local Romance
Rodney and Jaime Bridgett met in March 1998.
He went to East Side High School, and she went to North Side High, so their paths didn't cross until a mutual friend set them up. Their first date was at Whimp's Steakhouse in Burbank, South Dakota, where Jaime's grandmother was hosting her birthday party. They were married a year later. They were both 21 years old. "I wasn't looking for it," Jaime says. "It was kinda one of them things that grew on me."
They never thought of leaving Sioux City to go to college, just looked around town to see what jobs they could get so that they could raise a family. Jaime took a job filing papers at the Tyson plant across the river, then started cleaning rooms for a local hotel. Rodney took a maintenance gig at a nearby fertilizer plant.
They had a child, and then a second child, and eventually bought a drafty, 100-year-old house in the city's Morningside district. The house had only two bedrooms, but the Bridgetts found a way to convert the basement into a third bedroom.
Rodney spent his off time banging around on motorcycles, camping, and fixing engine blocks. "He couldn't sit still," Jaime says. Jaime, meanwhile, started taking a string of part-time jobs to pay the bills. She worked the electronics aisle at WalMart and collected change out of the vending machines for the Sioux City Journal, the local newspaper.
By late 2011, Rodney had decided that his job at the fertilizer plant would take him only so far, and it was time to move on. He took a maintenance job at Tyson. He had only been on the job for five months when he was asked to work on a scissor lift-one of the big ones, the kind that can elevate a man -on the kill floor. The lift was hanging from a safety chain, and Rodney stepped beneath it to get to work. But the chain snapped, and the lift fell to the floor, crushing Rodney beneath it.
Investigators from the U.S. Occupational and Safety Health Administration (OSHA) found that Tyson's supervisors had intentionally failed to inspect the chain and other safety gear. OSHA cited the company for seven violations, and OSHA regional administrator Charles Adkins called Tyson's actions "unthinkable." But the company's initial fines amounted to a mere $104,200.
Ignoring Safety Protocols
Rodney's death could be written off as an outlier. But in fact the government has repeatedly found Tyson Foods in violation of federal law and that it has seriously endangered the safety of its employees.
At Tyson's manufacturing plant in Buffalo, New York, federal inspectors recently found that the company had regularly exposed workers to the threat of death or injury by electrocution, burns, falling, or exposure to dangerous levels of ammonia.
On June 17, 2013, an unguarded conveyor belt at the company's factory in Hutchinson, Kansas, caught a strand of an employees' clothing, dragged his arm into the machine's gears, and ground his hand into garbage. OSHA inspectors found that Tyson willfully failed to train workers about important safety protocols and failed to install guards to protect workers from dangerous machinery. OSHA's area director called Tyson's conduct "inexcusable," and the agency put Tyson in its Severe Violator Enforcement Program.
But Tyson's proposed fine was next to nothing: $147,000. Tyson representatives did not respond to requests to comment for this report.
Meanwhile, Tyson has earned a fortune from the very same federal government, which has awarded it and its subsidiaries $4.2 billion in contracts for various food products since 2000.
In the two years since Rodney's death, the federal government has continued to do business with Tyson Foods. In fiscal years 2013 and 2014, it received at least $681 million in federal contracts. And U.S. Senate investigators, after reviewing the deaths of six Tyson employees who were killed at work between 1999 and 2010, found no evidence that federal contracting officers had considered any of these incidents when awarding contracts to the company.
A Widow's Fate
Today Jaime and her two children, ages six and eleven, scrape by on a hodge-podge of widow's benefits. The company agreed to pay her a stipend worth 66 percent of her husband's salary - which doesn't amount to much since he was only five months on the job. It barely pays for the utilities and the mortgage on a 100-year-old house. Social Security spousal benefits keep her family in food, and a state program provides medical insurance for her children, but not for her.
As a last gesture, Tyson and Rodney's union offered enough money to provide her with roofing material and a new set of windows for her house. But the company didn't offer to install them. Instead, Rodney's friends and family organized a work party to replace the roof on their own.
"Rodney had friends everywhere," Jaime says. "We couldn't go anywhere out in town without running into people." Two years after the accident, Jaime is still a ghost of a woman, getting up to get her children to school, driving them to soccer practice, and trying to fill the quiet moments in between. She mostly stares at the wallpaper and thinks of ways she can change it. She and Rodney met when they were 21 years old and lived together for 15 years. And now he's gone.
"In my opinion, I don't believe [the laws] were written to help people like us," she says. "'We're sorry for your loss, you know, here's a book and a small check and a couple tokens, but, you know, sorry. We're going to go on with our everyday lives and soon forget about who your husband was.'"
When Jaime's friends drive her around town, they know to change the radio channel if a Tyson commercial comes on the air. Jaime never goes into the frozen food section of her local grocery store anymore. And if any of her friends are looking for work, she has one piece of advice: Don't go to Tyson.
"I wouldn't wish that place on anybody I know and love," she says.
This article is an excerpt from a longer and fully footnoted report. That report - "Subsidizing Contractor Misconduct: Three Contractors Who Won Big Despite Egregious Labor Violations" - can be downloaded here.