Six Banks Pay $5.6 Billion in Fines for Foreign Exchange Manipulation
Image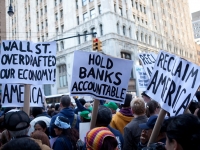 Six major international banks - Bank of America, Barclays, Citibank, JPMorgan Chase, Royal Bank of Scotland (RBS) and Union Bank of Switerland (UBS) - have agreed to pay $5.6 billion in fines for rigging global foreign exchange markets. Four of the six have pleaded guilty to criminal behavior.

These banks number among a total of 15 that are being investigated for rigging the $5.3 trillion global market. Just four of the 15 together control over half the foreign-exchange market, according to Euromoney, an industry publication. Barclays of the UK has 10.2 percent of the market, Citigroup in the U.S. has 14.9 percent, Deutsche Bank from Germany has a 15.2 percent share while UBS of Switzerland has 10.1 percent.

The six banks that agreed to pay the fines admit that between December 2007 and January 2013, euro-dollar traders at Citibank, JPMorgan, Barclays and RBS - who named themselves "The Cartel" - used a secret electronic chat room and pre-arranged codes to fix exchange rates.

One Barclays trader wrote in a November 5, 2010 chat: "If you aint cheating, you aint trying."

Bank of America agreed to pay total fines of $455 million, Barclays $2.32 billion, Citicorp $1.267 billion, JPMorgan $892 million, RBS $669 million and UBS $1.14 billion.

Government officials say that the fines are appropriate and are cautiously hopeful that the penalties will prevent such behavior in the future.

"The penalty all these banks will now pay is fitting, considering the long-running and egregious nature of their anticompetitive conduct," Loretta Lynch, said U.S. Attorney General, said in a press statement.

 "I do think we've been successful in driving change at board level," Martin Wheatley, the head of the U.K.'s Financial Conduct Authority, told the Financial Times. "But, for us to drive change through the culture of the organisation, that is a work-in-progress."

Observers are skeptical. "Big as the fines are, it is not clear if they frighten individual bankers enough to change risky behaviour. We won't know until several years without fines have passed," wrote Lex analysts at the Financial Times.

And activists say that the fines are really about making the government look good. "Even as they beat their chests announcing how tough they are, government regulators refuse to apply to the giant banks the same rules that apply to everyone else," Robert Weissman, president of Public Citizen, said in a statement." There are two messages in today's plea deal: First, criminality is rampant on Wall Street. Second, the era of too-big-to-jail is alive and well."

Indeed, despite the size of the fines, these sums are relatively modest compared to the bank's annual revenues. Barclay's paid the most at 6.44 percent of 2014 revenue, while for Bank of America, the cost was just 0.29 percent of revenue.

Still, the total amount of money paid out in fines by 20 of the world's biggest banks is not small, according to Reuters, which estimates that they have now paid out some $235 billion in the last seven years to settle multiple allegations of fraud - from mortgage scams to tax evasion and fro interest rates to foreign exchange manipulation.

But some say jail time for senior executives is the only answer. "I'd be pessimistic of a complete shift in culture without more measures being taken," Mark Taylor, dean of the business school at the University of Warwick in central England, told the news agency. "Once senior executives feel they are personally at risk if the culture doesn't change, and individual traders feel they are at risk of being put in prison, then you'll get a culture change."

Others say it is time to break up the biggest banks. U.S. Senator Bernie Sanders of Vermont, has proposed a new law called the "Too Big to Fail, Too Big to Exist Act" calling on the Financial Stability Oversight Council to put together a list of institutions whose collapse could trigger an economic crisis. These government would then be required to break them up.

"If an institution is too big to fail, it is too big to exist," Sanders said Tuesday. "No single financial institution should have holdings so extensive that its failure could send the world economy into crisis."

AMP Section Name:
Financial Services, Insurance and Banking