Seven Banks Under Investigation for Global Interest Rate Scandal
Image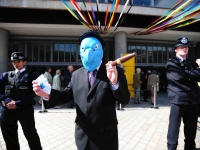 Seven international banks have been served with subpoenas over the global interest setting scandal. Barclays, Citigroup, Deutsche Bank, HSBC, JPMorgan Chase, Royal Bank of Scotland and UBS - have been asked to provide relevant "documents and communications" to Eric Schneiderman, the New York attorney-general in collaboration with George Jepsen, Connecticut's top law enforcement officer.

The scandal involves LIBOR - or the London Inter Bank Offer Rate - a global system of interest rates for $360 trillion in international deposits. While many of these loans are overnight transfers between banks, they affect the price of consumer loans like mortgages, car loans and credit card loans. The rates are set by the British Bankers Association which makes a considered average of rates reported to them verbally by participating bankers.

For several years, speculation has been rife that the numbers were being fixed. A 2008 study by the Bank for International Settlements noted that the rates could "be manipulated if contributor banks collude or if a sufficient number change their behaviour." So did a paper published on the Social Science Research Network which found evidence of "questionable patterns."

Last year news emerged that the European Commission, the U.K. Financial Services Authority, U.S. Commodity Futures Trading Commission, the U.S. Department of Justice and the U.S. Securities and Exchange Commission were investigating the matter.

"(T)he manipulation of submissions used to calculate those rates can have significant negative effects on consumers and financial markets worldwide," said Lanny Breuer, assistant attorney general of the U.S. Justice Department's criminal division.

In August 2011 the city of Baltimore, Maryland, and the Firefighters and Police Benefit Fund of the city of New Britain, Connecticut, sued 16 banks over the rate manipulation. Naomi Reice Buchwald, a federal judge in New York, appointed Michael Hausfeld of Hausfeld and Arun Subramanian of Susman Godfrey to act as the lawyers for a potential class action lawsuit.

On June 27 Barclays became the first bank to be charged this past June when it was fined a record £290 million ($450 million) by U.S. and U.K. authorities.

In the following weeks subpoenas were served on a number of other banks in New York, under the Martin Act, a 1921 law, which allows the attorney general to investigate anyone doing business in New York that may have committed "deceitful practices contrary to the plain rules of common honesty."

Meanwhile a number of other lawyers have jumped on the bandwagon. In July law firm Pomerantz Haudek Grossman & Gross filed a similar lawsuit on behalf of Berkshire Bank in July 2012. In August Brian Murray of law firm Murray Frank filed a lawsuit on behalf of investors in Alaska, Wyoming, North Dakota and about 20 other states.

The banks are fighting back. In a motion to dismiss the original Baltimore lawsuit, a veritable who's who of 16 top Wall street law firms stated: "(F)alse reporting (of interest rates) in and of itself is not alleged to be, and plainly is not, a competitive act, and does not restrain trade in any market. There are no buyers or sellers, no market, no profit, and no competition of any kind associated with the mere reporting of rates or setting of USD Libor."

But experts say that it is high time that the LIBOR system was scrapped. "So long as big finance will do almost anything to goose its own profits and bonuses, self-regulation is a dangerous myth," says Robert Schapiro, under secretary of commerce for economic affairs in the Clinton administration. "It should give way to sound law enforcement, which in economic terms is government regulation."


AMP Section Name:
Financial Services, Insurance and Banking