Mexico Sues U.S. Gun Dealers for Aiding Illegal Gun Sales Across the Border
Image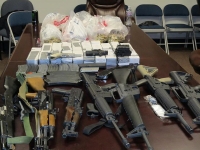 On a secure military base in Tecamachalco, a Mexico City suburb, lies the country's only gun shop. Prospective customers must fill out multiple forms before being allowed to enter and view weapons locked in glass cases. Advertising the store is illegal – so most Mexicans remain ignorant of its existence.
The store – which is called Dirección de Comercialización de Armamento y Municiones (Directorate for the Commercialization of Arms and Munitions or DCAM) – issues less than 50 gun permits per year. Yet over 25,000 people were killed by firearms in Mexico in 2020 and over 3.9 million crimes were committed in the country with U.S.-manufactured guns in 2019.
It's no secret where the weapons for these crimes come from: over half a million weapons are smuggled across the border from the United States every year, according to estimates from the Mexican government. In 2017, the Small Arms Survey estimates that the 130 million people living in Mexico collectively owned 17 million guns.
Last October, the government of Mexico sued five gun dealers in Arizona – Ammo A-Z, Diamondback Shooting Sports, Loan Prairie, SNG Tactical, and Sprague's Sports – for their role in supplying weapons. The lawsuit against the gun dealers, which was filed in the U.S. District Court in Tucson charges the dealers with violating anti-racketeering laws.
"These businesses are an organized part of a criminal enterprise, a mechanism, to facilitate criminals and cartels in Mexico being able to use their weapons," said Alejandro Celorio Alcántara, legal adviser to Mexico's Foreign Relations Department, at a press conference. "We are saying they are negligent and facilitate straw purchasers, to the point of being accomplices."
The lawsuit alleges that the gun dealers sell their deadly products to straw purchasers (i.e. individuals who legally buy guns and sell them onto others) who then supply them to arms smugglers. For example, the lawsuit cites the case of Francisco Dario Mora and Pedro Adan Sevilla, who were sentenced to five and 12 years in prison in Arizona last May for buying 25,000 rounds of ammunition and 40 guns from Ammo A-Z and SNG Tactical and smuggling them over the border. It also cites the case of Jose Rodrigo Felix-Quiroz who was accused of making weekly visits to Sprague's Sports in 2018 over a period of six months and using eight different straw purchasers to buy over 20 guns that he smuggled to Mexico and sold at a mark-up using WhatsApp and text messages.
The lawsuit alleges that the dealers should have been aware of the purpose of these sales given that the buyers were purchasing military-style weapons such as .50 caliber sniper rifles intended to shoot down helicopters and penetrate lightly armored vehicles and bullet-proof glass; as well as AK-47 assault rifles and AR-15 assault rifles, that are weapons of choice for Mexican gangs.
"The unfortunate truth about the straw purchases that are typically made in border towns like Yuma," a lawyer for a gun buyer was quoted as saying. "The persons who supply the cartels actively recruit young, naïve persons who are United States citizens, but who live in Mexico and are largely Spanish-speaking and unfamiliar with how these schemes are run."
Mexico brought the lawsuit against the gun dealers, in some part, to get around the fact that U.S. courts recently blocked a previous $10 billion lawsuit that Mexico filed in August 2021 against the weapons manufacturers – like Beretta, Colt, Glock, Smith & Wesson and Sturm, Ruger – who make many of the guns used in the country.
Colt, for example, is the source of the most common weapons recovered from gangs – as well as some of the guns most coveted by cartel bosses such as the .38-caliber Emiliano Zapata 1911 pistol, which is inscribed with the words: "It is better to die standing than to live on your knees."
"While the court has considerable sympathy for the people of Mexico, and none whatsoever for those who traffic guns to Mexican criminal organizations, it is duty-bound to follow the law," said F. Dennis Saylor, a U.S. judge in Boston who heard the dismissed case, noting that the 2005 Protection of Lawful Commerce in Arms Act (PLCAA) shields gun makers from lawsuits over "the harm solely caused by the criminal or unlawful misuse of firearm products … by others when the product functioned as designed and intended."
Despite the victory by the arms companies, gun control advocates in the U.S. have been slowly whittling away at their legal impunity. Last February, Remington – makers of the Bushmaster AR-15 assault rifle – and its insurers agreed to pay $73 million to kill a lawsuit over the company's marketing of military-style weapons to the general public that was used by a gunman to kill children at the Sandy Hook Elementary School in Connecticut in 2012.
In that particular case, courts were convinced that Remington was violating a Connecticut statute that outlaws deceptive marketing practices – specifically because they were marketing a military-style weapon for public use – so the courts agreed to hear the case. Sensing that they would likely lose the lawsuit, the company agreed to settle.
It remains to be seen if Mexico can apply anti-racketeering laws to make another dent in the fight to overcome the 2005 Arms Act.