Iraqi Torture Victims Lawsuit Against Military Contractor CACI Allowed to Proceed
Image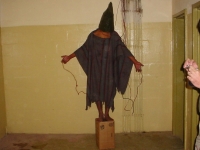 Three Iraqi men who brought a lawsuit against military contractor CACI for torturing them at the U.S. military-run Abu Ghraib prison will be allowed to take the case to trial after a court in Virginia denied an 18th attempt by the company to get the case dismissed.
"I have stayed patient and hopeful during the two years we have waited for this decision – and throughout the nearly two decades since I was abused at Abu Ghraib – that one day I would achieve justice and accountability in a U.S. court," Salah Al-Ejaili, one of the plaintiffs, said in a press release. "Today, brings me and the other plaintiffs one step closer."
After the U.S. invaded Iraq in March 2003, it took control of the Abu Ghraib maximum security prison just outside of the capital city of Baghdad. The prison was managed by the 372nd Military Police Company with the help of interrogators and translators provided by CACI (pronounced "Khaki"), a military contractor based in Arlington, Virginia.
CACI provided the interrogators and translators under a blanket purchase agreement (BPA) contract (meaning the issuer could use a simplified system to buy services on a regular basis) for "information technology" issued by the U.S. Department of Interior.
BPA contracts are not especially unusual – and CACI has regularly provided technology services to the Pentagon. Indeed its first federal contracts were for custom-written computer languages that could be used to build battlefield simulation programs,
But this contract was issued by the Interior Department – whose job is managing U.S. federal lands and natural resources not overseas, let alone for interrogation. While this contract might never have been intended to be used in Iraq – it was certainly issued at a rather unusual location: the Fort Huachuca military base in Arizona which happens to be the main site where the Pentagon conducts interrogation training. (These contracts were discontinued as a result of the Abu Ghraib scandal.)
In 2004, Seymour Hersh, a reporter at the New Yorker magazine, uncovered an internal report written by Major General Antonio Taguba that detailed "sadistic, blatant and wanton criminal abuses" conducted against the prisoners held at Abu Ghraib. The majority of those charged were U.S. soldiers but several CACI employees were also accused of taking part.
Victims have spoken out about the abuses at the time: "During two months, torture took different forms, including undressing, being caged like animals, using dogs for intimidation, banning food and drinks, hand and foot cuffing, physical humiliation, sexual harassment and many others. My body was like a machine, responding to all external orders," Salah would recall later. "The only part I owned was my brain, which could not be stopped by the black plastic bag they used to cover my head. The most important question to which I could find no answer at the time is: what is all this for?"
A second report by Lieutenant General Anthony Jones and Major General George Fay found that three contractors – from CACI and Titan corporation of San Diego - participated in and encouraged the torture of Abu Ghraib prisoners: namely John Israel, Adel Nakhla and Steven Stephanowicz.
Over the years, multiple witnesses have come forward to testify about the role of the CACI contractors. William Lawson, the uncle of Staff Sergeant Ivan "Chip" Frederick, one of the soldiers named in the report who is currently facing a court martial, told CorpWatch in 2004 that his nephew told the family that the company employees were partially responsible for the abuses.
"He tried to complain and that he was told by superior officers to follow instructions from civilians, contract workers interrogating the Iraqi prisoners. They said go back down there," Lawson told CorpWatch. "Do what the civilian contractors tell you to do and don't interfere with them and loosen these soldiers up for interrogation."
In 2008, the Center for Constitutional Rights brought a lawsuit against CACI and Titan on behalf of dozens of former detainees —alleging that company officials conspired with U.S. military personnel in their torture. The lawsuit was brought under the Alien Tort Statute of 1789.
Titan settled out of court with a $5.28 million payment to 71 former prisoners at Abu Ghraib in 2013. CACI, on the other hand, has spent the last 15 years fighting to get the lawsuit dismissed on no less than 18 different occasions. Indeed CACI even tried to sue the plaintiffs to pay costs incurred by the company to appear for court depositions.
CACI's latest attempt for dismissal attempted to invoke a 2021 U.S. Supreme Court decision that ruled that Nestle USA could not be held accountable for the trafficking of child workers into Ivory Coast. Previously the company claimed it was immune from being sued because it was acting on behalf of the government.
The courts have rejected both arguments.
"The judge in this case has found sufficient evidence that CACI was a direct conspirator, aided and abetted the actual torture of our clients, so enough evidence that a jury could find them liable, and that's what we're hoping will be the next step in front of a United States jury," Baher Azmy, the legal director of Center for Constitutional Rights Legal Director, recently told Fairness & Accuracy In Reporting.
Meanwhile, over the last 20 years, many of the military personnel who took part in the torture have been punished in one way or the other. Charles Graner, considered to be the ringleader, served 6.5 years in jail in Fort Leavenworth, Kansas, while Sergeant Ivan Frederick Jr. spent about three years at the same jail. Lynndie England served time at a Navy jail in Miramar, California. And Janis Karpinski, the commander of Abu Ghraib, was demoted from her rank of brigadier general to colonel.