Private Contractors and Torture at Abu Ghraib, Iraq
Image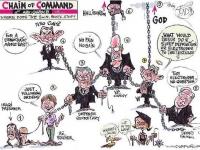 Two private military contractors are being investigated for their role in torture allegations at the Abu Ghraib prison, Iraq: CACI International, Inc. from Arlington, Virginia, and Titan of San Diego, California. CACI supplied at least one interrogator while Titan supplied at least two translators named in a 53-page classified internal Army report written by Major General Antonio Taguba that have dominated news coverage all over the world. (see box)
A total of four men -- Steven Stephanowicz, John Israel, Torin Nelson and Adel Nakhla -- are named in the report. All of them were assigned to work with the 205th Military Intelligence Brigade, a unit that is currently stationed in Germany and Italy in support of V Corps, under the command of Colonel Thomas Pappas.
According to the Army report:
Stephanowicz, a CACI interrogator, "[m]ade a false statement to the investigation team regarding the locations of his interrogations, the activities during his interrogations, and his knowledge of abuses." Further, investigators found, Stephanowicz encouraged Military Police to terrorize inmates, and "clearly knew his instructions equated to physical abuse."
Israel, apparently misled investigators, denying that he witnessed any misconduct. The report says that Israel should not even have been in the place because, he "[d]id not have a security clearance." (It's not clear whether Israel works for CACI or Titan but CACI officials have denied employing Israel.)
Nakhla was questioned about the treatment of several detainees accused of rape and quotes him as saying that two Army sergeants made the prisoners, who were naked, do "strange exercises" and then "started to stack them on top of each other" after handcuffing them and shackling their legs.
One civilian stands accused of raping a juvenile Iraqi inmate but the name of the civilian is not revealed in the report.
"In general, US civilian contract personnel (Titan Corporation, CACI, etc), third country nationals, and local contractors do not appear to be properly supervised within the detention facility at Abu Ghraib," military investigators concluded.
Investigate the Interrogators
William Lawson, the uncle of Staff Sergeant Ivan "Chip" Frederick, one of the soldiers named in the report who is currently facing a court martial, told CorpWatch that his nephew told the family that the company employees were partially responsible for the abuses.
"He tried to complain and that he was told by superior officers to follow instructions from civilians, contract workers interrogating the Iraqi prisoners. They said go back down there. Do what the civilian contractors tell you to do and don't interfere with them and loosen these soldiers up for interrogation."
Lawson says that the company employees should be investigated and prosecuted if necessary. "I've spent 23 years in the military including time in Vietnam. I love this country but I will not allow my nephew to be used as a scapegoat," he said in a phone interview from his home in Newburg, West Virginia.
In 2000 Congress passed a law allowing criminal proceedings against Defense Department contractors working abroad, after civilian contractors with El Segundo-based DynCorp escaped prosecution on accusations in 2000 of running a prostitution ring in Bosnia.
CACI, however, denies the allegations and maintains that its workers have done "a damn fine job." "During a conference call Wednesday with investment analysts, J.P. "Jack" London, CACI chief executive, said that he still had not received any information from the government nor had any charges been filed against the company.
Meanwhile the company has refused to divulge information on its workers in Iraq but details have been leaking out. Stephanowicz, from Telford, Pennsylvania, is the son of Jean and James Campbell, who told the Washington Post that they were reserving judgment about the accusations about his work in Iraq. "He's 7,000 miles away. How are we supposed to know what's going on?" James Campbell said.
Another company employee is Joe Ryan, who kept an online blog about his work at Abu Ghraib. The blog was hosted on the web site of KSTP-AM, a St. Paul, Minnesota radio station, but has now been removed from the Internet.
In an April 21 entry, Ryan described the praise he and his co-workers received after turning in an interrogation analysis. "The command was thrilled and once again the CACI folks have set a high standard for the younger soldiers to follow," he wrote.
A "Khaki" Background
CACI, (referred to as "Khaki" in military circles) was originally called California Analysis Center Incorporated. It was formed in the 1960s by Harry Markowitz and Herbert Karr. Markowitz won a Nobel prize in economics in 1990 for his research on stock portfolio diversification. The company's first federal contracts were for custom-written computer languages that could be used to build battlefield simulation programs.
Up until this ugly juncture CACI, which employs roughly 6,300 people, had quietly pursued an aggressive business strategy, focused on expanding by acquiring weaker companies, and pumping up its business with the federal government such as personnel support at the Kelly Air Force base in Texas and the McLellan Air Force base in California. Its profits doubled between 2001 and 2003, shooting from $22 million (on total revenues of $557 million) to $44 million (on revenues of $843 million).
Today CACI, like most military industry players, boasts a roster of former soldiers and spies, including board members Michael Bayer (former Vice Chairman of the Pentagon's Business Board, and advisor to the Air Force, Army, U.S. Naval War College, and Sandia National Laboratory), Barbara McNamara (ex-Deputy Director of the National Security Agency), Arthur L. Money (former assistant Secretary of Defense), and Larry Welch, (an ex-Air Force General who served on the joint chiefs of staff during first Bush adminstration).
But unlike the other military contractors -- aerospace giant Boeing, whose former exec Darleen Druyun pled guilty last month to criminal conspiracy charges, or Halliburton, which is suspected of massively overcharging the Defense Department for gas trucked into Iraq -- CACI has generally stayed out of trouble.
Indeed, just a few days ago, CACI, Inc., a Virginia-based military contractor, was basking in the glow of success. In March, the firm, whose prime business is selling computer systems to the Pentagon and U.S. intelligence agencies, swallowed up a competitor, prompting the Washington Post to pronounce the company ready to "compete for the biggest and most lucrative government technology contracts." While other businesses continue to struggle notably those whose fortunes aren't hitched to the "war on terrorism" -- CACI was reporting growth reminiscent of the dot-com era, on April 21 reporting a 37% surge in net income.
Outsourcing war
CACI is currently advertising for interrogators to be dispatched to Afghanistan, Iraq, and Kosovo -- on its website. Would-be interrogators must be comfortable working under "moderate supervision" providing "intelligence support for interviewing local nationals and determining there [sic] threat to coalition forces. Must be able to work with interpreters to gather intelligence information from multiple sources."
The job requires "a Top Secret Clearance (TS) that is current and US citizenship," according to CACIs site, and candidates must "have at least two years experience as a military policeman or similar type of law enforcement/intelligence agency whereby the individual utilized interviewing techniques."
These private-sector positions exist because the military has downsized its interrogation units in recent years, several military analysts told CorpWatch. The cutbacks came as part of longtime Pentagon plans to trim its personnel levels while expanding spending on tech and weapsons systems, said David Isenberg, an analyst who follows private military companies for the British American Security Information Council. In earlier days, before the ongoing privatization of war, interrogators would typically be trained at intelligence schools, located at posts like the Armys Ft. Huachuca in southern Arizona.
Meanwhile, CACI continues to downplay its role in the toture controversy. In a canned statement issued, May 5, President and CEO J.P. "Jack" London said, "CACI does not condone or tolerate or endorse in any fashion any illegal, inappropriate behavior on the part of any of its employees in any circumstance at any time anywhere. If, regrettably, any CACI employee was involved in any way at any time in any of the alleged behavior that occurred in Iraq and has been reported in the media and elsewhere, for those employees I will certainly personally take immediate, appropriate action."
Pratap Chatterjee is Program Director/ Managing Editor of CorpWatch. A.C. Thompson is a Staff Writer and Military Researcher for CorpWatch.
AMP Section Name:
War & Disaster Profiteering