EuroZone Profiteers: Dexia
Using Public Funds to Support a Casino
Image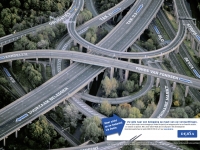 What: Dexia. Founded in 1996. It traces its roots back to Crédit Communal de Belgique in 1860 and Crédit Local de France in 1816. It had a balance sheet of €650 billion at its peak in 2008.

Where: Brussels, Belgium.

Why: It borrowed heavily in short term markets to lend to municipal authorities all over Europe including Greece and Spain. It guaranteed municipal transactions in the U.S.

Outcome: It wrote down €3.65 billion in subprime mortgage losses, and was forced to borrow up to $37 billion from U.S. Federal Reserve in January 2009. Nationalized in October 2011.

 
---
In the mid-1990s, French branding expert Pierre Bessis-who specializes in naming products, from cars to perfumes-was hired by Crédit Communal de Belgique and Crédit Local de France. The two banks were planning a merger and wanted help creating a new identity. Bessis came up with the name Dexia, which he claimed evoked a "mix of strength and femininity and could be the name of an ancient goddess."[138]


For Crédit Communal de Belgique (founded in1860) and Crédit Local de France, a division of the Caisse des Dépôts et Consignations (established in 1816), the new name marked a new mission. It was intended as a symbolic way "to get away from their rather administrative names that refer to their core businesses" of making loans to build schools and finance public transport, according to Bessis.

Yet the change was more than just symbolic. The founders of Dexia-officially launched in 1996-had an ambitious plan to expand the centuries-old function of the original banks. The new entity would provide cheap credit to municipalities across Europe once the euro was launched, and even beyond.

In Austria, Dexia upped its stake to 49 percent in Kommunalkredit-a financierof local municipal projects.[139] In Spain, Dexia set up a joint venture with Banco Sabadell of Barcelona, in which it held a 60 percent majority share.[140] Dexia also took a 40 percent stake in Crediop, a major Italian financier of local projects, and majority control of Banque Internationale à Luxembourg, that country's oldest bank.[141] In the U.S., Dexia bought Financial Security Assurance, which provided bond insurance to municipalities.[142]

The man behind this plan was Pierre Richard, who became president of the Dexia's board of directors. He was aided by a young Belgian lawyer, Axel Miller, who joined the company in 2001, and became its CEO in 2006.[143]


Dexia quickly became a major player around Europe, giving small cities and towns loans typically ranging from €5 to €50 million. These were not huge amounts for a bank that would eventually have a portfolio of some €650 billion, but they represented sizeable debts for many of the borrowers.[144]

For example, via Kommunalkredit, Dexia loaned €25 million to Yiannis Kazakos, the mayor of Zografou, a suburb of Athens, to buy land to build a shopping mall.[145] It made similar loans to other Greek municipal authorities including Acharnon, Melisia, Metamorfosis, Nea Ionia, Serres, and Volos.[146] In France, Dexia extended €10 billion to some 100 local councils.[147] The loans sounded like great deals to the local authorities, but in reality were tied to highly complex foreign currency exchange and variable interest rates that the small municipal agencies rarely had the expertise to assess. One classic case was the town of Saint-Etienne in central France that took out a loan linked to the "difference between the 10-year British pound constant-maturity-swap and the 6-month Japanese benchmark."[148]

Across the Atlantic, Dexia guaranteed municipal borrowings from the "Texas Veterans Land Board in Austin [to] the Los Angeles County Metropolitan Transportation Authority," according to Bloomberg.[149]

Like Depfa in Germany, Dexia financed these venture by borrowing heavily in short-term markets. It also invested in risky instruments such as unsecured Lehman Brothers bonds, mortgage-backed securities issued by JP Morgan, and sovereign Greek and Spanish debt.[150]


All this started to come apart when Lehman collapsed in September 2008. After Dexia was forced to write down €3.65 billion in subprime mortgage losses, Belgium, France, and Luxembourg came to its rescue with a €6.4 billion bailout.[151] Pierre Richard and Axel Miller were sacked.[152]


Dexia was also in severe trouble over the credit protection it had offered on interest rate swaps for municipal buyers in the U.S. Starting in September 2008, Dexia borrowed an average of $12.3 billion a day in short-term loans from the U.S. Federal Reserve to ensure it could cover any claims. By January 2009 peak borrowings reached $37 billion.[153] (Depfa-the German bank-was in similar trouble; it drew short-term U.S. government loans worth as much as $28.5 billion).[154]


In July 2011 the European Banking Authority rated Dexia as the 12th safest bank in the E.U. after determining that it had a core Tier One capital ratio of 10.3 percent (the ratio of assets such as core equity capital measured against total risk-weighted assets).[155]


But despite having enough guaranteed assets to pass the stress tests, Dexia was still having problems with cash flow because the short-term money market had essentially shut down. And because it was suddenly paying more to borrow than to lend, its long-term loans to municipalities became unprofitable.


In 2011 it became clear the Greek creditors were not going to get their money back which exacerbated Dexia's problems. Dexia announced that it had €3.4 billion in Greek government debt alone.[156] Added to that, analysts calculated that it had another €17.5 billion in Italian, Portugese, and Spanish debt.[157] As bankers and politicians negotiated to write down the value of Greek bonds by 53 percent, Dexia reached the end of its rope.


In October 2011-just three months after passing the stress test with flying colors-the Belgian and French governments were forced to provide Dexia with €90 billion in guarantees to prevent it from going bankrupt.[158] Just 15 years after its creation, the bank was nationalized, and the governments began to look at ways to sell off whatever they could.


Some experts condemned the bailout. "This is like using public funds to support your local casino," Walker Todd, a former official at the U.S. Federal Reserve Bank of Cleveland, told the New York Times. "It is difficult to see how this is good for society in the long run."[159]
---
[138] "History of Dexia," as described on the company website, since taken down. Archived copy can be seen at http://web.archive.org/web/20120505153758/http://www.dexia.jobs/EN/whoweare/Pages/History.aspx. Date Accessed: September 1, 2013

[139] Dexia, "Dexia Exits from Kommunslkredit Austria AG and Takes Full Ownership of Dexia Kommunalkredit Ban," Dexia press release, March 11, 2008. http://www.dexia.com/EN/journalist/press_releases/Pages/Dexia-exits-from-Kommunalkredit-Austria-AG.aspx

[140] Retail Banker International, "Dexia Breaks BBVA Alliance for Joint Venture with Rival," Retail Banker International, November 30, 2000. http://business.highbeam.com/437016/article-1G1-68503700/dexia-breaks-bbva-alliance-joint-venture-rival

[141] Euro Politics, "Dexia Buys 40% of Italy's Crediop," Euro Politics, March 12, 1997. http://www.europolitics.info/dexia-buys-40-of-italy-s-crediop-artr166388-8.html and "History of Dexia," Op. Cit.

[142] CNN, "Dexia Expands Globally," CNN Money, March 14, 2000. http://money.cnn.com/2000/03/14/deals/dexia/

[143] "History of Dexia," Op. Cit.

[144] Philip Blenkinsop, "Belgium, France Risk Billions on Penny Stock Dexia," Reuters, June 21, 2012. http://www.reuters.com/article/2012/06/21/dexia-idUSL5E8HJEU020120621 and Fabio Benedetti-Valentini, "France's Towns Demand Rescue from 'Time Bomb' of Dexia Loans," Bloomberg, March 27, 2013. http://www.bloomberg.com/news/2013-03-27/france-s-towns-demand-rescue-from-time-bomb-of-dexia-loans.html

[145] Adity Chakrabortty, "Greece in Crisis: House of the Rising Repayments," Guardian (UK), August 1, 2011. http://www.theguardian.com/world/2011/aug/01/greece-in-crisis-questionable-loans

[146] "Nine councils that increased public debt," Aftodioikisi local government website, May 11 2012. http://www.aftodioikisi.gr/dimoi/oi-ennea-dimoi-pou-afxanoun-to-dimosio-xreos

[147] Benedetti-Valentini, Op. Cit.

[148] Benedetti-Valentini, Op. Cit.

[149] Bob Ivry, "Fed's Biggest Foreign Bank Bailout Kept U.S. Municipal Finance on Track," Bloomberg, August 6, 2011. http://www.bloomberg.com/news/2011-04-06/fed-s-biggest-foreign-bank-bailout-kept-u-s-municipal-finance-on-track.html

[150] Jessica Silver-Greenberg, "E-Mails Show Flaws in JPMorgan's Mortgage Securities," New York Times, February 6, 2013 http://dealbook.nytimes.com/2013/02/06/e-mails-imply-jpmorgan-knew-some-mortgage-deals-were-bad/; David Jolly, "France and Belgium Provide Dexia Bailout," New York Times, November 8, 2012. http://dealbook.nytimes.com/2012/11/08/dexia-gets-new-5-5-billion-bailout/ and Leo Kelion, "How Dexia was Caught out by the Eurozone Debt Crisis," BBC, October 5, 2011. http://www.bbc.co.uk/news/business-15180153

[151] Lionel Laurent, "Dexia Next to Submit to Bailout," Forbes, September 30, 2008. http://www.forbes.com/2008/09/30/dexia-belgium-fortis-markets-equity-cx_ll_0930markets06.htmll

[152] Ibid.

[153] Ivry, Op. Cit.

[154] Ivry, Op. Cit.

[155] Stanley Pignal and Patrick Jenkins, "Dexia Poses Setback for EBA Stress Tests," Financial Times, October 5, 2011. http://www.ft.com/intl/cms/s/0/0f638a80-ef6a-11e0-bc88-00144feab49a.html

[156] David Jolly and Liz Alderman, "Breakup Proposals for Dexia Begin to Emerge," New York Times, October 6, 2011. http://dealbook.nytimes.com/2011/10/06/dexia-in-discussions-to-sell-luxembourg-unit/

[157] Harry Wilson, "Dexia Rescue Plans Set to be Unveiled by Belgium and France," Daily Telegraph (UK), October 6, 2011. http://www..co.uk/finance/newsbysector/banksandfinance/8809189/Dexia-rescue-plans-set-to-be-unveiled-by-Belgium-and-France.html

[158] Philip Blenkinsop and Lionel Laurent, "Update 3- Dexia Agrees to Franco-Belgium Rescue Deal," Reuters, October 10, 2011. http://www.reuters.com/article/2011/10/10/dexia-idUSL5E7L90W720111010

[159] Gretchen Morgenson and Louise Story, "Bank's Collapse in Europe Points to Global Risks," New York Times, October 22, 2011. http://www.nytimes.com/2011/10/23/business/dexias-collapse-in-europe-points-to-global-risks.html
AMP Section Name:
Financial Services, Insurance and Banking