Cat and Mouse Game for Wall Street Hedge Fund
Image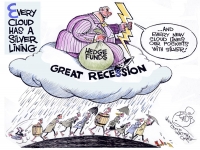 Steve Cohen, the billionaire founder of the most profitable hedge fund in history with $15 billion in assets averaging 30 percent in annual profits for two decades, has become the most watched man on Wall Street. Will he lose all his outside investors and will he go to jail?
Hedge fund managers claim to be skillful stock and bond traders who can generate outsize profits by sharp analysis and clever gambles. But many believe that they trade heavily on inside information - and U.S federal prosecutors are attempting to shut this down. To date some 73 defendants have either pled guilty or been convicted since 2009.
SAC Capital - Cohen's fund - has been investigated by the federal government for several years on such charges. This week many of his outside investors who have put in $5.6 billion are rumored to have taken advantage of a contractual deadline to pull their money out for fear of the government pursuit, although no one knows how much yet. (Hedge funds often have rules that do not allow money to be withdrawn overnight as one might from a bank)
The New York Times says this has created "fear and anxiety on trading desks across Wall Street" noting that a report on SAC became the single most read article on the trading floors in New York on Monday. A senior executive at a brokerage firm told the newspaper: "This is going to have a significant impact to the Street, full stop."
If the majority of the outside money is withdrawn (the Wall Street Journal predicts that $3.5 billion will be taken), Cohen will be forced to pay most of his research and trading expenses. SAC charges three percent of invested funds plus half of all profits which suggests that his outsiders give him about $1 billion a year for operations. Even if he keeps up his 30 percent return on investment, this could cut his profits by a third.
Whether Cohen gets charged with a crime revolves partly around what one of his former staffers - Mathew Martoma of CR Intrinsic Investors - tells investigators. Martoma has been charged with approaching Dr. Sidney Gilman, then a 73 year old professor at the University of Michigan, for information on a clinical trial for an Alzheimer's drug being jointly developed by two pharmaceutical companies.
At the time Gilman was chairman of a board monitoring trials of the drug. He was persuaded to sell SAC inside information ahead of time that allowed the investors to avoid $276 million in losses by selling stock as soon as they learned that the drug trials were going badly.
The night before the trading occurred, Martoma had a 20 minute conversation with Cohen, but he has refused to say what he told his boss at the time.
Now Martoma faces the "prisoner's dilemma" writes James Stewart. Under this theory, two people are being interrogated separately for an alleged crime. "Each can either confess and implicate the other, or remain silent. If only one confesses, he goes free and the other gets a harsh sentence. If both confess, each gets a reduced sentence, but still goes to jail. If neither confesses, the government lacks the evidence needed to convict and both go free." (This dilemma is complicated by the fact that SAC is paying all of Martoma's legal costs)
Already Wesley Wang, a former SAC analyst, has got off with two years of probation for helping the government. Meanwhile Anthony Chiasson, a former SAC trader, who did not talk is now serving a six and a half years sentence.
SAC collaborated initially with the government, paying over $600 million in fines in March. In May the government called four top executives - including Cohen himself - to testify before grand juries. SAC responded by playing hardball - it announced it would stop cooperating, astounding the media, and ratcheting up the battle.
"Steve Cohen isn't just another hedge-fund billionaire; he is the hedge-fund billionaire. He doesn't live in just another Greenwich, Connecticut, mansion; he lives in the largest of them all, complete with its own two-hole golf course and Jeff Koons's Balloon Dog sculpture adorning the driveway," wrote Bryan Burrough and Bethany McLean in Vanity Fair.
Wall Street is waiting with bated breath, as it watches what seems to be an endless re-run of a Tom and Jerry cartoon. Will the cat catch the mouse?
AMP Section Name:
Financial Services, Insurance and Banking