Bribing Mexico: Walmart Accused of Corruption
Image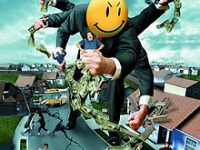 Eduardo Castro-Wright, the former CEO of Walmart Stores USA, has been accused of leading a $24 million scheme to pay off Mexican city governments in return for permission to open supermarkets around the country.
Walmart, based in Bentonville, Arkansas, runs giant discount retail stores that sell consumer goods at rock bottom prices. It has grown to become the world's largest private employer with 2011 sales of $421.85 billion.
Company bosses turned a blind eye to the scheme of Mexican bribes (called "gestores" in Mexico) when informed about it in 2005, according to an investigation just published in the New York Times.  Michael T. Duke, now Walmart's CEO, was also informed at the time but did nothing.
Castro-Wright was described by Forbes magazine at the time as "one of the sharpest executives in the land watching over his 3,250 U.S. stores" in a fawning write-up in January 2006.
The Texas A&M graduate took over the Mexico operations in 2002. Over the next four years, Forbes cited his ability to grow Walmart's Mexican business by slashing "prices and expenses, squeez(ing) suppliers" and a "knack for public relations ... when merchants protested the construction of a Wal-Mex store near an archaeological site."
The magazine did not mention bribes.
In reality, the company grew quickly mostly because of a bribery scheme that was run by Sergio Cicero Zapata, a former executive, according to the New York Times investigation. Cicero, who was in charge of obtaining construction permits for the new stores, called the scheme "the dark side of the moon."
The money was typically paid out to local governments via two of Cicero's friends from law school: Pablo Alegria Con Alonso and Jose Manuel Aguirre Juarez. These bribes "bought zoning approvals, reductions in environmental impact fees and the allegiance of neighborhood leaders" according to the New York Times. "Permits that typically took months to process magically materialized in days." The "gestores" helped catapult Walmart into becoming the largest employer in the country with 209,000 workers.
Cicero blew the whistle in September 2005 when he felt he was not promoted fast enough. When H. Lee Scott Jr. - then Walmart's CEO - was informed, he covered up the matter and "rebuked internal investigators for being overly aggressive."
José Luis Rodríguezmacedo Rivera, the general counsel of Wal-Mart de Mexico, who allegedly authorized the bribes, was hired to investigate the matter. Not surprisingly he found his colleagues innocent.
Castro-Wright left Mexico in late 2005 and returned to the U.S. The bribes stopped. But instead of being suspended or fired, Castro-Wright was promoted to vice-chairman of Walmart in 2008.
Paying bribes anywhere in the world is illegal for U.S. companies under the Foreign Corrupt Practices Act and Walmart is required to inform the Department of Justice of any violation. Walmart did not do this until December 2011, six years later, when it learned of the New York Times investigation
Walmart has not denied the charges. In a press release issued as soon as the New York Times article came out, David Tovar, Walmart's vice president of corporate communications says: "Many of the alleged activities in The New York Times article are more than six years old. If these allegations are true, it is not a reflection of who we are or what we stand for. We are deeply concerned by these allegations and are working aggressively to determine what happened."
None of Walmart's aggressive expansion tactics in Mexico will come as a total surprise to activists in the U.S. like Food & Water Watch and the Institute for Local Self-Reliance (ILSR). The two groups issued a new report last week titled "Top 10 Ways Walmart Fails on Sustainability."
"Walmart ... forces smaller farmers and companies to get big or get out of business," said Wenonah Hauter, executive director of Food & Water Watch. The activists noted that the company added 1,100 new stores in the U.S. since 2005, ignoring environmental objections, such as paving over land with endangered species.
Walmart has also been accused of "greenwashing" -  a tactic by which companies "preserve and expand their markets by posing as friends of the environment and enemies of poverty."
In 2005 Walmart hired public relations advisers and teamed up with the Environmental Defense Fund (EDF) in 2005, an NGO that has a history of working with big business.
With the help of EDF, the company released a report last week that touted numbers such as a claim that Walmart had kept "80.9 percent of all waste generated by our U.S. operations out of landfills. This has the potential to prevent 11.8 million metric tons of CO2 emissions annually."
In reality, the company's energy use has increased greenhouse gas emissions by 14 percent since 2005. In fact Food & Water Watch and ILSR note that barely one percent of Walmart's Chinese suppliers have actually implemented waste reduction programs; that most of its products are so shoddy that they actually increase waste; that the company only sources four percent of its energy from renewable sources (other retailers like Whole Foods are already at 100 percent)
Bribery and greenwashing do make a business grow more quickly, after all.
AMP Section Name:
Retail & Mega-Stores