Yue Yuen Shoe Factory Backs Down After Workers Strike for Pensions
Image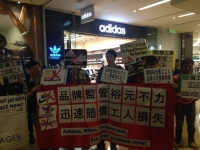 Some 40,000 workers in seven Yue Yuen shoe factories in Dongguan city, China, went on strike last month to successfully demand that their employer make pension payments required under the law.

Yue Yuen, a Taiwanese company headquartered in Hong Kong, is the world largest manufacturer of shoes for big brands like Adidas, Nike and Timberland. It is estimated to make one in five sports shoes sold globally for which it earned $434.8 million in profits in 2013.

For several years Yue Yuen has been making pension contributions for workers based on their base pay of 1,810 yuan ($294) a month. In reality, workers average wages of 3,000 yuan ($487) a month, with overtime and bonuses, so the contributions have fallen short.

News about the deficit broke in March after a worker who retired after 18 years at a Yue Yuen factory discovered that her pension was less than she expected. The news spread rapidly on Weixin, a popular mobile chat service similar to WhatsApp.

On April 5, workers began to down tools at a factory in Dongguan in Guangdong province. By mid-April some 80 percent of Yue Yuen workers had stopped working.

"The factory director told us, 'If you're looking for us to repay, I can tell you it's not going to happen,' " Liu Hai, a Yue Yuen worker told the New York Times. "That afternoon, people just started walking off little by little." Liu was interrogated by the police for making comments in an online post but was let go after he signed an agreement not to protest.

Not so Lin Dong and his colleague Zhang Zhiru, the founder of Shenzen's Chunfeng Labor Dispute Service Center, who drove an hour from their offices to meet with workers and provide legal advice to the strikers. "The police twice asked us not to get involved with the strike, but we ignored them, so they got annoyed and want to teach us a lesson," Zhang told the Financial Times.

Some 20 police officers grabbed Lin and Zhang when they were eating at a hotel, took them into custody and charged them with "picking quarrels and stirring up trouble." After Professor Wang Jiangsong of the Beijing-based China Labor Relations Institute and others raised the alarm about their arrests on Weibo - the Chinese equivalent of Twitter - the two organizers were released and driven out of town.

After two weeks of strikes and protest marches, Yue Yuen agreed to cover the shortfall and provide an extra 230 yuan ($36.78) a month per worker as an additional monthly living allowance.

While the company has pleaded ignorance of the laws governing benefits payments, some say that the practice is common. "Some local governments even allow foreign companies to escape payments to attract their investments," He Gaochao, a public affairs professor at Sun Yat-sen University, told Xinhua, the Chinese news agency.

Despite the new increase in wages, Yue Yuen workers will barely be able to afford a pair of Nike's which costs 1469 yuan, equal to roughly two weeks wages in Dongguan.


AMP Section Name:
Retail & Mega-Stores