Haitian Garment Workers Win $1 Million Compensation From PVH (Phillips Van Heusen)
Image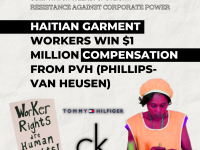 Workers at Vald'or, a garment factory in Port-au-Prince, Haiti, made clothes for PVH (formerly known as Phillips-Van Heusen), that owns Calvin Klein and Tommy Hilfiger brands. The factory abruptly shut down in December 2021 and failed to pay severance or pension benefits to the 1,100 workers. With the help of the Worker Rights Consortium (WRC), the workers got a collective payout of $1 million.
"We have a long way to go, but every time a brand steps up to ensure garment workers receive what they're owed, it makes it harder for the next brand to refuse." – Thulsi Narayanasamy, director of advocacy for WRC
Haiti's Sweatshops
Garment factories in Haiti collectively employ some 57,000 workers (the majority are women) who toil for the minimum wage of 500 gourdes (US$3.34) a day, less than a third of what is considered a living wage in the country. These rock-bottom wages are a legacy of intervention by the U.S. government and international financial institutions like the World Bank.
Vald'or
One of these factories was opened in 2014 by Vald'or, a company based in Coconut Creek, Florida, in Port-au-Prince, that employed 1,500 workers at its peak. CEO Robert Rothbaum reportedly owns other factories around the world such as Sterling Apparel in Amman, Jordan.
"We spent seven years working the machines. They've been sucking our blood for seven years. Working in these factories is not easy. It takes up all your energy. We have to pay for our children's school. We have to pay for housing." - Former Val'dor employee speaking out on Twitter
Abrupt Shutdown
In late December 2021, Val'dor abruptly shut down its factory in Haiti. Workers surrounded the buildings and briefly trapped the manager of the facility who was trying to flee, but were unable to get severance pay.
Worker Rights Consortium steps in
WRC, an independent labor rights monitoring organization based in Washington DC, opened up discussions with PVH, one of the world's largest fashion companies with a revenue of $9.2 billion in 2021, whose brands benefited from Val'dor's sweatshop. PVH agreed to pay out U.S.$968,000 to reimburse the workers for as much as a year's pay.
Hanesbrands Deal
WRC has worked with other companies in Haiti to secure severance packages for workers that have been laid off. For example, in August 2022, Hanesbrands agreed to pay $330,000 to the former employees of Garments of Haiti who also lost their jobs when the company shut down.
Company response 
Vald'or has not responded to media enquiries but PVH has put out a statement.
"We are pleased that we were able to provide financial restitution for the affected workers in Val D'or Haiti and participate in a comprehensive resolution to this unfortunate situation." - PVH spokesperson
This is #35 in our series of Instagram infographics on resistance against corporate power.
Click here to see the full post on Instagram.