Thai Garment Workers Win U.S. $8.3 Million Wage Theft Settlement From Victoria's Secret
Image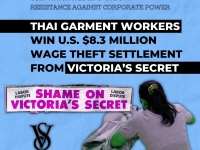 Clover Group's Brilliant Alliance Thai factory in Samut Prakan province used to manufacture lingerie for brands like Lane Bryant, Torrid, and Victoria's Secret. Over a third of the workers were women aged 45 and older and many had worked at the factory for over a decade. The owners abruptly shut down the factory in March 2021 and fired 1,250 workers. After a successful campaign, Victoria's Secret agreed to lend the owners U.S. $8.3 million to pay severance to the workers.
"It's like the equivalent of a worker's life savings… and it [was] simply stolen. What it means to lose that and get it back is difficult to capture in words." - Jitnawatcharee Panad, former worker and president of Triumph International Worker's Union of Thailand.
Fight for severance
Clover Group refused to pay severance to the workers within 30 days of closing down the business, as required under Thai law. The workers petitioned the Thai Labor Ministry to intervene without success. So they reached out to Triumph International Union as well as two NGOs in Washington DC – the Solidarity Centre and the Worker Rights Consortium - who put pressure on Victoria's Secret to pay the workers.
"If we hadn't fought for fair compensation, we wouldn't have received anything. The doors of the labor ministry were locked when we went there to seek help and the minister didn't seem to want to listen to our problem." – Jitnawatcharee Panad, former worker and president of Triumph International Worker Union of Thailand.
$8.3 million settlement
After months of campaigning, Victoria's Secret agreed to lend Clover Group the money to pay the workers. Other U.S. brands did not contribute to the settlement.
"Over several months we had been in active communication with the factory owners to facilitate a resolution. We regret they were not ultimately in a position to conclude this matter on their own, so to ensure the workers received their full severance amounts owed, Victoria's Secret agreed to advance the severance funds to the factory owners." – Victoria's Secret.
Hope for change
Worker Rights Consortium is hopeful that this historic payout will set a powerful precedent for other garment companies. They are planning to campaign on 31 other factories located in 9 countries that have failed to pay severance to workers who were laid off.
"Low-wage garment workers left destitute by injustice meted out by global supply chains is nothing new. What's new is they did not accept their fate—and won. We also hope this represents a model for the type of domestic, governmental, international and brand engagement to resolve future cases where garment workers are left in similarly desperate straits." – David Welsh, Thailand country director of the Solidarity Centre.
This is #12 in our series of Instagram infographics on resistance against corporate power.
Click here to see the full post on Instagram.