Tainan Enterprises Rehires Woman Union Leader at Jakarta Garment Factory After Government Mediator, Buyers and Union Intervene
Image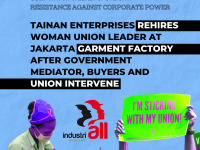 Three workers at PT Tainan Enterprise, a garment factory in Jakarta, Indonesia, were fired in August 2021, allegedly for joining a branch of the Federasi Serikat Buruh Garment Tekstil (FSB Garteks or Federation of Textile and Garment Workers Union). In May 2022, PT Tainan fired Rahmawati, the next president of the union. Tainan agreed to rehire Rahmawati in November 2022, after government mediators intervened as well as international buyers and IndustriALL Global Union.
"We thank IndustriALL for supporting the struggle in reaching an agreement. And thank you J.Crew and PT Tainan for joining the social dialogue which meant arriving at a satisfactory result." - Trisnur Priyanto, Garteks general secretary
Who is PT Tainan Enterprise Indonesia? 
Tainan Enterprises was founded in 1961 in Tainan, Taiwan. The company has factories in nine countries around Asia with an annual revenue of NT$5.76 billion (US$186.15 million). PT Tainan Enterprise Indonesia is a wholly owned subsidiary of Tainan Enterprises with a garment factory in North Jakarta, Indonesia, which makes clothes for well-known brands like Ann Taylor, Calvin Klein, Gap, J.Crew, Macy's and Zara.
Union busting: first wave
In August 2021, workers at the North Jakarta voted to join Garteks union. IndustriALL alleges that the company fired Ahmad Faisal, the president of the Garteks union, Tulam, the vice president for the union, and Hendra Radista, the vice secretary of the union. In December 2021, the Indonesian Ministry of Manpower ordered PT Tainan to rehire Faisal, Tulam, and Hendra Radista, but the company ignored and concealed the order. Instead, the company negotiated to give them a severance pay package in exchange for a management agreement signed in February 2022 allowing other workers the right to organize.
Union busting: second wave
At the same time, PT Tainan started to issue warning letters to Rahmawati, the newly elected president of the Garteks union who had worked at the company for 16 years, claiming that she wasn't meeting production targets. Despite the prior agreement to respect unionizing rights, Rahmawati was fired in May 2022.
Government order
In August 2022, the Indonesian industrial relations mediator ruled that PT Tainan had violated the law as well as the signed agreement with the union, and ordered the company to reinstate Rahmawati in her original position with back pay. Several international buyers including Gap, J.Crew and Macy's, also told the Business & Human Rights Resource Centre that they had written to PT Tainan about the matter.
Buyer response
"We have shared our expectation with PT Tainan that they follow the Ministry of Manpower's recommendation on this case once it is issued, and they have committed to doing so." - Gap company statement
Union leader rehired
On November 1, 2022, PT Tainan Enterprise Indonesia agreed to rehire Rahmawati and pay her back her salary.
"We welcome the reinstatement of Rahmawati, and take the opportunity to reiterate that PT Tainan must allow workers to organize freely. This would include reinstating all sacked union leaders among their workforce." – Christina Hajagos-Clausen, textile director for IndustriALL Global Union
This is #27 in our series of Instagram infographics on resistance against corporate power.
Click here to see the full post on Instagram.