Spinneys Lebanon Criticized for Labor Practices
Image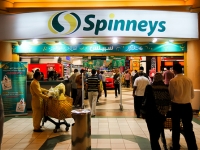 Charbel Nahas, the former Lebanese labor minister, is to appear before a court next month on charges of publishing incorrect information, slander and libel over the labor practices of Spinneys, the Dubai-based Middle Eastern supermarket chain.

"Nahas believes that what's at stake is not a personal issue because there is none," a supporter of the politician told Al Akhbar newspaper. "It is a public concern to denounce violations of rights and freedom of speech. The company was just not up to their responsibilities, it is one which violates our constitutional rights."

Spinneys was founded in Alexandria, Egypt, in 1924 where it sold goods imported from England to expatriates. Over time Spinneys added stores along the British railway lines to cities like Baghdad, Damascus and Jerusalem. Over time, the chain shut down some outlets and opened others following the fall of colonialism and the shift in the political climate.

Today Spinneys is majority owned by Abraaj Capital in Dubai and has stores across Jordan, Lebanon, Qatar and the United Arab Emirates where it still serves middle class and elite shoppers. (The company has even inspired copycat stores in Kabul, Afghanistan).

In June 2011, Nahas was appointed minister of labor in Lebanon, and began to draw up plans to raise the minimum wage as well as to improve the rights of foreign domestic workers. Nahas resigned less than a year later after failing to gather sufficient support for his ideas although parliament did vote to increase salaries by 35 percent to 675,000 Lebanese pounds ($448) a month before he quit.

Local labor activists say that Spinneys initially refused to raise salaries for the 1300 local employees despite the new law. In July 2012 several workers set up a union that was recognized by the Lebanese government. In addition to campaigning for better wages, the union says it has discovered that a number of employees have not been registered for national social while baggers are being forced to work for tips alone.

Spinneys CEO Michael Wright disputes this - in a September 2012 letter to the Business and Human Rights Center in London he says that all workers have always been paid minimum wage and registered for social security.

Wright says that Spinneys has also attempted to "hire the Lebanese porters as permanent full time employees have been made, but as such staff are not allowed to take tips (no Spinneys employees are permitted to take tips), they have declined full time employment preferring to remain self- employed and to collect tips."

He added: "It is also worth mentioning that there currently are approximately 300 porters serving 7 stores. Should Spinneys decide to hire full time porters to cater for the needs of its clients, we would not hire more than 100 porters, and the remaining porters would simply lose their income."

Meanwhile, the activists says that there is a concerted effort to discredit the union. For example, some 200 pro-company employees allegedly attended the first union elections in November 2012, where they chanted: "We want Michael Wright as president of the union)" and attempted to disrupt a rally outside the Achrafieh store.

One of the pro-union employees told Al Bawaba (a Jordanian website) that they had been bused in from other branches of the chain "to dance in front of Spinneys Achrafieh." "They wanted us to show our support for the company," he said on condition of anonmity. "Our attendance was not optional. We were brought here like sheep."

The activists also say that the company has targeted union organizers. Moukheiber Habshi, one of the founders of the union, says he was attacked in October 2012 after leaving work. "They followed me to the parking lot and began beating me, hitting my head and body," Habshi told Al-Akhbar newspaper. "They want me to leave my job or give up union work."

Other workers who took part in union activities - Milad Barakat and Samir Taouk - were fired, although Wright says that they were let go for misconduct.

"We believe that the entire effort disguised in the issue of a Spinneys labour union is not as it appears to the public but rather a tool to serve specific political interests as well as hide for the misconduct of certain individuals aforementioned (Barakat and Taouk)," Wright wrote in his letter to the Business and Human Rights Centre.

Nahas was drawn into confrontation when he openly supported the workers against Spinneys and spoke out against the company on radio and television. Earlier this month Wright sued Nahas forcing him to go to court. A first hearing was held May 7 and a second hearing is scheduled for June 26.

AMP Section Name:
Retail & Mega-Stores