Workers Protest Labor Conditions at Coupang, Biggest Online Retailer in South Korea
Image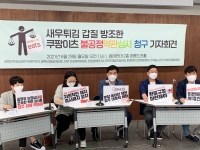 Protests over working conditions are mounting against Coupang, the biggest e-commerce website in South Korea. In July, workers took an air conditioner on a 50 kilometer march from the company headquarters to a Hwaseong warehouse to bring attention to their demands for respite from record high temperatures this summer.
Founded in 2010, Coupang is South Korea is the equivalent of Amazon in the U.S. or Alibaba in China. It employs 60,000 people and hopes to hire another 50,000 in the next two years. The company has expanded rapidly with revenue of $18.4 billion in 2021, over 50 percent growth from revenues of $12 billion in 2020.
The company claims that it delivers 99.3 percent of orders within 24 hours of orders being placed from 100 warehouses across the country that have been located strategically to reach 70 percent of the population within 10 minutes.
Kim Bom-suk, the founder of Coupang, says that his company is especially proud of its personalized service. "If you have babies and you don't want the doorbell to wake them up, our deliveryman will knock," Kim told CNBC. "If you're not home and you want the package to be left in a specific location, we'll leave it where you prefer — behind a potted plant or behind the stairwell."
But workers say that this courtesy does not extend to them. "Working in the warehouse feels like being inside a boiling pot," Jeong Dong-heon, a worker at the Hwaseong warehouse, told Al Jazeera.
"The company puts out a few chairs and tells us that if we're tired, we can sit for a while," Yoon Soo-hyun, another Cooping employee, told Al Jazeera. "But everyone feels nervous because there are always supervisors watching us, seeing who is on break and for how long. We don't want to lose our jobs, so we just do what we're told."
The company says it has has complied with the law and that it has installed 20,000 cooling units at its warehouses around the country. "We meet and/or exceed all health-related government regulations for the indoor and outdoor working areas of our fulfilment centers," a spokesperson said in a press statement.
A number of work-related injuries have been reported at Coupang warehouses in recent years. Kwon Young-gook, co-chairman of the Committee for Coupang Workers' Human Rights and Health, announced at an April 2021 press conference that as many as nine employees died from "inhumane working environment" over the previous 12 months.
"There is nothing more precious than human life and safety," Kwon told the media. "The management method of running a business at the expense of people's lives should not be tolerated for any reason. Humans are not machines."
At the press conference, Park Mi-sook, the mother of Jang Deok-joon, a 27 year old worker at a warehouse in Daegu, who died of a heart attack in October 2020, criticized working conditions at Coupang. "There are too many products and not enough workers to move them," Park Mi-sook, told the media. "It will cost more for Coupang to make a worker-friendly environment in its warehouses, and Coupang is unwilling to pay for it. You can understand why we are raising our voices like this."
Just two months later, Kim Dong-shik, a firefighter died in the basement of the Coupang's 127,178-square meter Deokpyeong Logistics Center warehouse in Icheon, 80 kilometers southeast of Seoul, in a massive fire that burned the building to the ground after the company's sprinklers failed to activate in time, prompting an avalanche of tweets with the hashtag #CoupangExit.
That same month, a restaurant owner who supplied food to CoupangEats, died of a stroke after being harassed by a customer who demanded a refund for one fried shrimp. Shocked sympathizers gathered outside the company headquarters in Seoul to hold up protest signs. "Terrorizing with star ratings and false reviews, yet nothing is being done to toxic customers," one sign read.
Coupang is also under fire for anti-competitive practices. In July 2021, the Korea Fair Trade Commission (KFTC) announced an investigation into algorithm tampering by Coupang. The following month, KFTC fined the company 3.29 billion won (US$2.8 million) for forcing sellers to raise prices on rival sites in order to be able to offer the cheapest prices.
The outrage over Coupang's labor practices has spread outside the country with two Los Angeles law firms (Frank R. Cruz and Glancy Prongay & Murray) announcing investigations into the company's business practices, on behalf of investors. and