Retailer SportsDirect Accused of Sweatshop Like Conditions in the UK
Image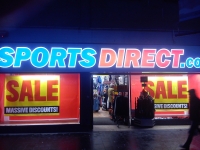 SportsDirect, a British sports merchandise retailer, has been accused of employing workers in sweatshop like conditions by Channel Four Dispatches, a UK TV program. The broadcaster aired undercover footage shot by a reporter at the company's Shirebrook warehouse in northern England.

Founded by Mike Ashley, now a billionaire who also owns Newcastle football club, SportsDirect now operates 420 outlets in the country, including Lillywhites, an upmarket retailer in Piccadilly Circus, London.

The company is famous for its bargain basement prices, and increasingly for the working conditions of its 15,000 workers. Many are East European immigrants from countries like Poland who employed on "zero hours" contracts which means that they are not guaranteed work. Data from the Office for National Statistics (ONS) published in 2013 suggested that the company was responsible for almost one in five zero hours employees in the country.

Zahera Gabriel-Abrahem, a former zero-hours employee for SportsDirect in Croydon, sued the company in a UK employment tribunal in 2013, for sex discrimination, unfair treatment and breach of holiday rights.

"Zero-hours workers are not second-class workers," Elizabeth George, a lawyer with Leigh Day who represented Gabriel-Abrahem, said in a press statement. "They have the right to be treated fairly and with respect. They have the right to take holidays and to be paid when they take them. They have the right to statutory sick pay. They have a right to request guaranteed hours."

Last October the company agreed to settle with Gabriel-Abrahem and provide its terms of employment to its workers, although it was not forced to alter its rules.

In a broadcast that aired in April this year, Channel Four published an internal company newsletter dated December 2014 that listed several harsh examples of the rules imposed on SportsDirect employees.

"Do not forget, if you take a sick day, you will lose your money, your holiday pay will go down and also you will receive a strike for absence from work," stated the newsletter.

And there were also unwritten rules. "Six strikes and you lose your job," a supervisor told the undercover reporter. "(For example) You have to have a clipboard and pen at all time. If you get caught without it, it's a strike."

"We are surprised these practices are still going on, they belong in the Victorian era, not 21st century Britain," a spokesperson for the Unite union told the Daily Mail newspaper. "It has echoes of sweatshops elsewhere around the globe."

The company has denied some of the claims. "In respect of staff working in our warehouse, Sports Direct provides working conditions in compliance with applicable employment legislation," a company spokesperson told the newspaper. "The system used at Sports Direct is a points system and a worker can have up to 24 strikes on their record within a six month period before they are released from their assignment."

But other workers have confirmed the sweatshop conditions. "You have to fulfil targets which are raised daily and which are practically impossible to meet, you have an order for 200 products which you have to place in the basket within twenty minutes," Anna, a Polish worker who was previously employed at a Sports Direct warehouse in Shirebrook told Natemat, a Polish website. "A work camp, gulag, yes, it's all true."

"The worst times were when there wasn't much work to do, and just one order arrived every fifteen minutes. Everyone would then fight each other for it because you weren't allowed to stand around doing nothing," she added. "Sometimes, when I tried to get a cart, someone would yank me back, telling me that they had got there first."

SportsDirect is also facing claims of up to £10 million ($16 million) in unpaid bonuses from employees on zero-hour contracts. The claim which Leigh Day is also handling asks the company to pay some 300 employees who have worked for the company for a number of years but were denied any extra compensation because they were not permanent employees.


AMP Section Name:
Retail & Mega-Stores