Protests Force CoreCivic To Cancel Plan To Build Indiana Immigration Prison
Image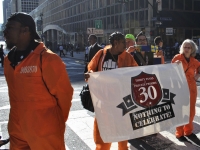 CoreCivic, one of the largest U.S. private prison companies, has shelved a proposal to build a detention facility for undocumented migrants in Indiana after a series of community protests. The company is hoping for a $100 million contract from the U.S. Immigration and Customs Enforcement's (ICE) Chicago office.
The company is trying to cash in on President Donald Trump's campaign promises to detain and deport 2 to 3 million undocumented immigrants whom he claimed "have criminal records." In October 2017, ICE issued a 'request for information' about potential locations to house as many as 3,000 detainees within 180 miles of Chicago, Detroit, Salt Lake City, and St. Paul.
In December, CoreCivic filed a proposal to build a 1,400 bed facility near Elkhart, which is 111 miles east of Chicago. The proposal sparked immediate outrage in the local community. A FaceBook campaign quickly drew over 2,600 supporters and multiple protest planning meetings were convened over the holidays.
The activists were overjoyed when CoreCivic pulled out on January 22. "I knew there were people in the business community and non-profits who opposed this, but it would be hard for them to come out to say that," Richard Aguirre, a local advocate for immigrant rights and who co-coordinates the Coalition Against the Elkhart County Immigration Center, told the Indiana News and Tribune. "Even those who vote Republican ... are coming to realize that the immigrant population is a benefit to our community. I really believe that."
Nine out of ten of the largest immigration jails in the U.S. are operated by private companies. CoreCivic, which was previously named Corrections Corporations of America, runs 70 prisons and detention facilities across the U.S. that hold over 70,000 people.
Detainees at CoreCivic run prisons and detention centers regularly report abusive treatment. For example, Sylvester Owino and Jonathan Gomez, inmates at a CoreCivic run immigration detention center in San Diego, filed a federal class action lawsuit against the company in 2016, alleging that inmates are forced to clean their own jail for a dollar a day or less.
"The total number of civil immigration detainees who were subjected to defendant's forced labor and human trafficking practices, and defendant's illegal dollar-a-day work practices is currently unknown, but these illegal practices appear endemic to the CoreCivic operations on a California-wide, and indeed a nationwide, scale," Owino and Gomez state in their complaint.
U.S. immigration authorities specifically state that detainees are not required to work, except for personal housekeeping, unless they volunteer for it. Despite this, several individuals at a detention center in Lumpkin, Georgia, say that they have been placed in solitary confinement for refusing to do "voluntary" work.
"Sometimes I think the segregation will kill me," Shoaib Ahmed of Bangladesh told the Intercept website in mid-January of this year. "Sometimes I think my head is not working, and I think I want to loudly call them: 'Release me. Please, take me to some open site."
The Georgia detention center put more than two dozen detainees in solitary confinement for going on a hunger strike in 2016 and 2017 to protest their detention and lack of administrative recourse while in detention. One detainee was reported to have said: "I just want to be deported," according to Freedom of Information Act filings obtained by Verge magazine.
State sanctioned prison labor has been a constant theme in U.S. history, dating back to the convict lease system up until the Second World War. Southern states allowed private companies, such as the Tennessee Coal and Iron Company, to lease inmates and force them to do free labor in exchange for feeding, clothing, and housing them.
This system was revived in 1979 and renamed the Prison Industry Enhancement Certificate Program (PIECP) allowing inmates in state prisons to gain private sector employment at minimum wage in prison. In reality, they make even less: After deductions for costs associated with housing, many prisoners wind up with a weekly paycheck of under $10 for close to 40 hours of work.
Former CoreCivic employees have confirmed the abusive treatment at their facilities. Shane Bauer, a journalist who worked for CoreCivic at the Winn Correctional Center in Winnfield, Louisiana, as part of an undercover investigation for Mother Jones magazine, says that the guards are told that they can be abusive. He quotes his CoreCivic instructor as saying: "If a inmate hit me, I'm go' hit his ass right back. I don't care if the camera's rolling. If a inmate spit on me, he's gonna have a very bad day."
The withdrawal of CoreCivic from Elkhart county, Indiana, however, simply means that the company will probably look for a less controversial location to win the ICE contract.