Payments to Saudi Generals Investigated in UK Military Contract Bribery Case
Image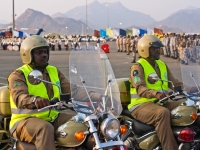 Four cars worth £201,000 were allegedly gifted to Saudi generals and £278,000 paid out to rent a villa to win a military IT contract for a major European military contractor. Altogether at least £11.5 million ($18 million) in bribes were allegedly paid out via two Cayman Island companies.
The £2 billion ($3.2 billion) contract to build a military intranet as well as internet monitoring and jamming systems for Sangcom, the communications arm of the Saudi National Guard, was awarded in 2010 to GPT Special Project Management, a British subsidiary of European Aeronautic Defence and Space Company N.V. (EADS).
A UK Serious Fraud Office investigation is underway after Ian Foxley, a former project manager in Riyadh, Saudi Arabia, blew the whistle in 2011. "I have had first hand experience of the pernicious effects of corruption. My father was a high ranking civil servant who was convicted of corruption in defence procurement in the 1980s and pursued by the MoD Solicitor for a further 22 years," wrote Foxley in a letter dated January 9, 2012, to Vince Cable, the UK Business Secretary.
"You may also imagine my utter horror and repugnance at the rank hypocrisy of the MoD's obscene participation in similar corrupt practices throughout the whole period whilst relentlessly pursuing my father until 2002," added Foxley. "Here is an organization whose officers are taught from the outset at RMA (Royal Military Academy) Sandhurst that the foundations of their profession rest on honesty, integrity and moral courage, yet which so duplicitously condones and complies with corruption for commercial gain."
The story begins in 1977 when Sir Frank Cooper, a senior bureaucrat at the U.K. ministry of defence, issued a secret order allowing bribes to be paid out on government to government deals. Anything above ten percent or exceeding a certain amount had to be personally authorized by him.
A memo discovered in the UK national archives from Lester Suffield, then head of defence sales at the ministry, stated: "(T)he percentages commonly charged in Saudi Arabia for the sort of service being offered, which, although described as 'technical consultancy', amounts in practice to the exertion of influence to sway decisions in favour of the client." Cooper replied: "I see no difficulty about what you propose."
The contract is now managed by EADS, a Netherlands-based company which was created in 2000 by the merger of French, German and Spanish arms manufacturers. EADS generated revenues of over €49 billion ($61.5 billion) in 2011 and is best known as the manufacturer of the Airbus passenger jets.
Mike Paterson, then financial controller of GPT Special Project Management, first noticed unusual payments to Simec International and Duranton International in the Cayman islands. He reported the matter to his managers in 2007 but no action was taken.
Emails seen by the Financial Times suggest that the bribes continued till at least December 2010. At least £11.5 million ($18 million) or about 12 per cent of a specific contract were paid out for questionable "bought-in services."
EADS has kept relatively silent about the scandal. "Certain allegations have been made in connection with the company's contracts with a subcontractor group. These allegations have been notified to the UK authorities with whom EADS is maintaining a dialogue," the company wrote in a statement to the Financial Times. "The relevant subcontracts were terminated. This termination has led recently to an unquantified claim from the subcontractor group for monetary damages."
Similar investigations into Saudi contracts in the past have been quashed. The most controversial was a £43 billion ($68 billion) deal signed in 1985 by BAE, a British arms manufacturer, to supply Hawk warplanes, Tornado aircraft and other military equipment. The deal, which was named Al-Yamamah (Arabic for "dove"), allegedly included quarterly payments of £30 million that were paid out to Prince Bandar of Saudi Arabia for at least 10 years.
A UK fraud investigation was halted in 2006 and Tony Blair, the prime minister, took "full responsibility." Later BAE agreed to pay out over $400 million in fines after the U.S. launched an investigation into multiple instance of corruption in several countries including Saudi Arabia.
Today critics question whether the EADS case will be properly investigated by UK authorities. "(T)here appears to be prima facie evidence of bribery. Will the SFO break the trend of decades by fully investigating the allegations and, if appropriate, charge the corporate entity and the individuals responsible?" asks Andrew Feinstein, a former South African member of parliament and author of the book "The Shadow World: Inside the Global Arms Trade."
"Or will this be another whitewash to protect the British defence industry, the government and its munificent Saudi client?" Feinstein wrote in the Guardian.
 
AMP Section Name:
War & Disaster Profiteering