Oracle Marketed Surveillance Technology to Chinese Police
Image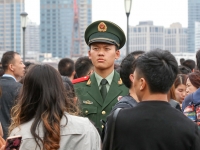 Oracle, one of the world's largest software companies, has been marketing surveillance technology to Chinese police forces, according to a series of reports by the Intercept. In doing so, Oracle is joined by a number of other major U.S. companies like Intel, Hewlett Packard, Seagate Technology and Western Digital.
Company slide presentations uncovered by the Intercept suggest that Endeca Information Discovery, the surveillance software marketed by Oracle, was promoted in China from 2012 to 2014, in which the company showcased the use of the technology by the Chicago police to track protestors. In 2018, another slide deck boasted of the use of the technology by the public security bureau in Liaoning province in north-eastern China on the border with North Korea.
Oracle does not deny the marketing. "We proudly partner with law enforcement," Oracle executive vice president Ken Glueck told the Intercept. "It shouldn't surprise anybody that if you've done something successful in one place that you're going to market that success story elsewhere."
Glueck pointed out in a blog post on the company site that Oracle is by no means the only company providing software to the Chinese government. He notes that Amazon, Google, IBM and Microsoft have supported "joint ventures to source code sharing; from 'transparency' centers to joint research in Artificial Intelligence" although he did not reference any police contracts.
But a 2019 article in the Wall Street Journal lays out details of other such contracts. New H3C Technologies, 49 percent of which is owned by Hewlett Packard Enterprise,' has made sales to Aksu, a city in Xinjiang province where the police track the Uyghur Muslim population. Seagate and Western Digital sell hard drives to Hikvision, which makes surveillance cameras used by the Chinese government.
Seagate even dispatched an engineering team to custom design drives to process video footage for police surveillance. Intel sold special chips for video surveillance platforms to NetPosa, a company that sells to the police departments of some 60 cities in China including Beijing and Shanghai.
"It should raise red flags when Big Tech enters the policing space because it takes two forms of unreflective power — Big Tech and policing — and puts them together," Andrew Guthrie Ferguson, the author of "The Rise of Big Data Policing: Surveillance, Race, and the Future of Law Enforcement" told the Intercept.
Oracle's database technology was first purchased by Chicago in 2002 to build the Citizen Law Enforcement Analysis and Reporting (CLEAR) database for the city police force. Proponents say that the system allowed police to quickly search crime reports, offender records, mug shots in a matter of seconds - and then turn it into charts and maps.
In 2011, Oracle bought up Endeca, a 12 year old company that offered competing database products, for just over $1 billion. "The combination of Oracle and Endeca is extremely compelling in this changing data environment," Thomas Kurian, an Oracle Developmen executive, said in a press release issued at the time. "Together, we will provide best-in-class technology to manage structured and unstructured data together."
One year later, the city of Chicago deployed Endeca Information Discovery to track thousands of people who rallied against a meeting of the North Atlantic Treaty Organization (NATO) in their city. Oracle boasted that the software could process 20,000 tweets an hour and sort them to track protestors in real time.
Over the years, however, complaints about using computer databases for policing has mounted. Instead of providing smarter decision making, the technology has reinforced stereotypes based on how the data was collected and classified. Any individual added to such database could expect to be targeted by police and find it impossible to get a job.
"The Chicago Police Department (incorrectly) documented me as a gang member when I was just 14," said Lawrence Vaile, who joined a group to sue to shut down Chicago's gang database in 2019. "The police would stop me and ask me what gang I'm in, they would slap me for lying to them because the computer shows them I'm in the gang. This put me in danger from the cops and from the streets."
Similar fears have been voiced by people in China. For example, Agnes Ouyang, a resident of Shenzen, was stopped by police for alleged jaywalking and fined with the help of a database that identified her. "Law-enforcement officers of low moral stock have high-tech weapons," she told the New York Times. "Our lives are worth about as much as dirt."