Notorious Union Busting Firm Hired by Google
Image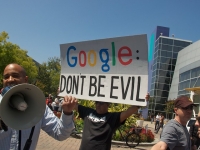 Google, the Silicon Valley search giant, has hired IRI consultants, a market research firm notorious for aggressive union busting, likely in response to multiple recent employee protests. In a disturbing move – possibly related - five employees involved in the protests, were recently fired for allegedly breaching data security policies.
Troy, Michigan-based IRI Consultants was founded in 1979 by James G. Trivisonno, a former labor relations and human resources staff member at Ford Motor Company, to help businesses – notably in the healthcare industry - campaign against organized labor, offering such products such as "union vulnerability assessments."
Trivisonno is often quoted in industry journals on the subject. For example, in July 2015, he told Healthcare Finance News: "Union avoidance is something called good management."  And in 2016, he was offering a workshop titled: "How to make unions unnecessary."
While IRI does not publish specific details of its work, an internet search turns up several examples. Back in 2007 AFSCME Local 3518 and Teamsters Local 332 unions protested IRI Consultants support for management at the Genesys Regional Medical Center hospital in Flint, Michigan, according to a report in the Flint Journal.
In 2010, IRI Consultants helped Los Angeles Film School fight a petition by teaching staff who wanted to set up a union, according to a report on the website Truthout.
In 2015, IRI Consultants was hired by Huntington Memorial Hospital in Pasadena, California, after nurses decided to unionize. The unions and supporting workers accused the hospital and IRI of using repressive and illegal tactics over serval months to influence the vote. The California Nurses Association reported that these tactics included:
- Harassment and threatening of union supporters from higher ups
- Illegal offers of pay increases for those who opposed unionizing
- Forcing registered nurses attend anti-union classes while on the clock
- Discriminating and retaliating against nurses who supported the union
- Hiring extra security staff to create an atmosphere of fear
That April, the staff voted 539 to 445 to reject unionization, in a two day election that was widely condemned as unfair. "These reprehensible and illegal actions are a testimony to the broken state of federal labor law protections for workers seeking collective representation, and the ideal of a free and fair union election," said Zenei Cortez, co-president of the California Nurses Association.
Then in 2018, IRI was hired to help Stanford University's Valleycare Medical Center in Palo Alto, California organize an anti-union campaign after nurses decided to unionize. Nurses told the university newspaper that Stanford Hospital ran an "aggressive, nasty campaign" in an attempt to scare them. This time, however, management was defeated when the nurses voted 188 to 114 in favor of setting up a union.
"We couldn't be happier about the opportunity to create a climate that will enhance patient care conditions and standards for our colleagues and our community," Denise Mavrogianis, a nurse at ValleyCare said in a press release for National Nurses United.
What exactly is IRI Consultants helping Google management do? Details are scarce apart from internal calendar entries stumbled upon by two anonymous company employees who shared them with reporters at the New York Times, which suggest that the firm has been advising the company since this past spring.
In that time period, protest organizers point to several changes that mark a departure from Google's official Code of Conduct, which includes the line: "And remember… don't be evil, and if you see something that you think isn't right—speak up!"
For example, this past April Meredith Whittaker and Claire Stapleton, two employees who played major roles in the November 2018 walk outs over Google's mishandling of sexual assault allegations against executives, say they were forced out.
"By punishing those who resist discrimination, harassment, and unethical decision making, Google permits these behaviors," said Stapleton. "This harms people inside the company, and communities outside who bear the brunt of Google's bad choices. If we want to stop discrimination, harassment, and unethical decisionmaking, we need to end retaliation against the people who speak honestly about these problems."
In October, Bloomberg News reported that workers were worried that Google had added a new extension to workplace browsers that would allow the company to monitor any employees who were trying to organize by tagging employees who make calendar events "with more than 10 rooms or 100 participants." The memo argues this is ultimately an "attempt of leadership to immediately learn about any workers organization attempts".
Then in late November four protest organizers - Laurence Berland, Paul Duke, Rebecca Rivers, and Sophie Waldman - were fired specifically for using company internal systems to speak out. "Our thorough investigation found the individuals were involved in systematic searches for other employees' materials and work," a company memo read. "This includes searching for, accessing, and distributing business information outside the scope of their jobs - repeating this conduct even after they were met with and reminded about our data security policies.
Not least, Google has reduced the company's renowned internal meetings known as TGIF (Thank God It's Friday) meetings from weekly to monthly. These meetings were designed as a way for workers and executives to sit down and have conversations about the state of company projects and the direction of future ones. They also served as forums for employees to air out grievances with coworkers or Google itself.
"TGIF wasn't perfect, but at least we had the chance to ask the important questions," Berland told a worker rally in support those recently fired. "And even if they didn't always answer them very well, at least we got to ask." (Berland is a 14 year veteran of the company who participated actively in internal community discussions)
Most recently, Kathryn Spiers, a security engineer at Google, was fired in mid-December for creating a browser pop-up that informed staff of their labor rights if they searched for information on IRI. Indeed, her task at Google was creating such pop-ups for staff who might have acted irresponsibly with internal data.
Google confirmed the firing. ""We dismissed an employee who abused privileged access to modify an internal security tool," a spokesperson told the Verge website in a statement. "This was a serious violation."
Ultimately, these changes may be backfiring on management. Indeed more and more regular employees are coming forward to speak out. "We need to begin speaking of Google as a "rogue machine" in need of our repair, or a "sick patient" in need of a cure," wrote Bruce Hahne, a Google technical project manager, last month. ''Rather than thinking of the corporate entity as "family", with all of the loyalty and behavioral constraints that this framing invokes." 
Tensions between workers and executives have been rising at Google over the last few years over a number of company policies. For example:
• In April 2018, over 3,000 Google employees signed a letter protesting "Project Maven" – a contract with the Pentagon to use artificial intelligence to identify objects from drone video footage
• On November 1, 2018, some 20,000 Google workers walked out of their offices around the world in protest against sexual harassment, unequal pay and abuse of power by management
• Later that month, hundreds of employees signed a letter protesting Google's "Project Dragonfly" to design a censored search engine for China
• On May 1, 2019 hundreds of Google staff staged a sit-in to protest management retaliation against worker organizers
• In August 2019, some 1,500 employees signed a letter calling on the company not to bid on a cloud computing contract with the U.S. Customs and Border Protection agency over abuses at the U.S.-Mexico border
• In November 2019, over 1,000 employees signed a letter calling on the company to stop funding climate change deniers and make a plan to go carbon neutral