Nomura CEO Resigns Over Insider Trading Scandal
Image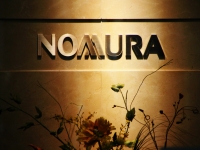 Kenichi Watanabe and Takumi Shibata, the CEO and chief operating officer of Nomura, have resigned to take responsibility for several recent insider trading scandals at the Japanese multinational conglomerate. The company, which once was once the world's largest securities firms with holdings of $76 billion in 1987, is now valued at $12.3 billion.

"It is difficult at this stage to numerically estimate the possible damage," Junko Nakagawa, chief financial officer of Nomura. "All we want to do is make efforts to regain trust."

In 2010 Nomura underwrote new share offerings for Inpex (an oil and natural gas exploration company), Mizuho Financial Group (one of Japan's largest banks) and Tokyo Electric Power Company. Such offerings typically have an impact on share prices, so any advance knowledge of such plans allows traders to cash in.

Nomura employees allegedly secretly told a First New York Securities fund manager about the plans for the Tokyo Electric Power Company allowing the manager to take out a "short position" days before the utility company made a share offering in September 2010. First New York Securities made 7.2 million yen ($85,000 at the time) profit as a result.

Likewise Nomura employees gave out nonpublic information on Mizuho and Inpex to fund managers at Chuo Mitsui Asset Trust (now called Sumitomo Mitsui Trust Bank, Japan's biggest trust bank). Chuo sold Inpex holdings a higher price on behalf of foreign investors and bought them back a lower price to make a profit of ¥10 million ($119,000).

In March 2012, Japanese regulators handed out a fine of 8,000 yen (about $600). "The amount was so tiny-it would cover the cost of a fancy dinner for four in a Tokyo restaurant-that some critics questioned whether it would have any deterrent effect," scoffed the Wall Street Journal at the time.

Japan's Securities and Exchange Surveillance Commission (SESC) has historically been fairly timid in imposing fines on insider trading. All told it has levied just ¥268 million ($3.2 million) in fines for 121 cases of insider trading since 2005. By comparison the Financial Services Authority in the UK imposed a £59.5 million fine (($93.5 million) on Barclays bank in June for fixing rates and the Securities and Exchange Commission levied a $550 million fine on Goldman Sachs in 2010 for the misleading investors on subprime mortgages.

Despite the small fines, the scandal has had a huge impact on Nomura. The Journal reports that Nomura has been dropped from underwriting deals for at least eight Japanese companies including one to act as joint global coordinator for a $6 billion share issue by Japan Airlines, expected to the biggest deal of the year. The company also says its profits for the second quarter have plunged 90 percent.

The scandal on insider trading in Japan may widen, as the SESC is investigating several other firms. Tadahiro Matsushita, the Japanese financial services minister, has asked 12 top brokers in Japan to submit reports by early August on how they handled nonpublic information.

The scandal at Nomura is also just one of a wave of global scandals in recent months that have shone an welcome light on seamier side of the financial industry. Robert Diamond resigned as CEO of Barclays bank earlier this month following a scandal on rigging global interest rates. The Securities and Exchange Commission (SEC) has fined Goldman Sachs researchers for passing on stock tips to investment bankers and traders while a recent a New York Times investigation has uncovered a questionable new phenomenon that suggests that some of the biggest brokerage firms in the U.S. "appear to be giving a handful of top hedge funds an early peek at ... research analysts' views - allowing them to trade on the information before other investors get the word."

AMP Section Name:
Financial Services, Insurance and Banking