Majority of U.S. Congress Failed to Take Action on Corporate Accountability in 2014
Image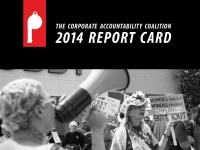 The majority of the U.S. Congress took no action at all in 2014 in favor of holding corporations accountable and reining in corporate power - scoring a zero on the newly released Corporate Accountability Coalition (CAC) Congressional Report Card. The third edition of the Report Card offers an objective measure of congressional leadership in creating policy that protects people and promotes accountability and transparency.

According to the latest Gallup polls, Americans' satisfaction with the size and influence of major corporations remains at historic lows, with 36 percent satisfied and 59 percent dissatisfied, and few Americans have confidence in "big business" - with only 21 percent having a "great deal" or "quite a lot" of confidence. Nonetheless, the Report Card shows that the U.S. Congress is failing to prioritize legislation that favor the power and rights of real people rather than corporations.

The latest debate to feature corporate accountability issue is over Trade Promotion Authority, where proposed trade deals may grant even greater rights to multinational corporations and limit governments' ability to regulate them.
"Although its record last year was disappointing, Congress has an opportunity now to reverse this trend and ensure that any new trade deals protect the rights of people, and the sovereignty of governments, rather than granting increased rights to corporations," said Katie Redford, director and co-founder of CAC member EarthRights International.

Only one U.S. senator and one U.S. representative received a perfect score: Senator Jeanne Shaheen (a Democrat from New Hampshire), and Representative Jim McGovern (a Democrat from Massachusetts). Last year seven U.S. senators and two U.S. representatives had a perfect score, indicating that they had co-sponsored or voted for all of the pro-accountability measures and no anti-accountability measures.

Overall, the U.S. Congress performed even worse than last year. Several states had entire delegations who failed to take any action in favor of corporate accountability, including Alabama, Kansas, Idaho, Nebraska, and Utah.

"This Report Card continues to monitor and score the actions of our elected representatives in Congress, reminding them that they are elected to represent real people, and not corporations," says Amol Mehra, director of the International Corporate Accountability Roundtable, a CAC member.

About the Report Card

The Corporate Accountability Coalition Report Card represents an attempt to educate the public about the U.S Congress's record in protecting people from the unchecked growth of corporate influence.

The Report Card presents information on whether members of the U.S.Congress have supported measures that either strengthen or weaken limits on corporate conduct, regulate or give free rein to corporations when they attempt to go beyond those limits, and hold corporations accountable or provide impunity when they disregard those limits.

"Our lawmakers have a duty to shine a light on the corporations that refuse to pay their taxes; those who abuse environmental and human rights; and those that enjoy undue influence over government policy," says Pratap Chatterjee, executive director of CorpWatch. "Most of the U.S. Congress has refused to do its job, as this Report Card demonstrates."

About the Corporate Accountability Coalition

The Corporate Accountability Coalition is a collaboration of the Center for Corporate Policy, Corporate Accountability International, CorpWatch, EarthRights International, and the International Corporate Accountability Roundtable.