Lockheed, General Dynamics Face UK Bank Boycott Over Cluster Bombs
Image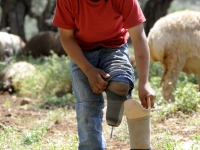 Lockheed Martin and General Dynamics of the U.S. face divestment from major UK banks, for manufacturing cluster bombs. The Guardian newspaper has exclusively reported that Aviva, the UK's largest insurance company; Scottish Widows (part of the Lloyds Banking Group) and the Co-op Bank will sell shares in these companies, following a similar move by the Royal Bank of Scotland last year after 10,000 people signed protest letters in a campaign led by Amnesty International.
Cluster bombs are made of dozens of "bomblets" that are delivered in a single larger weapon that scatters them on impact. The wide dispersal of these small bombs makes them hard to trace. Many linger for years - long after conflict has ended - before exploding when civilians dig or pick up unusual pieces of metal. For example, 200 civilians were killed in Lebanon after the conclusion of the August 2006 invasion by Lebanon. The Cluster Munition Coalition - an activist collaborative - estimates that a third of the casualties are children.
A treaty to ban the production, transfer and stockpiling of cluster munitions was signed by 94 countries in Oslo in December 2008. The Convention on Cluster Munitions became international law on 1 August 2010, after 30 countries ratified it in February 2010. (A similar treaty banning land mines was signed in Ottowa in 2007).
The UK has signed and enforced the treaty and has even expelled companies promoting such munitions from trade fairs in the country. However, a number of other countries - Brazil, China, India, Israel, Pakistan, Russia and the U.S. for example - all of which manufacture such weapons, have refused to sign the treaty.
The UK banks are using a list compiled by Ethix, a Swedish ethical investment consultancy, of the major manufacturers of cluster bombs. This includes Alliant Techsystems (US), Aryt Industries (Israel), Doosan Corporation (South Korea), GenCorp (US), General Dynamics Corporation (US), Hanwha Corporation (South Korea), L-3 Communications Corporation (US), Lockheed Martin Corporation (US), Poongsan Corporation (South Korea), Poongsan Holdings Corporation (South Korea), Singapore Technologies Engineering (Singapore) and Textron (US).
"The Aviva board has now determined that this exclusion should also be applied to Aviva policyholder funds. We are currently working to implement this decision and will provide an update when this is complete," a spokesperson told the Guardian. Aviva held $65 million worth of bonds in Lockheed Martin and $67 million in Textron in 2010.
"We are now well advanced in a process of identifying and divesting from overseas companies where there is strong evidence of involvement in activities prohibited by the convention," a spokesperson for the Scottish Widows Investment Partnership told the newspaper.
"All of our active portfolios are no longer invested in such holdings and no further investments in such companies have or will be made through these funds," a spokesman from Co-op Asset Management told the Guardian. "By the end of this month we will also have divested all of our passive, tracker funds, which are non-retail funds owned by the Co-operative's life fund, from these companies."
Barclays and HSBC are the two other major UK banks that have yet to announce a policy on cluster bomb manufacturers.
Despite the official commitment to ban cluster bombs, the UK has been reported to be working behind the scenes with the US to "permit the use of cluster bombs as long as they were manufactured after 1980 and had a failure rate of less than one per cent" according to a report in the Independent newspaper last November.  The attempt failed.
AMP Section Name:
War & Disaster Profiteering
186 Financial Services, Insurance and Banking