Intelligence in Iraq: L-3 Supplies Spy Support
Image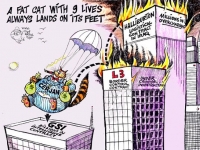 The official headquarters for a 300-person intelligence support operation in Iraq is discreetly located in a two-story red building in a business park in Chantilly, Virginia, just outside the border fence of Washington, DC's Dulles airport. From its nondescript corporate offices, Government Services Incorporated (GSI) supplies staff for an operation that spreads over 22 military bases in the Middle East.
Walk through the entrance and to the left of the reception desk, next to a glass case showcasing electronic surveillance gear, is an announcement congratulating employees on winning a $426.5 million intelligence contract from the Pentagon last year.
GSI is a major subsidiary of L-3 Communications, a Fortune 500 company. Retired Lieutenant General Paul Cerjan took GSI's helm in May, after spending a year running Halliburton's multi-billion dollar military logistics contract in Iraq and around the world.
GSI is only one of several L-3 subsidiaries enjoying the Bush administration's largesse. On March 10, Titan won a no-bid contract worth $840 million over 12 months to supply translators for intelligence and regular military operations in the "global war on terror." Yet another L-3 subsidiary, MPRI, manages the recruitment of U.S. military advisors to key Iraqi ministries such as defense and interior.
Military "prime" contractors such as L-3 extend the complex web of contracts by farming out work to smaller subcontractors, sometimes disabled- or minority-owned businesses. Its partners on the intelligence contract include Florida-based, disabled-owned Espial Services and Virginia-based Gray Hawk Systems. Both are currently advertising for interrogators. Other L-3 subcontractors on the project include Future Technologies Incorporated, a South Asian-owned company which is hiring Middle East regional intelligence analysts; and Operational Support and Services, an obscure North Carolina company seeking counter-intelligence agents.
"The government is desperate for qualified interrogators and intelligence analysts so they are turning to industry," says Bill Golden who now runs IntelligenceCareers.com, one of the biggest intelligence employment websites in the business. "Over half of the qualified counter-intelligence experts in the field work for contractors like L-3."
Trends in Military Intelligence
Over the last five years, the Pentagon, in an apparent turf war with the CIA, has been expanding its intelligence work and relying increasingly and heavily on private contractors. Undersecretary of Defense for Intelligence Stephen Cambone, for example, created a new high-level office where 100 private contractors work with 130 government employees to oversee domestic counterintelligence, long-range threat planning, and budgeting for new technologies.
Intelligence Contracting
Read the full series on intelligence contracting:
Private Contractors and Torture at Abu Ghraib, May 7th, 2004
Titan's Translators in Trouble, May 7th, 2004
Prison Interrogation for Profit, September 15th, 2004
Intelligence, Inc., March 7th, 2005
An Interrogator Speaks Out, March 7th, 2005
Meet the New Interrogators: Lockheed Martin, November 4th, 2005
Border for Sale: Privatizing Immigration Control, July 5th, 2006
Intelligence in Iraq: L-3 Supplies Spy Support, August 9th, 2006
A Translator's Tale, August 9th, 2006
Download PDF: The Fay Report - Army Investigation into Abu Ghraib
Officially, L-3 works for the U.S. generals in Iraq and not with Cambone's office, but some military observers see the arrangement with both the private company and the DOD as part of an effort by senior military officials, including Defense Secretary Donald Rumsfeld, to sideline the existing Pentagon bureaucracy.
W. Patrick Lang, who used to run worldwide intelligence collection for the Defense Intelligence Agency in the mid 1990s, says that explaining the privatization of military intelligence in Iraq is easy. "The military intelligence bureaucracy is incompetent; many intelligence general officers are mere bureaucrats who are incapable of dealing with real world intelligence problems. Also, many of them are so wrapped up in their own careers that they are afraid to do anything that might be controversial and won't think outside the box," he told CorpWatch.
"The commanders on the ground are reaching out to the private sector to get good people, and I say more power to them. But is this a good trend, the fact that the military is incapable of doing its own work? No, it's a terrible trend."
The possible downside of using private contractors to gather and analyze intelligence ranges from waste and compromised national security, to a deliberate strategy to avoid accountability and establish plausible deniability.
Larry Korb, a former assistant secretary of defense who oversaw most of the Pentagon contracting under Ronald Reagan, is sharply critical. "The privatization of what should be inherently government functions is growing by leaps and bounds. It's one thing to outsource food, but then it was security and now intelligence. What next, private companies running Stryker brigades?" he said, referring to the ubiquitous armored vehicles that patrol Iraq.
Indeed the military increasingly relies on private contractors to do just about everything in Iraq except make decisions and shoot weapons. Halliburton cooks the food and cleans the toilets, Bechtel fixes roads and schools, DynCorp trains the police, Blackwater provides security, and now companies like L-3 are taking over what were once considered core government work such as intelligence.
Who is L-3?
Despite being in business for less than a decade, L-3 is now the sixth-largest military contractor in the nation. Based in Manhattan, it is headquartered on the upper floors of a skyscraper on Third Avenue, a few blocks from the United Nations.
The company was created as a spin-off of several Lockheed Martin and Loral manufacturing units that specialized in advanced electronics. These small business units were having a hard time selling their products to major military manufacturers such as Boeing, General Dynamics, Northrup Grumman and Raytheon, because of perceived competition with Lockheed.  L-3 was created as an independent "mezzanine" or middle company, not linked to Lockheed or Loral, that would supply advanced electronics to anyone.
The deal was engineered in 1997 by Wall Street investment bankers, the Lehman brothers, with the help of two former Loral executives, whose name coincidentally began with the letter L: Frank Lanza and Robert LaPenta. (L-3 stands for Lanza, LaPenta and Lehman).
Lanza told a reporter at the time that their plan was "to build one big company, that would be like a high-tech Home Depot."
The company quickly expanded through an aggressive acquisition strategy of buying up some 70 small advanced technology manufacturers. As it grew, it recruited big names to its senior management and board: General John Shalikashvili, former chairman of the Joint Chiefs of Staff of the U.S. Army and General Carl Vuono, the former deputy chief of staff for the U.S. Army, among others.
Within eight years, this new company had ousted other older companies including General Electric from the list of top ten military contractors. In the last few years, L-3 has been aggressively taking over prime contracts, especially in the field of intelligence. In 2005 alone it won $4.7 billion in Pentagon contracts.
Border Failure, Iraq Bonanza
Along with success has come a record of badly completed projects that makes L-3 an odd choice for intelligence gathering in Iraq. Only three months before the government awarded it the huge $426.5 million contract, it busted the company not once, but twice, for supplying faulty surveillance electronics.
In April 2005, the Pentagon placed L-3 subsidiary Interstate Electronics Corporation under criminal investigation for concealing test failures and providing flawed parts for emergency radios used by Special Forces and Air Force teams in Iraq and elsewhere. The investigation is ongoing.
Surveillance Scandal
Congressman Mike Rogers, a Republican from Alabama, and chairman of the Homeland Security Subcommittee on Management, Integration and Oversight, conducted a hearing on June 16, 2005, to probe why L-3 has botched a key border surveillance project.
"In 1998, the former Immigration and Naturalization Service launched the Integrated Surveillance Intelligence System, known as ISIS. This system was originally designed to detect illegal aliens and drug traffickers crossing our borders.
"A major component of the system is the Remote Video Surveillance Program. This network integrates multiple color, thermal and infrared cameras, which are mounted on 50- to 80-foot poles along the borders, into a single remote-controlled system.
"In December 2004, the inspector general of the General Services Administration issued an audit. This report found numerous problems with the Border Patrol's contract for the Remote Video Surveillance Program. (download report here)
"For example, the initial $2 million award was made to the International Microwave Corporation, known as IMC, without documented evidence of a competition. Interestingly, however, one year later IMC received a $200 million extension for many of the tasks that had fallen outside the scope of the original contract.
"GSA also found problems with the equipment. At the Border Patrol location in Blaine, Washington, for example, auditors found cameras and other pieces of equipment that did not work. Some needed frequent repair.
"At three other locations, including Detroit, auditors found surveillance sites where no equipment had even been delivered and no work was underway. At other sites in New York, Arizona and Texas, some equipment had been installed, but was not operational.
"GSA also noted these deficiencies: 60-foot poles that were paid for but never installed; sensitive equipment that failed to meet electrical codes; an operations center where contractors, and government employees did little or no work for over a year; and, not surprisingly, numerous cost overruns.
"In September 2004, GSA abruptly halted extending the contract, leaving approximately 70 border sites without monitoring equipment. It also forced the contractor to ship truckloads of equipment back to the Border Patrol. Today, that equipment is gathering dust in a warehouse.
"What we have here, plain and simple, is a case of gross mismanagement of a multimillion dollar contract. This agreement has violated federal contracting rules. And it has wasted taxpayers' dollars.
"Worst of all, it has seriously weakened our border security."
Despite the sub-committee hearing last year, the investigation has since been dropped. Robert Samuels, a spokesman for the General Services Administration, emailed an update to CorpWatch: "The results of the investigation were not sufficient, however, to pursue further legal action."
It might just be coincidence but the manager of the border security project was Rebecca Reyes, who is now director of policy, procedures and administration at L-3 subsidiary, MPRI. She also happens to be the daughter of Silvestre Reyes, a member of the U.S. Congress from Texas, a former Border Patrol agent who is now a senior member of both the Armed Services and Select Intelligence Committees of the House of Representatives.
Download PDF: Department of Homeland Security report on failure of Border Surveilance Camera Project
hen on June 16, 2005, Joe Saponaro, then the head of GSI, was hauled before a Congressional committee to testify about the company's $257 million contract to install cameras and sensors for the Border Patrol along remote areas of the Mexican and Canadian borders. The project not only cost a fortune but the system didn't work. In 2004 for example, investigators found that at three sites on the U.S.-Mexico border-Naco, Nogales, and Tucson, not one of GSI's remote surveillance systems was functioning properly. (see box)
Nonetheless, on July 8, 2005, three weeks after Saponaro testified to Congress, L-3 subsidiary GSI sealed a contract worth $426.5 million over four years for intelligence support in Iraq. The paperwork on the contract was not signed in either the United States or Iraq, but, in a move that made the deal harder to track, by Cindy Higginbotham, operations chief of Division B of the United States Army Contracting Agency office at the Amelia Earhart hotel in Wiesbaden, Germany.
An elated Saponoro issued a press release a week later: "We are very proud to have been selected to support our warfighters in Iraq. This award reflects the U.S. intelligence community's continued confidence in L-3 Communications' ability to solve its complex problems and challenges."
The contract extended L-3's intelligence contracting in Iraq with the Pentagon. That relationship began at least as far back as January 2005, when L-3 was tasked with providing advisors to the Special Forces under an older no-bid contract. It was also one of four companies invited to bid on a five-year, $209 million contract to provide information technology, management, and intelligence support services to the U.S. Army Intelligence and Security Command (INSCOM) at Fort Belvoir in Virginia.
After L-3 won the $426.5 million intelligence contract for Iraq just over a year ago, the company ramped up its work in Iraq, deploying dozens of people across the battle-scarred nation. The private intelligence analysts report to Major General Richard Zahner, the top intelligence officer in Iraq.
The L-3 contract appears to represent an evolution in the privatization of intelligence. There were almost no private interrogators in Afghanistan or Guantanamo in 2001 and 2002 but with the invasion of Iraq, the government secretly hired CACI, a Virginia-based company, to supply intelligence personnel to Iraq. When one of its employees was implicated in the Abu Ghraib prison torture scandal, investigators discovered that the government had covered up the outsourcing by hiring the interrogators through an information technology contract with the Department of Interior in southern Arizona.
The ensuing scandal prompted the government to hire Sytex, a subsidiary of Lockheed Martin, which supplied interrogators until late last year. (see CorpWatch article) Both CACI and Sytex apparently dropped out of the business after L-3 signed its new contract and offered to hire their former workers.
Asked to comment on the investigations and the current contract in Iraq, GSI spokesman Rick Kiernan referred queries to Cynthia Swain, L-3 vice president for communications at the company headquarters in New York. Swain did not return multiple calls and emails information.
The military was equally tight-lipped. "We're not going to talk about intelligence contracts," Lieutenant Colonel Barry Johnson, spokesman for the Multi-National Force Command in Baghdad, told CorpWatch.
Troubling Translators
Four months before L-3 signed the $426.5 million contract for intelligence support in Iraq, it made its biggest acquisition yet, paying $2.65 billion for Titan, a San Diego-based military contractor. "This acquisition is very strategic for L-3 because Titan is a major provider of intelligence services to the Department of Defense and key U.S. intelligence agencies," said Frank Lanza, chief executive officer of L-3 at the time.
Titan's most important contract, providing translators to the U.S. military in Iraq, earned it more than a billion dollars, a sixth of the company's total revenue over the past three years. Titan translators, many of whom were recruited through a sub-contractor, SOS International as far back as November 2002, were part of the initial planning for the invasion of Iraq. (see related story)
Several Titan employees have been implicated in the Abu Ghraib scandal where they translated for the interrogators. A report by Major General George Fay cited one detainee's charge that an interpreter "allegedly raped a 15-18 year old male detainee." According to the report, this same interpreter was also allegedly "present during the abuse of detainees depicted in photographs." A detainee told investigators that this interpreter "hit him and cut his ear, which required stitches."
U.S. Army records show that, of 15 Titan or SOS translators working at Abu Ghraib prison last fall, only one held a security clearance. Most had no military background at all. Khalid Oman WAS a hotel manager in Kalamazoo, Michigan, and Emad Mikha, a Chaldean from Basra, managed the meat department at a supermarket in Pontiac, Michigan, before signing on for Iraq.
A Titan supervisor in the Sunni Triangle, interviewed by CorpWatch, says that contract translators underwent little or no background checking and their qualifications varied. "I'd say most of them were just there for the pay check and should never have been involved in military operations because they were incompetent or unqualified. Many of them did a terrible job," the former U.S. soldier said.
Another Titan translator says that the company hired mostly Shiite Muslims and sent them to work for the military where they would interview detainees who were primarily of Sunni heritage, causing potential conflicts.
The media have exposed several examples of Titan's problem hires. The Orlando Sentinel reported that Titan hired an Egyptian, Ahmed Fathy Mehalba, who had flunked out of Army interrogation school and been placed under surveillance by Massachusetts police. He was later arrested with what authorities said appeared to be classified information about Joint Task Force-Guantanamo, the secret detention-and-interrogation operation at the U.S. Navy base on Cuba's southern coast.
Another Titan employee who worked for an intelligence group in the U.S. Army's 82nd Airborne Division in Iraq allegedly faked his name and birth date, according to Army Times. Calling himself Noureddine Malki, he claimed was single and that his parents and siblings had been killed by shelling in Lebanon. The FBI arrested him and said he was Moroccan and married.
Revolving Door
If the translators lack military experience, GSI's new director certainly does not. A 34 year veteran of the U.S. Army, Paul Cerjan retired from active service in 1994 to work for L-3's predecessor, Lockheed and Loral. He stayed in touch with his military roots even after retirement as a trustee of the National Defense University, and did some political work as a board member of the Jewish Institute for National Security Affairs.
Then for three years, he became president of Christian televangelist Pat Robertson's Regent University. There, the man who had been deputy commanding general of the U.S. Army in Europe and led Pentagon delegations to China, spearheaded student enrollment drives and hosted award presentations to Miss America, Nicole Johnson.
Cerjan returned to a more active military role in spring 2003, when he got a call to assist Jay Garner, the man President Bush first asked to manage the reconstruction of Iraq. Cerjan oversaw the demobilization of the Iraqi army until this project became moot when the Iraqi Army disbanded itself.
But it was not long before Cerjan found use for his military background. In July 2004, Halliburton hired him to run its worldwide military logistics operation, a multi-billion dollar behemoth that was already running into trouble with allegations of cost over-runs in Iraq. He quit the job in July 2005, nine months before he came to work at L-3.
 Bleak Future, Big Profits
"Dusty" Foggo and "Nine Fingers"
L-3/GSI's next door neighbor in Chantilly, Virginia, is a company called Archer Logistics run by a man named by Brent Wilkes, headquartered on Thunderbolt Road, also at the south-eastern corner of the Washington Dulles airport.
Archer, which occupies a slightly smaller but more stylish two story red building, was a multi-million dollar contractor to the Pentagon beginning in 1995. In 2003 the company won a contract to supply water to CIA personnel in Iraq during the U.S. invasion. The deal was signed by the CIA's office in Frankfurt, Germany. The company later failed in a bid to provide clandestine flight services to the CIA.
Wilkes has been indirectly named in a lawsuit against San Diego Congressman Randy Cunningham, of using bribery in obtaining his military contracts, although he has not been charged. In March 2006 the CIA opened an investigation into whether his contracts were obtained with the help of Kyle "Dusty" Foggo, the third highest ranked CIA official and a former CIA officer nicknamed "Nine Fingers." Both men attended poker parties thrown by Wilkes at the Watergate Hotel in Washington DC.
Guests often arrived at the parties in chauffeured Mercedes-Benz limousines charted by Wilkes and were allegedly supplied with Cuban cigars and prostitutes. One frequent visitor was Cunningham, whom Wilkes paid $630,000 in bribes, according to an Pulitzer Prize-winning investigation conducted by the San Diego Union-Tribune.
There are no reported links between L-3 and the scandals involving Archer.
But like any good neighbors, they certainly do business together. Archer Logistics is an approved distributor for L-3's night vision Holographic Weapon Sights for M4 guns, used by U.S. soldiers in Iraq.
It is hard to gauge if L-3 is simply supplying "warm bodies" for slots that military recruiters have not been able to fill, or if they represent a sea-change in outsourced intelligence. One things is certain, the government is becoming increasingly reliant on contractors in large part because it no longer has a pool of intelligence analysts who stick around long enough learn the necessary skills.
Bill Golden, who runs IntelligenceCareers.com, told CorpWatch that on an average, people applying for jobs last year had 11 years experience in intelligence; this year they have just eight and next year he expects that the average applicant's experience will drop to five years.
"That's not a sufficient base of expertise when you are fighting a worldwide war on terrorism," says Golden, a former military intelligence analyst with 20 years Army experience.
"We are now entering a new phase. Previously, government exported jobs to industry requiring subject matter expertise because that expertise was being institutionally lost. Now there are indications that industry may be losing some of [this expertise] as well."
L-3 is certainly the main beneficiary from this arrangement. Federal data show that the company drew almost $75 million in the first three months of the contract alone--a sixth of the budget for what is supposed to be a three year contract.
Pratap Chatterjee is managing editor of CorpWatch. He can be reached at "pratap@corpwatch.org"
 
AMP Section Name:
War & Disaster Profiteering
9 Lockheed Martin
24 Intelligence
192 Technology & Telecommunications
208 Regulation