Ikea Furniture Made From Ancient Russian Trees
Image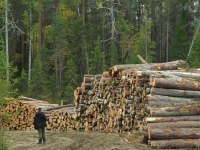 Kalevala, a 19th century epic poem from Finland, is often considered the heart of the Finnish national identity. It was inspired by traditional verses from the ancient forests on the border of central Finland and Russia. Today some of the 600 year old trees around the Kalevala national park are being chopped up to make cheap furniture for Ikea, the Swedish home furnishing chain, according to activists.

Ikea, which is based in Delft, Netherlands, sells €23.5 billion ($30 billion) worth of goods every year from shelves to entire kitchens through its 300 shops around the world. Wood is used in roughly 60 percent of the products that it stocks - according to IPS news agency - and one of the company's slogans is: "We Love Wood"

Critics are now questioning what this love for wood really represents.

In 2010 and 2011 activists from Protect the Forest Sweden took photos of lumber being hauled out of high conservation value forests just outside Kalevala national park in Russia by a company named Swedwood Karelia.

Protect the Forest immediately sent a letter of complaint to Nikolay Tochilov, the director of NEPCon, a Danish NGO that helps monitor sustainable forestry projects for Ikea. "Swedwood Karelia and their owner Ikea ... state that they do not log primeval forests and that they do not cut hundred of years old trees," wrote Viktor Säfve and Daniel Rutschman of Protect the Forest in a September 21, 2011 letter. "They ... are clearly misleading their customers through marketing and through media, stating that their forestry is ecologically, socially and economically sustainable."

Just 10 percent of the ancient old-growth forests remain in Karelia, according to the forest department of SPOK, the Karelia Regional Nature Conservancy, a Russian NGO. Swedish public service television recently estimated that Swedwood is further depleting that stock by cutting down about 1,400 acres of forest a year.

Protect the Forest say that the Kalevala forests hosts a number of red-list species, notably a number of lichen and fungi such as Antrodia crassa and Antrodia infirma (fungi), Bryoria Fremontii (black tree lichen), Hydnellum gracilipes (tooth fungus) and , Lobaria Pulmonaria (lungwort).

Earlier this week the forest activists launched a campaign against the company. "During our field visits to Russian Karelia, we have documented the reality of IKEA's forestry, and it's a far cry from the fine words in their advertising," Säfve wrote in the press release. "You must immediately stop logging old-growth forests, and you must stop lying! Those are two of the demands we make of IKEA."

"We believe the future of forestry in Russia lies in sustainably managing the vast areas of secondary forests - not in destroying the last intact areas of primeval forests," Säfve and Rutschman wrote. "There are excellent conditions in Karelia to implement selective cutting methods in unmanaged, naturally regenerated secondary forests."

Ikea disputes the charges. "Swedwood has played an important role in the advancement of forestry in Karelia. Our goal is to develop and improve forest management," Anders Hildeman, forest manager at Ikea told IPS. "We will continue to work according to the principles that we agreed on together with Russian environmental organisations like SPOK.

AMP Section Name:
Natural Resources