HSBC Bank Apologizes for Laundering Mexican Drug Cartel Money
Image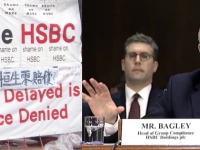 HSBC, one of the world's largest banks, has been accused of laundering money for Mexican drug cartels. At a hearing conducted by the U.S. Senate earlier this week, David Bagley, HSBC's head of compliance, apologized and resigned.
"I recognize that there have been some significant areas of failure. Despite the best efforts and intentions of many dedicated professionals, HSBC has fallen short of our own expectations and the expectations of our regulators," Bagley told the U.S. Senate Permanent Subcommittee on Investigations.
HSBC traces its origins back to the Hong Kong Shanghai Banking Corporation that was set up in 1865. Today it is one of the largest financial institutions in the world, with over $2.5 trillion in assets, 89 million customers, 300,000 employees, and 2011 profits of nearly $22 billion. The CEO is still based in Hong Kong but the bank is run out of London.
In 2002, HSBC bought up a Mexican bank named Banco Internacional, S.A. from Grupo Financiero Bital, S.A. de C.V. "A pre-purchase review disclosed that the bank had no functioning compliance program, despite operating in a country confronting both drug trafficking and money laundering," noted a report prepared for the U.S. Senate. "It opened accounts for high risk clients, including Mexican casas de cambios and U.S. money service businesses, such as Casa de Cambio Puebla and Sigue Corporation which later legal proceedings showed had laundered funds from illegal drug sales in the United States."
HSBC officials, however, treated the new Mexican unit as low risk. Paul Thurston, chief executive of retail banking and wealth management, who was dispatched to Mexico in 2007 to look into the matter, told Congress that he was "horrified" by what he found. "I should add that the external environment in Mexico was as challenging as any I had ever experienced. Bank employees faced very real risks of being targeted for bribery, extortion, and kidnapping - in fact, multiple kidnappings occurred throughout my tenure," he said.
Other HSBC staff also raised the alarm. "The AML (anti-money laundering) Committee just can't keep rubber-stamping unacceptable risks merely because someone on the business side writes a nice letter. It needs to take a firmer stand. It needs some cojones. We have seen this movie before, and it ends badly," wrote John Root, a senior HSBC Group Compliance expert, wrote in an email to Ramon Garcia, the compliance director in Mexico, on July 17, 2007.
All told, the Senate report estimates that HSBC's Mexican affiliate transported $7 billion in physical dollars to the U.S. between 2007 and 2008 alone, outstripping other Mexican banks, even one twice its size. One Cayman islands subsidiary set up by the Mexican division of HSBC handled 50,000 client accounts and $2.1 billion in deposits, but neither staff nor offices. (Pro-Publica has a nice annotated summary of the 335 page report here.)
"Due to poor AML controls, HBUS exposed the United States to Mexican drug money, suspicious travelers cheques, bearer share corporations, and rogue jurisdictions," said Senator Carl Levin of Michigan, the chairman of the subcommittee. "If an international bank won't police its own affiliates to stop illicit money, the regulatory agencies should consider whether to revoke the charter of the U.S. bank being used to aid and abet that illicit money."
While Bagley was taking the bullet, his former boss, Lord Stephen Green, who was chief executive of HSBC between 2003 and 2006 and chairman until 2010, has been avoiding calls to testify. An ordained priest and the author of a book titled "Serving God? Serving Mammon?" he is now the UK Trade minister.
"No one should raise questions about Mr Green's integrity. Au contraire. The cerebral businessman and part-time preacher turned minister isn't the type to play silly games with regulators," wrote James Moore, the deputy business editor of the Independent newspaper. "But he does have questions to answer. Such as whether time spent on books would have been better spent on business. Or whether he was just asleep at the wheel."
AMP Section Name:
Financial Services, Insurance and Banking