How an Activist Took on Private Prison Company CoreCivic and Won
Image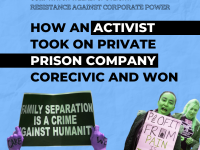 Morgan Simon, a social justice activist, wrote several articles about how CoreCivic, which operates prisons and immigration detention centres, was profiting off the policy of the Trump administration of separating migrant children from their parents. CoreCivic sued Simon for $60 million but a U.S. judge in California ruled in Simon's favor.
"We believed this lawsuit was a baseless, expensive attempt to distract and silence us. It didn't work. On November 19th, a judge dismissed this suit, affirming what we knew all along: CoreCivic participated in family separation." - Jasmine Rashid, Candide Group
Who is CoreCivic? 
CoreCivic, formerly known as Corrections Corporation of America, was founded in 1983. It operates 113 facilities across the U.S., including federal and state prisons and immigration detention centres. In 2021, the company had $1.86 billion in revenue and made $525.5 million in profits.
Simon's articles
Morgan Simon, the founding partner of the Candide Group, a responsible investment advisor, wrote several articles for Forbes magazine's website explaining how CoreCivic relies on short-term financing from major banks to fund operations, such as profiting from the policy of the Trump administration of separating migrant children from their parents. 
Families Belong Together petition
Candide Group is part of a coalition called #FamiliesBelongTogether that circulated petitions demanding that banks stop financing private prisons. Over 600,000 people signed the petitions and eight banks agreed to stop the practice.
- Bank of America
- Barclays
- BNP Paribas
- Fifth Third Bank
- JPMorgan 
- PNC
- SunTrust
- Wells Fargo
"My family is still recovering from the horror of being separated. It was bad enough for me to think the U.S. government treated us so poorly. It was even worse when I realized that a private company was actually making money off of our misery, too." – Izabel Solis, whose sister was held at a CoreCivic detention centre in California
CoreCivic sues
CoreCivic sued Morgan Simon in March 2020 for defamation, demanding $60 million in damages, claiming that the company did not separate children from their families.
Court ruling 
U.S. federal judge William Alsup ruled that Simon's articles were accurate. "It turns out that CoreCivic, Inc., did, in fact, operate detention facilities for parents separated from their children pursuant to the Border Patrol's family separation policy." He ordered CoreCivic pay Simon's attorney's fees of $45,630. CoreCivic is appealing the verdict.
Company response
"CoreCivic does not and has never operated immigrant detention facilities for children separated from their parents at the border, nor did it lobby for the Trump Administration's family separation policy or harsher immigration or sentencing laws." - Steven Owen, the company's vice president for communication
This is #28 in our series of Instagram infographics on resistance against corporate power.
Click here to see the full post on Instagram.