Garment Factories In Burma Often Violate Labor Laws
Image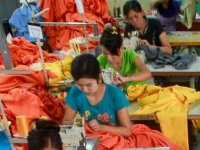 A new report on garment factories in Burma issued by Action Labor Rights (ALR) estimates that nearly a third of workers were required to work 60 hours or more a week, with almost two thirds reporting that they had no choice in the matter.

Some 60 percent of the workers interviewed by the ALR researchers said that they did not have employment contracts and 30 per cent said that they were not provided payslips in Burmese, in violation of the law.

Burma has been cut off from exporting goods to international markets for many years because of U.S. and European sanctions imposed on the country over human rights abuses by the military dictatorship that controls the country. The return to limited democracy in Burma led to the lifting of these controls by the U.S. in 2012 and by the European Union in 2013. Now Western companies like Adidas, Gap, H&M and Primark are beginning to subcontract production work to existing Chinese and South Korea factories to take advantage of the low cost of labor. ($83 a month is the official minimum wage).

In 2014 Burma exported US$1.56 billion of garment products, almost twice as much as two years prior. Government trade officials project that the country could produce five times as much by the end of the decade.

The new report - titled "Under Pressure" - focuses on South Korean owned factories. Korean companies have invested $3.36 billion in Burma into 113 projects over the last 27 years which works out to roughly 7 percent of total investment. Just over one in every three garment sector employees works for a Korean owned business or joint venture.

The report was compiled by a team of 10 local researchers who conducted 1,200 employee interviews at 39 factory sites in the summer of 2015. Some of the bigger employers they surveyed included Shin Sung Bago with 3,000 employees, Dragon State with 2,500 and Oppal 1 with 2,100 workers respectively.

"Under Pressure" quotes several Burmese workers that ALR interviewed about their workplace conditions.

"One day, I woke up sick and wanted to take medical leave," one worker who asked to remain anonymous, told the researchers. "But as I needed to see the doctor from a social welfare clinic and that is quite far away from my place, it would cost me to travel. I also do not have social welfare card and it will take at least half a day to go through those process in order to request one day medical leave. That's why I just stayed at home and got my salary cut."

"The factory does not provide us with drinking water. We have to buy it from a drinking water factory nearby," said another worker, who also asked to remain anonymous. "The factory provides fire prevention training only to male workers. Female workers are only taught how to escape when fire breaks out. This training is held normally twice a year. But the factory is small and crowded and if an accident happens, all will rush out simultaneously. In addition, there is a boiler blocking the exit. If that blows, just imagine."

"Our findings show lack of compliance with Myanmar law in many of the factories we studied," Thurein Aung,  Action Labor Rights executive director, said in a press release. "This is not a problem only in Korean-owned factories. It occurs across the garment sector."

Indeed a similar 2015 survey conducted by Oxfam of Burmese workers in factories owned by local and foreign investors from Germany, Hong Kong, South Korea and the United Kingdom highlighted the same concern.

"Last month we had to do overtime until dawn (the next day). We had to do this overtime for one week continuously... It harms my health," a worker named Swe Swe Hlaing told Oxfam. "I don't want to work all night until the next morning. We also regularly don't receive all of our overtime wages.'

"They think that we are like animals. I know I have no rights to make a complaint so I have to bear it," Ei Yin Mon, another interviewee told Oxfam. "I have been working here so many years and we try our best to meet the production targets so that we won't be  told off, but sometimes it [the shouting] is unbearable."

In recent years, government tolerance for dissent has led to an increasing number of labor protests. Government officials estimate that 447 took place at garment factories around the country over the last two years.

And in some cases, local labor tribunals have even backed the workers over the factory owners.
AMP Section Name:
Retail & Mega-Stores