Forever 21 Fails to Comply With Federal Sweatshop Investigation
Image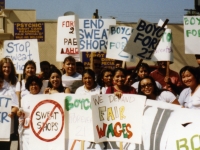 Clothing chain retailer Forever 21 has been sued by the United States Department of Labor for ignoring a subpoena requesting information on how much the company's suppliers pays the workers who make its clothes. Anecdotal evidence suggests that the salaries are well under the current U.S. federal minimum wage of $7.25 an hour.

For example, one Los Angeles factory worker told Bloomberg Business Week that she was paid 12 cents per vest that the company sells for $13.80.

Los Angeles-based Forever 21 sells cheap and trendy clothing and shoes, most of which is priced under $50. Started in 1984 by Do Won Chang and Jin Sook, a Korean-American immigrant couple, the company now sells an estimated $3 billion in goods from 500 stores worldwide. As a private company, Forever 21 does not have to reveal net profits, although it has volunteered the information that it made $135 million in 2008.

The business is not as profitable for the garment workers that the company employs, who are paid according to how many pieces they sew or cut, which can mean that their pay can be often be below minimum wage. For example, at 12 cents a vest, a worker would have to sew 60 vests an hour to earn the minimum wage.

These garment workers also routinely work six or seven days a week, for 10 - 12 hours a day, with no overtime pay, according to the Labor Department. Under the law, employees that work more than 40 hours during a work week are supposed to receive 1.5 times their regular pay for the additional hours.

This August, under a multi-year federal enforcement initiative targeting sweatshop conditions in Los Angeles' garment district, Forever 21 was issued a subpoena to reveal what it pays suppliers and workers.

(The initiative has revealed many abuses so far - for example, the Los Angeles, San Diego and West Covina offices of the Labor Department found violations in 93 percent of the 1,500 cases it investigated in the last five years. It also found that about 11,000 workers were owed more than $11 million in back wages, collectively)

When Forever 21 failed to respond to the subpoena, the Labor Department's attorneys sued them in federal courts in late October to force them to turn over the data. "We are disappointed that Forever 21 has refused to cooperate with the subpoena, particularly given the significant problems we have found among its suppliers," said Ruben Rosalez, regional administrator for the Labor Department's Wage and Hour division in the western region of the country. "Since 2008, our investigators have identified dozens of manufacturers producing goods for Forever 21 under sweatshop-like conditions."

Forever 21 released a statement in response saying that the company "promptly responded to the department's subpoena with information that resulted in a full resolution of the matter under investigation. Forever 21 also offered to meet with the department and is surprised and disappointed that the department declined to meet before filing this action but looks forward to working with them to address any issues."

No court date has been set yet.

The company has been sued for labor violations in the past. In 2001 the Asian Pacific American Legal Center represented 19 Latino garment workers who sewed, ironed and packed Forever 21 clothes at six different sweatshops. They sued for unpaid wages and retaliatory firings. (An award-winning documentary titled "Made in L.A." on the case was produced for U.S. public television)

The lawsuit alleged that Forever 21 sought out contractors willing to violate minimum wage and other labor laws. The contracting sweatshops altered time cards and fired several workers who blew the whistle during a state investigation. Forever 21 settled the lawsuit in 2004 and committed to "take steps to promote greater worker protection in the local garment industry."

Soon after the company moved most of its production to Asia. Still, between 20 to 30 percent of its clothes are still made in Southern California for items that require quick turnaround - and conditions may not have improved.

"We have proof that the goods going to Forever 21 from certain garment contractor shops are being sewn by people who aren't being paid properly," Priscilla Garcia, director of the Labor Department's Wage and Hour Division in West Covina, California, told the Huffington Post.

Other violations have been alleged. In January this year, five of Forever 21's retail workers sued the company, alleging that they were denied meal breaks and kept late after their shifts while being searched for stolen merchandise. Denying workers payment for the time they're kept late while being searched "could add up to millions" if other employees suffered the same practice, the lawsuit said.

"Sales associates at Forever 21 stores are often still in high school and under the age of 18 when they begin their employment," Geoffrey Norton, one of the workers' lead attorneys, wrote in a statement. "These young people are vulnerable and often do not understand their employment rights. This lawsuit is meant to give these young people a voice about how they were treated while employed by Forever 21 in California."

Earlier this month, workers at a Forever 21 factory in Lincoln Heights, Los Angeles, were evacuated after a "strange odor" caused nausea, vomiting, and headaches. Seventeen of the 100 employees were treated, and some were sent to the hospital. Investigators suspect that the odor might have been caused by the building's air conditioning unit, a nearby roofing job, or a basement painting job.

While Forever 21 has received an unusual number of labor complaints from subcontractors in the U.S., the problem is bigger than one company's behavior, says sociology professor and labor expert Robert Ross of Clark University.

"Nobody in the world is making a living if a retailer is selling $10 jeans," Ross told Business Insider.

AMP Section Name:
Retail & Mega-Stores
188 Consumerism & Commercialism