Facebook Changes Names Policy In Partial Victory for Privacy Activists
Image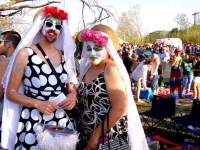 Gay and transgendered performers have forced Facebook, the popular social network wesbite, to make changes to its "real names" policy to allow them to appear online under their stage names. The company has not, however, offered a way for people to keep their identities private.
The policy change came about after almost 37,000 people signed a petition on Change.org created by Olivia LaGarce of Seattle to ask Facebook to allow performers to use their stage names.
"Victims of abuse, trans people, queer people who are not able to be safely 'out,' and performers alike need to be able to socialize, connect, and build communities on social media safely," wrote LaGarce who performs in drag with the Haus of LadyDude. "By forcing us to use our 'real' names, it opens the door to harassment, abuse, and violence."
Facebook has long claimed that the policy was to prevent stalking and bullying online by forcing all users to be identified by their legal names.
"I want to apologize to the affected community of drag queens, drag kings, transgender, and extensive community of our friends, neighbours, and members of the LGBT community for the hardship that we've put you through," Facebook's chief product officer, Chris Cox, said in a statement posted on Facebook's website. "The spirit of our policy is that everyone on Facebook uses the authentic name they use in real life. For Sister Roma, that's Sister Roma. For Lil Miss Hot Mess, that's Lil Miss Hot Mess."
(Lil Miss Hot Mess and Sister Roma are drag performers in San Francisco)
"This is a huge victory not only for us queens, but also for the countless others we've met along the way whose names don't always match their ID cards, but allow them to express themselves with less fear and more fabulousness," Lil Miss Hot Mess wrote in an email to the Guardian.
But others noted that Cox's apology was misleading. "The term 'authentic identity' specifies that government-issued ID must be used," wrote Jason Fleetwood-Boldt in a post on Cox's apology page. "Therefore, it is reasonable to conclude that the current Facebook policy requires use of someone's legal name. Although the sentiment of your post is appreciated, the assertions you make are blatantly false."
"Facebook hasn't addressed the real problem here: the company will not stop requiring verification of names," wrote Nadia Kayyali, an activist with the Electronic Frontier Foundation, a digital rights group." "Facebook needs to find a solution that takes into account the myriad groups of people affected by Facebook's faulty policy, from undocumented immigrants, to activists in oppressive regimes, to survivors of domestic violence."
In related news, this week Facebook also semi-apologized for a 2012 experiment on the news feed of some 700,000 people to study how emotions spread through the social network. The results were published as a paper titled "Experimental evidence of massive-scale emotional contagion through social networks," in the Proceedings of the National Academy of Sciences earlier this year.
Users were not notified nor was their any way for them to opt out. "There's no review process, per se," Andrew Ledvina, a Facebook data scientist, told the Wall Street Journal.
"We believe in research, because it helps us build a better Facebook. Like most companies today, our products are built based on extensive research, experimentation and testing," Mike Schroepfer, Facebook chief technology officer, wrote in his apology. "For example, we should have considered other non-experimental ways to do this research. The research would also have benefited from more extensive review by a wider and more senior group of people. Last, in releasing the study, we failed to communicate clearly why and how we did it."
AMP Section Name:
Media & Entertainment