East European Shoe Factories Often Pay Below Minimum Wage, Says New Report
Image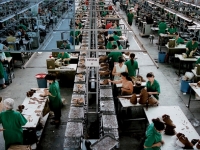 Shoes labeled "Made in Europe" are often assembled in poor East European countries for 'starvation wages' according to a new research report from the Change Your Shoes campaign. The companies whose labor practices were examined include Ara, Bata, Deichmann, Geox, Leder & Schuh AG, Lowa and Zara.

A factsheet published by the campaign, based on interviews with 179 shoe workers from 12 factories in six countries - Albania, Bosnia-Herzegovina, Macedonia, Poland, Romania and Slovakia - found that most shoe workers were not paid minimum wage, let alone a living wage for a family of four. These conditions are believed to affect some 120,000 registered workers across the six countries.

Working conditions were uniformly bad, say the researchers of Labour on a Shoestring, according to the workers they interviewed. "As many workers earn a wage based on units produced and not hours worked, they often work unpaid overtime or refuse to follow safety procedures that protect them from glue and hazardous chemicals in order to maintain high productivity," they write. "In many factories workers face extreme cold in winter and temperatures so high in summer that they frequently collapse."

The worst paid workers are in Albania, where they were paid monthly wages of €140 ($155), less than the minimum wage of €169 per month. Perhaps the widest disparity in living costs were in Bosnia-Herzegovina where average wages of €164 are less than a fifth of the estimated €933 needed to support a family of four. Bu contrast average wages in China are €213 a month.

All the other countries surveyed by Change Your Shoes showed average wages in shoes factories lagged behind minimum wage. In Macedonia, wages averaged €145, less than the minimum wage of €220 and below living wages for a family of four of €479. In Romania average wages of €156 were less than the minimum wage of €166 and what a family of four needed which stood at €736. In Poland average wages of €318 were less than the minimum wage of €392 and the amount needed for a family of four which was €799. The highest wages were in Slovakia at €354 which was still less than the minimum wage of €468 and below the amount needed for a family of four at €517.

In addition to the low wages, shoe manufacturers who use factories in Eastern Europe, are also able to creative labeling tactics by taking advantage of European Union rules known as the 'outward processing trade (OPT)' system.

For example an Italian brand might choose to design and cut leather, then ship the material to a lower wage country where the actual shoe assembly is done, before re-importing the finished product duty free to be labeled, packed and marketed as 'Made in Italy.'

"It is not required that we have to add a label 'Made in Bosnia' though the consumer could inform himself regarding the country of origin by reading a registration number sewn into the garment," Jan Ahlers, vice chairman of the Ahlers AG supervisory board, told Reuters in an email for a 2009 article.

"After finishing the clothes, we put in a neutral label that has no 'made in' on it,"  Dimitar Stojanov, owner of the Pelister factory in Macedonia, told Reuters at the time. "That is later applied by the client. What they put, we don't know."

With little or no oversight from national agencies, let alone from the brands that sell the shoes, workers have to resort to other means to survive.

"Poverty wages also result in poverty related coping strategies that double and triple the burden, especially on women," write the researchers of Labour on a Shoestring. "Workers in Macedonia told us, for instance, that in addition to their factory job, they have to engage in subsistence agriculture to survive."

"Savings? We cannot save anything from our salary," one Romanian worker told the researchers. "My husband had to go to Germany for a few months to work in construction in order to make some money for winter heating. Those are our savings."


AMP Section Name:
Manufacturing