Drone, Inc. - Acknowledgements
Image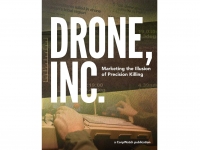 This report was written by Pratap Chatterjee and Christian Stork.
Research by Pratap Chatterjee, Christian Stork and Christopher Thompson. Editor: Terry Allen.
Layout and graphics by Design Action Collective. Printing by Community Printers, Santa Cruz.
Animation by Ruben DeLuna.
This report was funded by a grant from Open Society Foundations with additional support from Edna Wardlaw Charitable Trust, Lawson Valentine foundation and the Tikva Grassroots Empowerment Fund.
Thanks especially to the clients and staff of the Whistleblower and Source Protection Program at ExposeFacts (Diani Barreto, Jesselyn Radack and Kathleen McClellan), Reprieve (Cori Crider and Jennifer Gibson), ICWatch and National Security Archive (Tom Blanton and Nate Jones), and the Bureau of Investigative Journalism (Crofton Black) for research support. Thanks also to Srdjan Cvijic, Lisa Magarrell and Angelea Selleck of Open Society Foundations, Mirza Shahzad Akbar of the Foundation for Fundamental Rights, Chris Soghoian at the American Civil Liberties Union, Andreas Schueller of the European Center for Constitutional and Human Rights (ECCHR), Philip Garnett at the University of York, Ali Arab at Georgetown University, and Lillian Smith for feedback and support.
In memoriam: Christopher Thompson (1969-2016)
This report is available under a Creative Commons Attribution 4.0    international license. Please attribute CorpWatch when re-using any materials from this report. You may do so in any reasonable manner, but not in any way that suggests that CorpWatch endorses you or your use.
Report Index • Download Report • FAQ/Press Materials • Watch Video