Cyprus Banks Gamble Away Russian Billions
Image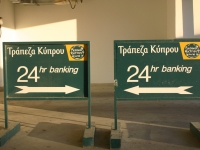 A few years ago Yiannis Kypri and Andreas Vgenopoulos, senior executives at the two biggest banks in Cyprus, were on top of the financial world. Kypri courted wealthy Russian investors in Moscow while Vgenopoulos handed out millions in loans to companies in Greece, the country of his birth.

Both Kypri, the former CEO of the Bank of Cyprus, and Vgenopoulos, the former CEO of Laiki Bank, were fired when their financial institutions collapsed, bringing down with them the economy of the tiny Mediterranean island country. Last week anyone who had deposited more than €100,000 ($129,000) in the two Cypriot banks was forced to write off between 40 to 80 percent cut of their holdings in order to finance a €10 billion international bailout of the country.

Cypriots are understandably angry although the people who will lose the most appear to be expatriates, notably from the former Soviet Union who have been flocking to the country over the last decade. "There is a generation of Russian businessmen like me who have lost faith in the Russian government, in Russian banks and in Russian laws. That is why we are in Cyprus," Sergey Ivanov, a Russian wine merchant in Cyprus told the New York Times.

Many of these Russians were attracted to Cyprus when it decided to become a "respectable" tax haven inside the European Union and shake off its prior reputation as a center for money laundering for arms traffickers and druglords. Starting in 2008 the country swapped its local currency - the pound - for euros and built up a major offshore banking industry.

Thousands of companies that existed just on paper were set up in Cyprus over the last few years by accountants and lawyers for wealthy expatriates in order to help them avoid taxes. (There are 320,000 registered companies for just 860,000 residents) Andreas Marangos, a Cypriot lawyer, says he alone set up 6,000 shell companies for Russian and Ukranian investors. Michalis Papapetrou, another Cypriot lawyer, told National Public Radio that one of his Russian clients deposited €100 million in the island.

Indeed one in three rubles that left Russia in 2011 went to
Cyprus, and almost as much came back, according to the International Monetary
Fund. Why? "They were overwhelmingly Russian cash "round-tripping" through
Nicosia shell companies and re-entering as foreign investment," writes Ben
Judah, author of the forthcoming book "Fragile Empire: How Russia Fell In and
Out of Love With Vladimir Putin." This even included money state entities like Rosneft,
the oil giant, Sberbank and VTB, both major banks, and of course the Russian
billionaires who control the steel companies.


Bank of Cyprus acquired 80 percent of Uniatsrum, a Russian bank, in 2008 in order to cash in on this bonanza. "We are utterly convinced as to the huge potential of the Russian economy,"
Kypri, who was then group chief general manager of Uniatsrum, told a
Moscow press conference in 2010. "Once Uniastrum securities are accepted
for trading on the Russian stock market, the bank's appeal will
increase, providing it with access to equity in rubles and further
solidifying its position as one of Russia's foremost banking
institutions."

At the same time, tens of thousands of ordinary Russians also flocked to the southern Cypriot town of Limassol to take advantage of the sunny weather, the banking system and a welcoming mayor who coincidentally speaks fluent Russian. A Russian radio station and two Russian-language newspapers, as well as dozens of shops selling Russian products have sprung up. Indeed, some have taken to calling the city "Limassolgrad" because of the overwhelming Russian presence.

Unfortunately Kypri, Vgenopoulos and their staff squandered the deposits that they were entrusted with on a variety of questionable schemes ranging from a property boom in Cyprus to large bets on Greek bonds, which they bought at 70 percent of their original value. Those bonds sank to a quarter of the original value under a deal engineered by the European Union in late 2011. Laiki alone lost €2.3 billion, an amount equal to an eighth of the national gross domestic product, while the Bank of Cyprus lost €1.6 billion.

Vgenopoulos, for example, used Marfin Popular Bank (a precedecessor to Laiki) to lend money to the monks of Vatopedi Monastery on Mount Athos to buy prime state-owned land in sweetheart deals which they then re-invested in his financial schemes.

Foolish ventures aside, some say the European Union deliberately forced Cyprus to the brink in order to break up the money laundering and tax dodging schemes on the island. "If we knew at the time what might eventually happen, we might not have been so willing to join," Afxentis Afxentiou, former governor of Cyprus's central bank from 1982 to 2002, told the Financial Times. "It seems they wanted to punish Cyprus."

A committee of former Cypriot Supreme Court judges is scheduled to start work this week to attempt to discover who was responsible for the financial mess - presumably investigating the work of senior executives like Kypri and Vgenopoulos. They are expected to report back in three to six months.

Mind you such questions have been asked for a while with no answers forthcoming. "How could (the Cypriot authorities) be fooled by a man who took the capital of Cypriot depositors to Greece and turned it into thin air?" Zacharias Koulias, a Cypriot independent member of parliament asked his colleagues last May. "Is it even possible for a man to come to our country, grab the capital and leave, and all these managers didn't realize what was going on?

Another scandal is also brewing over a list published by a news website of 132 individuals and companies who were allegedly tipped off to the terms of the bailout and withdrew €700 million just before the bailout, incuding relatives of Cypriot President Nicos Anastasiades.


AMP Section Name:
Financial Services, Insurance and Banking