Corporate Sponsors Quietly Back Away From Tokyo Olympics
Image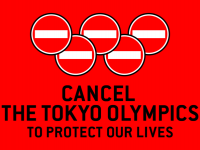 For the first time in history, corporate sponsors have backed away from the Olympics. Toyota – the main local sponsor of the 2020 games in Tokyo – decided not to air TV commercials in Japan, to avoid being linked with the sporting event being held in the middle of a pandemic.
Both Panasonic and Toyota also decided not to send send executives to attend the opening ceremony last week, after months of vocal protests in the country, and an online petition that gathered almost half a million signatures.
"Gold medals are being given priority over people's lives," Misako Ichimura, the leader of Japan's anti-Olympics movement, announced at rallies back in April. An Olympics torch bearer in eastern Japan was even confronted by a protestor who tried to extinguish the torch with a water pistol. Another protestor was arrested for scattering protest leaflets from a train in Nagoya.
"The Olympics have become a toxic property in Tokyo where very little public support exists," Jules Boykoff, professor at Pacific University's department of politics and government, told the Japan Today website. "For domestic sponsors there is a clear business incentive to disassociate from the Tokyo Olympics."
The company drawing the most ire abroad is probably Coca-Cola. "Watching the Olympics with your family is a vivid memory for most children, evoking feelings of unity and inclusion through sport," Alice Pryor, a spokesperson for Parents' Voice, an online movement of parents in Australia, was quoted saying in B&T magazine. "This is not an event that should ever be accompanied by ads and sponsorships for sugary drinks, fast food and chocolate."
"The impact of junk food and sugary drinks on our children, our families and inevitably our health system is a high price to pay," Professor Jonathan Carapetis, executive director of Telethon Kids Institute in Australia, was quoted saying in Mirage News. "We need government to step in and find alternative ways to support and promote sport and our athletes."
Similar comments accompanied other recent Olympics, such as in Rio de Janiero in 2016.
"In Latin America, these two companies-Coca-Cola and McDonald's-represent one of the main vectors of the obesity and diabetes epidemic in our region," Alejandro Calvillo Unna from Consumer Power wrote in a statement to Newsweek at the time. "They deny the scientific evidence about the harm their products generate, they manipulate children, use misleading advertising, and invest millions of dollars in lobbying to impede the development of policy measures in countries that are working to combat obesity and chronic disease."
This is possibly one reason why McDonald's, which has been a major sponsor of the Olympics since 1968, quietly canceled its multi-year sponsorship of the Olympics in 2017.
However, plenty of other companies have been willing to pay billions for the global right to be associated with the games including Airbnb, Alibaba, Allianz, Atos, Bridgestone, Dow Chemical, General Electric, Intel, Omega, Panasonic, Proctor & Gamble, Samsung, and Visa, who together paid out an estimated $3 billion.
While Dow has not been in the news over its sponsorship of the Tokyo Olympics, it did get attention in London in 2012.
"Dow Chemical have been refusing to accept that their wholly-owned subsidiary, the Union Carbide Corporation, is wanted on the criminal charges of culpable homicide for the Bhopal Gas Disaster,"  Colin Toogood of the Bhopal Medical Appeal, said at the time. "We cannot understand why the Olympic organizers continue to defend Dow Chemical when these are the facts."
The companies that did pay millions for sponsorship rights may now be regretting their decision in Tokyo as viewership of the Olympics has plummeted. For three nights in a row, audience numbers in the U.S., were down 36 percent on the 2016 Games in Rio de Janeiro. Part of the reason could be the time difference and part of it could be the competition from streaming video services that have been pulling millions away from regular television.
Another problem for advertisers is the fact that athletes are beginning to become far more political and ready to push back against sponsors whose values they oppose. 
For example, Coca-Cola's share prices plunged by $4 billion recently when Portuguese professional footballer Cristiano Ronaldo pointedly pushed aside a bottle of Coke when it was placed in front of him at a UEFA European football championship press conference in Budapest last month and said: "Water!"
The next day French professional footballer Paul Pogba removed a bottle of Heineken during a press conference in Munich, where the beer company was a major sponsor.
And some athletes have also realized that neither the organizers nor the sponsors actually care about the athletes. "My perspective was that the Games were so much about the competition," Allyson Felix, a U.S. runner who has competed in four Olympics, recently told the New York Times. "Now I get where we fall in the grand scheme of this ginormous thing that makes a ton of money — the athletes don't see that money."
Further trouble for sponsors lies ahead for sponsors in Paris in 2024 and in Los Angeles in 2028 where online activists are already denouncing the Games on multiple grounds. Indeed in France, on the ground protests kicked off last November in the Seine-Saint-Denis region where the Athletes Village will displace local people and businesses in one of the poorest parts of the country.