Contractors Alleged to Abuse Alcohol, Drugs, Guns at Parties In Afghanistan
Image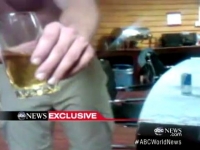 Jorge Scientific Corporation, a military contractor with nearly a billion dollars in U.S. government contracts, is being sued by former employees for "shocking misconduct" in Afghanistan. The charges include illegal and reckless use of firearms, abusing alcohol and drugs and billing the government for property destroyed during raucous parties.

Jorge Scientific, based in Crystal City, Virginia, has raked in $874,789,041 in U.S. contracts since 2001, according to the lawsuit. In September 2010 the company was awarded a $47 million contract by the Research, Development and Engineering Command of the U.S. Army to train the Afghan National Police in counterinsurgency methods in Kabul and Kandahar provinces.

Whistleblowers John Melson and Kenneth Smith, who worked on the training contract as security guards from late 2011 to early 2012, released video footage, shot on cell phones, of their former supervisors and co-workers wrestling each other, drunk and high on ketamine, a prescription drug. The footage was first aired by ABC News last month.

The scandal is especially controversial because it is not the first time military contractors in Afghanistan have been accused of reckless behavior on taxpayer dollars. Indeed one year before Jorge Scientific was awarded the training contract, a similar scandal erupted in September 2009 when leaked photographs showed U.S. military contractor ArmorGroup North America employees paid to protect the U.S. embassy in Kabul wearing coconut bras and taking vodka "butt-shots" around a giant bonfire.

Melson and Smith filed a lawsuit in March 2012 accusing Jorge employees - some of whom are former Central Intelligence Agency and Green Berets (U.S. Special Forces) officials - of throwing parties that disintegrated into drunken brawls, once or twice a week. Much of the partying took place at the one of Jorge's main compounds, called the Villa.

"Music was blaring, and revelers were tossing ammunition and furniture into a fire. Broken vodka bottles scattered the courtyard," allege the whistleblowers. "It reminded me of times I'd visit my friends going to college that were in fraternities," Melson told CNN. One video shows Kevin Carlson, the company's medical officer, in a state of intoxication on a prescription anesthetic that he had injected, that made it impossible for him to respond to a request for help.

The massive bonfires and high profile, all-night antics posed a special threat because the location of the compound was supposed to be secret, the plaintiffs noted.

Jorge employees' corruption and violent altercations led to run-ins with local police, the lawsuit alleged. Such behavior, it said, "endangered U.S. relations with the Afghan people because it violated Afghan laws and customs. Indeed, Jorge's project manager demeaned and degraded local workers, and Jorge's misconduct cause the Afghan intelligence agency to threaten Jorge's local security guards."

"Jorge's performance at the Villa damaged, rather than helped, U.S. relations with Afghan security forces," the lawsuit concluded.

Melson and Smith, who refused to partake in the drunken antics, were taunted and harassed as a result, they claim. Frustrated, they "repeatedly pleaded with Jorge leadership to address the rampant misconduct," the lawsuit said, but to no avail.

"Indeed," the complaint stated, "Jorge's Executive Vice President Chris Sullivan was a ringleader of the misconduct."

Melson and Smith were threatened, verbally abused with racial epithets, and singled out until both men resigned in February 2012. Both are suing for back pay and damages done to them as well as the U.S. government.

"Jorge used the $47 million contracts as a subsidy to engage in the type of egregious misconduct that has endangered U.S. lives in the same geographic location where violent tensions are now erupting," the lawsuit said. "Under color of the U.S. government, Jorge employees engaged - and are likely still engaging - in outrageous violations of law and contract."

In a public statement Jorge Scientific said it was "deeply concerned about any employee misconduct" and "pledges to fully investigate and correct any mistakes to preserve and continue its history of exemplary performance."

It said that early in 2012 the company "new leadership implemented a no-drinking policy and dismantled the bonfire pit at the center of the misbehavior ... All of the accusations pre-date the management changes that Jorge put in place," the company's statement said.

Jorge also said that none of the people in the videos work for the company any more.

Following inquiries about the lawsuit by ABC News to the Pentagon the U.S. Army's Criminal Investigation Division said it is looking into the incidents as well. "The International Security Assistance Force and U.S. Forces Afghanistan take all allegations of inappropriate behavior by contractors and service members very seriously," an ISAF spokesman told CNN.

Watchdog non-profits have been sharply critical of the revelations. "This is the kind of behavior that is making people in the area - Afghans - have more disregard for the Americans who are there," said Danielle Brian, executive director of the nonprofit watchdog group Project on Government Oversight.

Other activist groups say that the increased use of civilian contractors by the U.S. government needs to be matched with a robust system of holding them accountable for criminal conduct and violence against local civilian populations.

"Despite warning calls in the Abu Ghraib scandal and Blackwater shootings in Nisoor Square, the U.S. government has failed to establish an effective system of accountability and oversight over U.S. contractors fielded abroad," argues Human Rights First, an advocacy organization based in New York, in a 2012 report titled "State of Affairs: Three Years After Nisoor Square."

An estimated 113,491 civilian contractors were employed in Afghanistan as of January 2012, versus about 90,000 U.S. soldiers, according to recent Pentagon statistics. About 22 percent - roughly 25,287 - were U.S. citizens.

AMP Section Name:
War & Disaster Profiteering