Charter Airline Privilege Style Withdraws From Contract to Deport Asylum Seekers From the UK to Rwanda In Victory for Migrant Rights
Image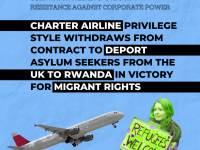 On April 14, 2022, the UK government signed a £20 million deal with the Rwandan government to accept asylum seekers deported from the UK. Such deportations are typically conducted under contract with charter airlines. Under pressure from human rights groups, many airlines refused to take the contract. Privilege Style, the only company to agree, backed out in late October 2022.
"Privilege Style's decision to no longer fly torture survivors to Rwanda sends a message to the aviation industry: if you try and cash in on the pain of refugees, you will be held to account." – Kolbassia Haoussou, torture survivor and director at Freedom from Torture. 
Privatizing immigration and deportation
Many European governments pay contractors to surveil, jail and deport asylum seekers. Research by Corporate Watch (a UK NGO that is different from CorpWatch) has identified a number of UK contractors such as Carlson Wagonlit Travel, which was awarded a £5.7 million contract to book flights with charter airlines like Airtanker, Hi Fly, Privilege Style, Titan Airways and TUI. Over 7,000 people were deported on such flights in 2019 to countries like Albania, Brazil, India, and Vietnam.
Rwanda's human rights record
Human Rights Watch reports that at least 12 refugees from the Democratic Republic of the Congo were shot and killed by police in 2018 as they were protesting in front of a United Nations building. Those responsible have yet to be identified or held accountable. Dozens of others have been jailed for "intent to create a hostile international opinion against the Rwandan state."
Public pressure
Public attention to deportation flights has increased ever since the UK deported members of the Windrush generation to Jamaica, many of whom had lived in the UK for decades but had been charged with minor crimes. Letter writing campaigns and public protests by groups like Freedom from Torture pressured multiple airlines such as Airtanker and Titan Airways to refuse to accept the deportation contracts.
"Lots of privilege, no style"
Based in Mallorca, Spain, Privilege Style, is a last-minute charter airline, owned by Chema Alvarez of Galicia, with a fleet of just four ageing secondhand planes. It has flown athletes from Spanish football clubs like Atletico de Madrid and Sevilla FC but it has also helped deport people to Afghanistan and Nigeria shackled in leg chains. Corporate Watch dubbed the airline: "Lots of privilege, no style."
Flight grounded
In June 2022, Privilege Style was scheduled to transport the first group of asylum seekers to Kigali, Rwanda. Several NGOs like Care4Calais, Detention Action, and the Public and Commercial Services Union sued the UK government at the European Court of Human Rights to stop the flights. At the last minute, the court ruled in their favor.
"Sending people fleeing violence to a country thousands of miles away was already cruel and callous. It's now potentially unlawful too." – Sadiq Khan, Mayor of London.
Company response
Four months later, Privilege Style announced that it was withdrawing from the contract. In a letter to Freedom from Torture the airline stated that it:
"We will never operate the flight to Rwanda since the one scheduled in June 2022, the reason for this controversy, was suspended and never flew."
This is #24 in our series of Instagram infographics on resistance against corporate power.
Click here to see the full post on Instagram.