Bombing of Yemen: Interview with the European Center for Constitutional and Human Rights
Image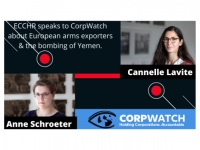 Anne Schroeter and Cannelle Lavite of the European Center for Constitutional and Human Rights speak by video with CorpWatch about European arms exporters supplying weapons to a Saudi-led military coalition currently involved in bombing Yemen. These companies include Airbus, BAE Systems, Dassault Aviation, Leonardo, MBDA, Raytheon, Rheinmetall and Thales.
The United Nations has described the war in Yemen as the "world's worst humanitarian crisis," one that has left over ten million people dependent on humanitarian aid to survive. The coalition conducting the aerial bombardment includes Bahrain, Egypt, Jordan, Kuwait, Morocco, Sudan and the United Arab Emirates.
Our interview focuses on a report submitted to the Office of the Prosecutor of the International Criminal Court (ICC) on the situation in Yemen by ECCHR and Mwatana for Human Rights in Yemen together with four partner organizations – Amnesty International, the Campaign Against Arms Trade in the UK, Centre d'Estudis per la Pau J.M. Delàs (in Spain, and the Osservatorio Permanente sulle Armi Leggere e le Politiche di Sicurezza e Difesa in Italy.
The 350-page report, published on December 11, 2019, details 26 airstrikes conducted by the coalition, that the activists say, may amount to war crimes. The activist groups also published an online platform, designed by Forensic Architecture, that allows users to visualize the relationships between documented airstrikes, found remnants of European weapons, and a timeline of arms exports from European countries to the coalition.
"We basically want to counter a narrative and that is put forward by some governments, particularly the UK government, that says that unlawful airstrikes are isolated incidents. The information that is available suggests that both company officials and state officials had ample knowledge of these of the extent of the of the unlawful air strikes," Schroeter told CorpWatch.
"Companies have (an) obligation to respect human rights and they also have their own obligation to conduct a human rights risk assessment when they decide to export a weapon to Saudi Arabia. It's also quite clear that when you (have) been doing business with Saudi Arabia for the last 10 years, you have the means and the competence to know what's happening on the ground," adds Lavite.
Examples of European weapons used in Yemen include:
* On Sept 23, 2015, a Hakim precision guided missile made by GEC Marconi Dynamics in the UK was dropped on the Radfan ceramics factory in Mita village of Sanaa, killing one and wounding a child.
* On October 8, 2016, an MK8 bomb made by Rheinmetall in Italy was fired at the village of Dei al-Hejari in northwestern Yemen killing a family of six including a pregnant woman and four chiildren.
* On April 22, 2018, a GBU-12 made by Raytheon was dropped on a wedding party in the village of Raqqa, Bani Qais neighborhood, Hajjah district, killing 21 civilians including 11 children.
While the ICC is still investigatiing the allegations, ECCHR says the publication of the report has made a difference. "We know that it has had some impact on some of the arms traders because it is discussed for instance in French debates by arms traders who are finding they claim themselves in difficulty to obtain loans or investments from banks," Lavite told CorpWatch.
Watch the interview on YouTube here. ​​​​​
To learn more about the European Center for Constitutional and Human Rights coverage of companies supplying weapons for the bombing of Yemen, go here.
More on Mwatana for Human Rights can be found here.
More on Forensic Architecture can be found here.