Blackwater Pays Millions To Settle Arms Smuggling Charges
Image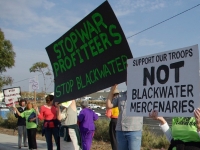 When Blackwater offered Salva Kiir, the president of South Sudan, a package of military aid, they arranged a delivery of ten special encrypted satellite phones. In a similar bid to befriend the King Abdullah of Jordan they presented him with the "mercenary version of a fruit basket: an assortment of Glocks, along with a Remington shotgun and a Bushmaster M4 rifle."
Blackwater, a 15 year old North Carolina private security company, is best known for an incident when its employees gunned down 17 civilians in Nissour Square, Baghdad in September 2007.
The company - which is now known as Academi - has agreed to pay the U.S. government $7.5 million to settle federal charges of arms smuggling and related crimes based on investigations into several incidents including the South Sudan and Jordanian cases. The ""Deferred Prosecution Agreement" allows the company to avoid going to court on the 17 charges if it can prove that it has changed its ways over the next 36 months.
"This company clearly violated U.S. laws by exporting sensitive technical data and unauthorized defense services to a host of countries around the world," says Brock Nicholson, the special agent in charge of U.S. Homeland Security Investigations Atlanta. "In doing so, company employees were frequently in possession of illegal firearms and aided other foreign nationals in the acquisition of illegal firearms."
Most of the incidents date to 2005 and 2006 when the company was at the height of its fame, earned mostly from its work in Iraq. On March 31, 2004, four Blackwater contractors were killed in the city of Falluja while accompanying a supply convoy delivering food to a U.S. military base. The company shot into the news and the U.S. military launched two major attacks on the city.
Almost exactly a year later, in March 2005, Blackwater made the gift of undeclared guns to the king of Jordan.
In late 2005, Blackwater employees traveled to Sudan to offer Kiir a variety of services: training for the Sudanese People's Liberation Army, training for a 30 person bodyguard team, a human intelligence collection team and data monitoring technology, together with secure email and phone systems for the president and his cabinet. South Sudan was still a state of Sudan at the time, it would another five years before it became independent.
An internal Blackwater email instructed staff on how to make sure that the deal remained a secret: "Remember, the money has to come from a Ugandan government account, and we have to have a Ugandan security forces contact info [sic] to get this finished." A set of ten "Cryptophones" worth $18,000 were also shipped to Nairobi in November 2005. A Blackwater employee in Africa emailed back: "Toys were delivered and are now functioning."
The South Sudan deal was inspired by an initial U.S. government proposal to Blackwater that was abandoned by Washington. But even after the U.S. government canceled the project, Blackwater continued to pursue it. And the South Sudanese played along, in fact they were interested in an even bigger deal - protection for a major oil pipeline but eventually they too scrapped the idea.
Blackwater, however, in its eagerness to do business had not obtained the necessary State Department license. The company is also in hot water for a variety of similar charges, from sending secret plans for armored personnel carriers to Sweden and Denmark to providing military training to Canadian government security personnel without the proper U.S. license.
(You can find the detailed legal documents at Corporate Crime Reporter)
The company issued a short statement to acknowledge the agreement with the federal government. "The agreement, which does not involve any guilty plea or admit to any violations, reflects the significant and tangible efforts that Academi's new ownership and leadership team have made," a statement from the company read.
Some note that the company may have a hard time proving that it has changed its ways. "The Justice Department may not be done with Academi/Blackwater yet," writes Spencer Ackermann in Wired magazine. "Two employees who worked for Academi under its current management are suing the company for wrongful termination after they blew the whistle on a third employee's attempts to fake the results of a gun test for Afghan security forces."
 
AMP Section Name:
War & Disaster Profiteering