Benetton, Others Tied to Bangladesh Factory Disaster: 400 Killed
Image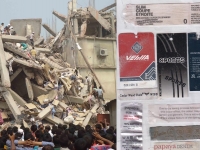 Over 400 people were killed when a Bangladeshi building housing five clothing factories collapsed last week. The tragedy at Rana Plaza in the town of Savar is the latest in a series of industrial disasters to call attention to unsafe working conditions in the global apparel trade.

In the last few days, paperwork and unfinished materials pulled from the rubble indicate that the list of companies that bought clothing from the factories included: Benetton of Italy, Children's Place and Cato Corporation from the U.S., Kik from Germany, Loblaw from Canada, Mango and El Corte Inglés from Spain as well as Bon Marche and Primark of the U.K.

Several companies, including Benetton, initially attempted to distance themselves from the five Bangladeshi suppliers in the building - Ether Tex, New Wave Bottoms, New Wave Style, Phantom Apparels and Phantom Tac.

"None of the companies involved are suppliers to Benetton Group or any of its brands," Benetton tweeted. "(We) did not have any ongoing production at the time of the incident," said Cato in a Facebook statement, "at the time of this terrible tragedy." Children's Place did the same: "(N)one of our apparel was in production." Spanish manufacturer Mango claimed that they "would not have been able to ascertain that the owners of said had building had built three storeys more than is permitted."

The powerful Bangladesh Garment Manufacturers and Exporters Association (BGMEA) has also tried to distance itself. "We asked the garment owners to keep it (the building) closed," claimed Mohammad Atiqul Islam, president of BGMEA.

Activists are furious. "(T)hese retailers cannot just wash their hand and say, "We didn't do production there," Kalpona Akter, executive director of the Bangladesh Center for Worker Solidarity, told Democracy Now, a U.S. TV program. "They have responsibility. They cannot just go away from this responsibility and say that "We didn't sew, or we didn't produce, make clothes in this factory."

"It is high time for (companies like) Benetton to stop this senseless game of always trying to pretend they're not there," said Ineke Zeldenrust, international coordinator of the Clean Clothes Campaign, an anti-sweatshop group based in Amsterdam. "Since Tazreen, where 112 people died, brands have come up with insufficient proposals such as safety videos (H&M) or a safety academy (WalMart). How much safety does a video provide, when floors collapse or emergency exits do not exist? The lack of action demonstrated by brands amounts to criminal negligence."

European Union (EU) governments have promised to take action by targeting the Bangladeshi government. "The EU is presently considering appropriate action, including through the Generalised System of Preferences - through which Bangladesh currently receives duty-free and quota-free access to the EU market under the 'Everything But Arms' scheme - in order to incentivise responsible management of supply chains involving developing countries," said Catherine Ashton, the EU foreign policy chief, and Karel De Gucht, the EU trade commissioner, said.

But experts are skeptical noting that the 27 countries that make up the EU will probably back down under pressure from the multinational retailers who source $20 billion of clothing a year  from the south Asian country. Nor is the Bangladeshi government likely to pay much heed, given that many senior politicians own garment factories.

Some believe that the big retailers can provide a solution. "(I)n a world where consumers demand ever lower prices, the cost of a bargain can be too high," editorialized the Financial Times. "Retailers will argue that it is not their job to enforce regulation. That is true ... (T)hey should also use their economic muscle to press the government to do its job."

At least one reader poured scorn on the editorial. "Common arguments to benefit developing world garment workers hinge on charging higher prices to the consumer," wrote William Hamilton to the newspaper. "Yet, wouldn't it be easier and more beneficial for everybody if, instead of clothing companies selling shirts at a 400 per cent mark up, even on sale, they dropped their margins by paying manufacturers more?"

The apparel industry is starting to wake up to the negative publicity generated by garment factory deaths. Some 25 companies including Carrefour from France, H&M from Sweden, the Gap and Walmart from the U.S., agreed to meet with labor activists in the town of Eschborn, near Frankfurt, on Monday, to discuss ideas to improve factory safety in Bangladesh, at the invitation of the German Agency for International Cooperation.

Others say that change will only happen when ordinary Bangladeshis are empowered. "The reaction in the global north to the latest "accident" in Bangladesh has been to talk about boycotts - to break the global commodity chain at the point of consumption. But that is not enough," adds Vijay Prashad in the Guardian. "What is needed is robust support for the workers as they try to build their own organisations at the point of production. The Bangladeshis are capable of doing their own labour organising; what they need is political backing to do so."

AMP Section Name:
Retail & Mega-Stores