U.S. Orders Juul To Remove All E-Cigarettes From Market
Image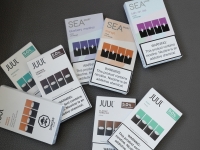 Juul, the top U.S. vendor of e-cigarettes and vaping products with sales of $1.3 billion in 2021, has been ordered to remove all its products from the market, by the U.S. Food & Drug Administration (FDA).
Juul Labs, which is 35 percent owned by Altria, the company that makes Marlboro cigarettes, was founded in 2015 by two graduate students at Stanford University. They capitalized on a growing interest among young people who saw cigarette smoking as unfashionable.

Initially Juul marketed the battery powered devices that delivered nicotine by heating liquids without fire or smoke as an easy way to quit smoking, but soon the company started to market the devices with fruit-flavored liquids ranging from cucumber to mango. Designed to look like USB flash drives, the devices were easy to hide from teachers, and quickly became a hit among teenagers.

Within three years, the market grew exponentially, and Juul captured 75 percent of the national market. (This did not last, however, as the company would just as quickly lose ground to other competitors.)
"Juul had the opportunity to provide evidence demonstrating that the marketing of their products meets [public health] standards. However, the company did not provide that evidence and instead left us with significant questions," Michele Mital, acting director of the U.S. FDA's Center for Tobacco Products, said in an official statement. "Without the data needed to determine relevant health risks, the FDA is issuing these marketing denial orders."
Juul immediately applied for a court stay, which was granted the following day by the U.S. Court of Appeals for the D.C. Circuit.
"We continue to believe we have provided sufficient information and data based on high-quality research to address all issues raised by the agency," Joe Murillo, Juul's chief regulatory officer, said in a statement. "We remain committed to doing all in our power to continue serving the millions of American adult smokers who have successfully used our products to transition away from combustible cigarettes, which remain available on market shelves nationwide."
But health experts say that Juul's claim that it provides a safe alternative to tobacco cigarettes simply isn't true. "Where cigarettes may take 10-15 years off people's lives, vapers are going to experience the same thing, only with a different cause of death," Dr. Mark Olfert, an associate professor at West Virginia University, told the Pittsburgh Post-Gazette newspaper. "Mainly, it will be affecting the cardiovascular system, blood vessels and kidney function."
The FDA ruling was welcomed by state governments who have long pursued the company through the courts. "We sued Juul for knowingly targeting young people with tactics similar to the tobacco companies' playbook," Josh Shapiro, attorney general of Pennsylvania, said in a statement. "There has never been proof these e-cigarettes are safe, and I have called for them to be pulled off shelves."
In a lawsuit filed in 2020, Shapiro charged Juul with using sweet, fruity, chocolatey, and minty flavors that appeal to youth, and minimizing awareness and concern over its safety. "The creators of Juul utilized the playbook of Big Tobacco from the last century by cynically lying to, deceiving, and manipulating the American public," he said at the time.
Health advocates were also happy. "For decades the tobacco industry has deliberately targeted Black communities with marketing for menthol cigarettes, with tragic consequences. The industry also uses these flavored products to lure kids into a deadly addiction," Matthew Myers, president of the Campaign for Tobacco-Free Kids, said in a statement. "These rules will, once and for all, put an end to these predatory and deadly practices."
Experts say that the ban will affect teenage users of Juul's products, if a 2009 ban on flavored cigarettes is anything to go by. Smoking among underage youth fell by 43 percent and among young adults by 27 percent after the 2009 ban went into effect, according to a 2020 study by George Mason University.
"It is likely that the FDA's marketing denial will have an impact," Lauren Czaplicki, a researcher at Johns Hopkins Bloomberg School of Public Health, told the Guardian newspaper. "Juul is still a popular product among young people who do use e-cigarettes, and Juul has a certain level of brand recognition and cultural cachet among youth that may be susceptible to nicotine use."
Others were skeptical that the Juul ban would work because it did not ban other vaping vendors. "Youth went from pod-based [like Juul] to disposables like Puff Bar," Marcia Zorrilla, a researcher at Stanford, told the Guardian. "As a youth said to me, 'anything with fruit' is popular among their peers. This was in part due to the enforcement and in part because the disposables continued to have many flavors."

The U.S. is behind many other countries in regulating e-cigarettes. In Asia and South America, several have imposed total bans such as Argentina, Brazil, India, Taiwan, Thailand, Singapore and Uruguay.
Most European countries allow e-cigarette sales although some, like Germany and Italy, ban the sale to teenagers. But tougher regulation is on the horizon. The European Commission is considering a ban on flavored heated tobacco products.

"Prevention will always be better than cure," Stella Kyriakides, commissioner for health and food safety, said in a statement. "Stronger actions to reduce tobacco consumption, stricter enforcement and keeping pace with new developments to address the endless flow of new products entering the market — particularly important to protect younger people — is key for this."