First Apple Store in the U.S. Unionizes in yet Another Labor Victory
Image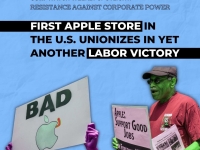 Employees of an Apple sales outlet in Towson, a suburb of Baltimore, Maryland, voted to unionize in June 2022 to become the Big Tech company's first unionized store in the U.S. This is part of a larger movement across the country, with workers at many companies like Amazon, Starbucks and Trader Joe's expressing their interest in joining a union.
"We're standing up to make a better life for ourselves and our family that we feel we deserve and I think all workers deserve. We love our work extremely, we just want to have a say in the things that affect us," – Onye Igwulu, Apple employee in Towson.
"People are stressed out, Covid has heightened a lot of things, whether it's positive or negative, we see that on a daily basis. And we do want to be compensated for that work that we're putting in," - Eric Brown, Apple employee in Towson.
Voice in the workplace
In August 2021, a group of 15 workers banded together to launch AppleToo, a website modelled on the #MeToo movement. The idea was to gather reports from workers at all levels of the company who had experienced discrimination or harassment. Within a few months, they had gathered about 500 stories.
Union details
In May 2022, a group of workers set up a union named Apple Coalition of Organized Retail Employees (AppleCore) affiliated with the International Organization of Mechanists and Aerospace Workers (IAM), a national union representing around 300,000 workers. Workers at three stores: Atlanta; Grand Central Station, New York; and Louisville, Kentucky, announced union organizing campaigns.
Union busting
Shortly after the news of the union campaigns became public, Apple announced a wage increase from $20 to $22 per hour. Workers say that the company hired a union avoidance law firm to anti-union presentations. Workers at the Atlanta store withdrew their petition, citing intimidation by management.
"Instead of living up to those values, and embracing the opportunity to empower us to act in the best interest of our stores, Apple's corporate executives hired an outside third-party law firm with no understanding or interest in our credo or values to intervene and create an environment of fear and coercion," – Derrick Bowles, Apple employee & organizer in Atlanta.
Victory
The first store to hold a vote was Towson on June 18, 2022, where workers voted 65-33 to unionize. Their success has gone viral - employees from over 20 of 272 Apple sales outlets across the U.S. have shown an interest in doing the same.
"I applaud the courage displayed by Core members at the Apple store in Towson for achieving this historic victory. They made a huge sacrifice for thousands of Apple employees across the nation who had all eyes on this election." – Robert Martinez, IAM's international president.
Company Response
After the successful union vote was announced, Apple responded that it had "nothing to add at this time."
This is #13 in our series of Instagram infographics on resistance against corporate power.
Click here to see the full post on Instagram.