Traffic, Brazilian Sports Company, at Center of World Cup Football Scandal
Image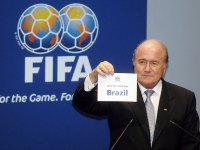 Traffic International, a Brazilian sports media company, has been named as the source of at least $60 million in bribes paid to Fédération Internationale de Football Association (FIFA) officials, the organizers of the World Cup football tournament, to obtain media and marketing rights to international games.

The sale of the rights to international football (known as soccer in the U.S.) games is very lucrative - FIFA's revenue in the last eight years exceeded $9.9 billion and its profits topped $969 million.

José Hawilla, a former sports journalist in Brazil, bought up a bus stop billboard company in 1980 that laid the foundation of what would eventually become Traffic International. Hawilla moved into brokering broadcasting and sponsorship rights to major sports tournaments in Brazil in the 1980s. In 1996, Traffic negotiated a $369 million sponsorship agreement between Nike and the Brazilian Soccer Federation. A few years later, Traffic started to negotiate rights to FIFA games.

Corruption at FIFA had been an open secret for many years. In 1999, David Yallop, a British journalist, wrote a book titled "How They Stole the Game" relating how money was delivered by private jet to voters to support Sepp Blatter, a Swiss citizen, to head up FIFA.

In 2006, Andrew Jennings, another British investigative journalist, published "FOUL! The Secret World of FIFA: Bribes, Vote Rigging and Ticket Scandals," which he followed up with "Omerta: Sepp Blatter's FIFA Organised Crime Family" in 2014. He explained recently that he was given details of the bribes by senior FIFA officials after he confronted Blatter at a press conference. "I'm at a midnight meeting in Zurich in a dark street and I'm pulled into a room and there's a guy with a whole load of documents," Jennings told ABC television.

All told, the U.S. Department of Justice estimates that some $150 million in bribes were paid out to secure media and marketing rights to FIFA games. Details were published in an indictment in late May following the dawn arrest of a number of FIFA executives and officials at a Zurich hotel.

Experts on both sides of the Atlantic asked how KPMG, the international audit firm that has been in charge of reviewing FIFA's accounts since 1999, missed the illegal activity.

"Respectable auditors will not like being involved in this sort of stuff," Greg Dyke, chairman of the UK Football Association told Economia, the blog of the Institute of Chartered Accountants in England and Wales. "Someone should go to the auditors and say, 'Hang on, where actually did that come from and go to. Where is it in accounts? Did you know about this?'"

"It's legitimate to raise questions about the effectiveness of the audits, given that the risks were already widely rumored," Barry Jay Epstein, the author of a professional handbook on accounting and auditing, told the New York Times.

"As FIFA's statutory auditor, we are bound by professional confidentiality and have to refrain from any comment regarding our client," Andreas Hammer, a spokesman KPMG in Switzerland, told the media.

In fairness, KPMG did point out some discrepancies. "To cover the excess expenditure at the Confederations Cup in Saudi Arabia, the organizer has made an additional payment of 470,000 Swiss francs," the auditors wrote in a letter that was uncovered by Jennings. "The payment was authorized by the president of FIFA, but without the authorization of the finance committee or the executive committee."

Nike, the Oregon based sportswear company, has also fallen under suspicion for its role in FIFA. According to the indictment, an unidentified U.S. sportswear company made a $40 million payment into a Swiss bank account for "marketing fees earned upon successful negotiation and performance" of a 1996 Brazilian contract. While the company is not named, the dates and details of the arrangements match the Nike deal with Traffic.

"Nike believes in ethical and fair play in both business and sport and strongly opposes any form of manipulation or bribery," the company told Bloomberg news e-mail statement. "We have been cooperating, and will continue to cooperate, with the authorities."


AMP Section Name:
Media & Entertainment