NGO Wins Access to Secret Johnson & Johnson, Pfizer COVID-19 Contracts in South Africa
Image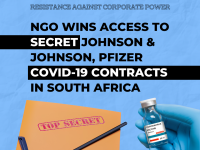 Big pharmaceutical companies like Johnson & Johnson and Pfizer signed lucrative contracts with governments around the world to provide COVID-19 vaccines under the condition that the prices and contract terms were kept confidential. Health Justice Initiative, a South African NGO, won a lawsuit in the Pretoria High Court to make the documents public.
"This landmark decision shows the public can take on powerful pharmaceutical companies and win. People have a right to know how much pharmaceutical companies are charging them for lifesaving vaccines and medicines. We hope to see more cases like this around the world." – Mohga Kamal-Yanni, People's Vaccine Alliance
COVID-19 Vaccines
South Africa has distributed 38 million COVID-19 vaccines since the pandemic began. Some of these vaccines were purchased by the government from companies like Johnson & Johnson and Pfizer. Others were purchased through the World Health Organization. All of the terms and prices of these purchases were deemed confidential even though they were funded by taxpayer money.
Pfizer Sales
In 2022, sales by pharmaceutical giant Pfizer hit a record US$100 billion – over half was generated by its Covid-19 vaccine and Paxlovid, an antiviral pill. The company refused to share its patent with other manufacturers so that poorer countries could make their own vaccines at a cheaper price. Johnson & Johnson reported global sales of US$94.9 billion and its COVID-19 sales were projected at US$3 billion.
Health Justice Initiative
Health Justice Initiative, an NGO based in Cape Town, South Africa, sued the South African government in the Pretoria High Court in February 2022 to make the documents public, after the government refused to release them under the Promotion of Access to Information Act.
"In our scramble for desperately needed vaccines, South Africa was forced to hand over unimaginable sums of money for overpriced vaccine doses. We were bullied into unfair and undemocratic terms in contracts that were totally one sided." – Fatima Hassan, Health Justice Initiative founder. 
Transparency Victory
Judge Anthony Millar ordered the government to release all purchase contracts and related documents on August 23rd, 2023. The government agreed to release all documents on September 5th.
Documents
A Health Justice Initiative analysis of the documents showed that South Africa paid $10 a dose for the Johnson & Johnson vaccine — 15 percent more than the European Union. Likewise, Pfizer charged South Africa 33 percent more than it charged Australia. The Serum Institute of India charged South Africa $5.35 a dose, while the European Union paid $2.17 for the same dose. 
Company Response
"Efforts to claim that South Africa paid more than other countries or organisations are false. South Africa paid the same price of $7.50 a dose as every other customer of our vaccine globally." – Spokesperson for Johnson & Johnson.
This is #58 in our series of Instagram infographics on resistance against corporate power.
Click here to see the full post on Instagram.
📸 2/10 President Cyril Ramaphosa joins healthcare workers to receive J&J Coronavirus vaccination by Government ZA - https://www.flickr.com/photos/governmentza/50952894056
4/10 COVID Funk Rally in Washington D.C. by Free the Vaccine - https://freethevaccine.org/exhibit/works/d-c-funk-rally/#jp-carousel-2258
5/10 COVID Funk Rally in Washington D.C. by Free the Vaccine - https://freethevaccine.org/exhibit/wp-content/uploads/formidable/1/2020_10-2020_10-COVID-Funk-Rally-5847-1-1.jpg
8/10 Front Line Health Worker in Seattle by Free the Vaccine - https://freethevaccine.org/exhibit/works/respiratory-therapists-for-a-free-vaccine/
9/10 Assembly ActUp NYC by Elvert Barnes - https://commons.wikimedia.org/wiki/File:43.Assembly.ActUp.NYC.30March2017_%2833676981781%29.jpg