Roundup Caused Cancer Rules Missouri Jury in Unprecedented Decision
Image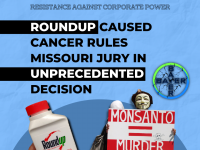 John Durnell was diagnosed with cancer after using the Roundup weedkiller for over 20 years. He sued Roundup manufacturer Monsanto in St. Louis, Missouri. Despite the fact that courts have dismissed Roundup lawsuits nine times in a row, Durnell's lawyers used new evidence of carcinogenic ingredients to convince a jury to order Bayer to pay US$1.25 million in compensation.
Roundup
Durnell began using Roundup in 1996 to tend to the communal garden of a Missouri citizen's initiative. A few years later, he started to experience pain in his groin. Doctors diagnosed him with non-Hodgkin's lymphoma in 2020, and suggested it might have been caused by glyphosate, a Roundup ingredient, which the World Health Organization declared "probably carcinogenic" in 2015.
Bayer Lawsuits
Over 125,000 people have sued Monsanto for health problems linked to Roundup. These cases were recently taken over by Bayer – a pharmaceutical giant based in Leverkusen, Germany – which bought Monsanto for US$63 billion in 2018. 
Denying Science
Monsanto's (and now Bayer's) strategy has been to sow doubt on the carcinogenic nature of glyphosate. It has paid academics, ghostwritten papers and funded industry front groups to defend glyphosate. Activists, journalists and scientists who have exposed the health impacts of Roundup were tracked by Monsanto's sophisticated surveillance systems in order to discredit them.
Previous Lawsuits
In 2018, Dewayne "Lee" Johnson, a groundskeeper in California, was able to convince a jury that his non-Hodgkin's lymphoma was caused by Roundup. The company was ordered to pay US$289 million, which was cut to US$21 million on appeal. Subsequently, the company decided to pay out US$10.9 billion to over 100,000 Roundup cancer victims in 2020 in order to avoid going to court.  
Monsanto Papers
Meanwhile the evidence against Roundup has continued to pile up. Investigative journalists at Le Monde newspaper won the European Press Prize for showing how Monsanto sought to discredit the UN's International Agency for Research on Cancer while U.S. Right to Know, an NGO, gathered thousands of documents via Freedom of Information Act requests and court documents.
Victory
Durnell's lawyers decided to jettison the glyphosate strategy. Instead they sought to show that Roundup also contains carcinogenic arsenic and formaldehyde; and to force company scientists to testify live. It worked – a jury unanimously found Bayer liable, ordering it to pay US$1.25 million to Durnell. 
(Note: Some 40,000 other cases related to Roundup are still pending).
"Monsanto cannot defend their own documents in a live witness setting. We did not play a bunch of old, boring videos; instead the jury got to see almost two days of live cross examination of Monsanto's top toxicologist, Donna Farmer."  – T. Roe Frazer, Lawyer representing Durnell
Company Response
"While we have great sympathy for the plaintiff in this case, we are confident that our products can be used safely and are not carcinogenic, consistent with the assessments of expert regulators worldwide and the weight of the extensive body of scientific evidence from more than four decades of studies." - Company press statement
This is #64 in our series of Instagram infographics on resistance against corporate power.
Click here to see the full post on Instagram.
📸 Roundup by Mike Mozart - https://www.flickr.com/photos/jeepersmedia/16450976717 
2013 March Against Monsanto DC 53 by Stephen Melkisethian - https://www.flickr.com/photos/stephenmelkisethian/10251329645
Roundup by Mike Mozart - https://www.flickr.com/photos/jeepersmedia/16035948604/in/album-72157648726114324/
Say No to Monsanto Albert by John Novotny - https://commons.wikimedia.org/wiki/File:Say_No_to_Monsanto_Alberta.jpg
March Against Monsanto, San Francisco - May 23, 2015 by Peg Hunter - https://www.flickr.com/photos/43005015@N06/17438646754
March Against Monsanto by Rob Kall - https://www.flickr.com/photos/10814044@N06/14260444681